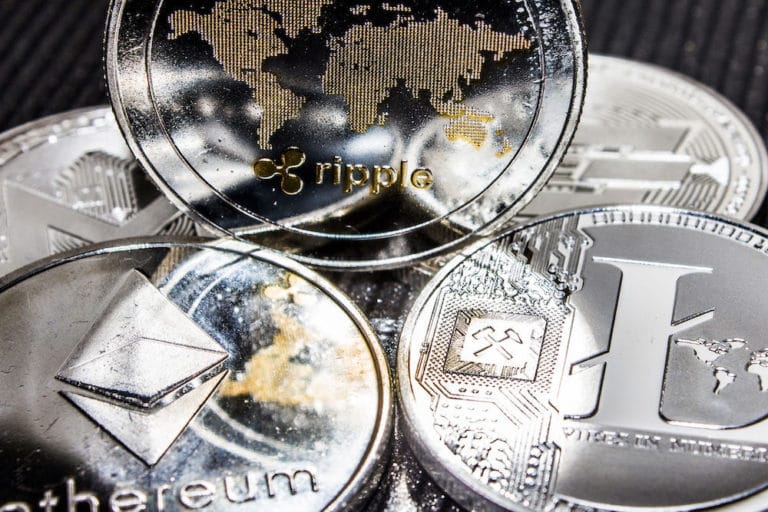 As you read through this article, the unique characteristics and qualities of the top altcoins will be plain to see. However, each one shares a similar aim – to revolutionise cryptocurrency sector. Yet, with over 2,000 cryptocurrencies having failed since Bitcoin's inception, it is certainly a high-risk-reward proposition.
But which coins are worth your time and which are the most likely to possess the longevity to make them worth your investment? Read on as we reveal which are your top altcoins for 2022.
---
Why Is There So Much Excitement About Altcoins?
Altcoins represent all the other cryptocurrencies apart from Bitcoin. The sheer number of altcoins in circulation is growing at a startling rate. In December 2021, there were thought to be approximately 5,300 altcoins. A little more than six months later, that number had shot up to be in the region of 20,000.
While many altcoins are just starting out, some of the more established altcoins already have passionate followings and market capitalisations running into billions of dollars. Altcoins could indeed be an ideal option for investors looking for a coin that incorporates new technological features and user functionality. If an altcoin has a unique selling point that can make it highly popular, this could then send its price spiralling upwards.
The gap in the market that altcoins are aiming to fill partly comes down to Bitcoin being a victim of its own success. Bitcoin's breakthrough has resulted in incredible returns for its investors. In 2010 it would have been possible to buy one bitcoin for less than $1, but since then, the price has reached highs of around $68,000.
Bitcoin's phenomenal growth has exposed issues to the way it functions. For example, Bitcoin currently uses an amount of energy equivalent to entire countries, such as Argentina and the Netherlands. While that might not have been such an issue in 2009, times have changed and with Bitcoin unable to adapt, altcoins are looking to carry the flag for the crypto revolution.
---
How Are Altcoins Different to Bitcoin?
Each altcoin system is trying to improve its chances of success by setting up their background infrastructure in different ways. They might have functionality that means they have improved transaction speeds or lower operating costs. Some prioritise their role as a store of value, others as a form of currency to be used in transactions, and some offer new ground-breaking ways of exploiting the full potential of blockchain technology.
Altcoins try to learn from the mistakes of earlier coins, keep the elements that work, but upgrade where they can. Bitcoin, on the other hand, has built on its strong brand as the original crypto and still attracts many who see it as the new way to store wealth.
---
Which Altcoins Are Worth Your Investment?
With the above in mind, which altcoins are worth your consideration? Below is our list of the best altcoins to buy in 2022 – each one with their own compelling reason to invest in.
Even the most ardent followers of crypto would warn against investing only in one coin, but a diversified portfolio offers the chance to catch the upside on those that do turn out to be winners. Which altcoins are worth your investment? Read on as we provide a clear overview of the unique characteristics of the following:
---
Cosmos (ATOM) – Altcoin With The Best Interoperability Functionality
The popularity of Cosmos comes down to the pivotal role it could play in allowing different crypto blockchains to interact with each other. The 'interoperability' the coin provides is its big selling point as it gets around each crypto blockchain being a closed environment. Distributed ledger protocols of crypto platforms are an effective means of keeping track of how much each investor owns but has resulted in communication between different blockchains being difficult.
Cosmos offers a way for the crypto sector to reach its full potential, and for that reason, is popular with tech-savvy investors and mainstream institutional firms. Paradigm, Bain Capital and 1confirmation are all big-name, early-doors investors in Cosmos, thanks to the coin's potential to solve the problems of scalability and sustainability, which continue to dog the crypto space.
Cosmos Price Chart 2020 – 2022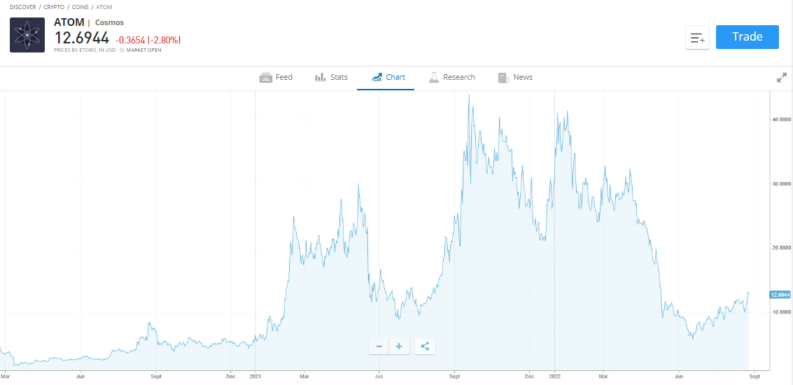 Source: eToro
*Your capital is at risk
Cosmos and its ATOM token could be set for another price spike thanks to the way they allow blockchains such as Bitcoin, Ethereum, and Solana to collect and share data. While other coins have been set up to perform a similar function, Cosmos has a head start on the rest of the field. Furthermore, the management team and backers reads like a 'who's who' of the crypto industry.
---
The Sandbox (SAND) – Best Altcoin To Invest In The Metaverse
If you thought crypto investing was about picking the coin most likely to be used to store wealth and perform transactions, then The Sandbox demonstrates the need to think again. Since it was first released in 2012, The Sandbox has pushed the boundaries on the type of services blockchain technology can provide.
The user-generated gaming platform exploits the potential of the metaverse by allowing users from around the world to create, enjoy, and sell virtual worlds. User interaction levels are high, with players from around the world being able to communicate and network with each other with the shared aim of completing tasks to earn SAND tokens.
Support from celebrities has raised the profile of The Sandbox but it is also backed by big corporations such as Atari Inc, which is developing a virtual theme park on the platform.
The Sandbox Price Chart 2020 – 2022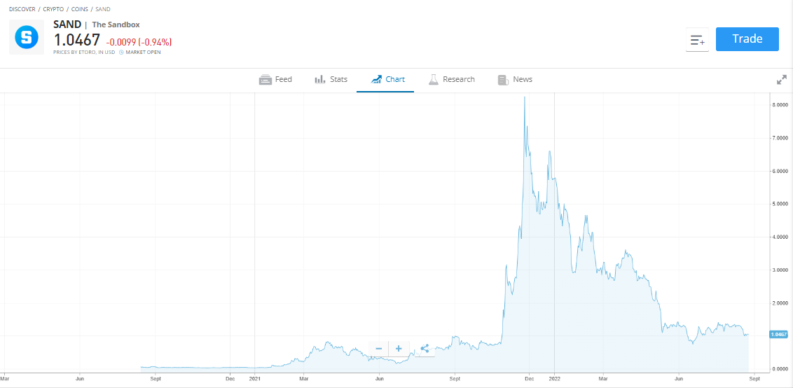 Source: eToro
*Your capital is at risk
Early adopters can enjoy the interactive experience of The Sandbox and also hope that as user numbers grow, so will demand for SAND, which will drive up the price of the tokens. Those who aren't natural gamers but share the view that the metaverse will take off can buy SAND at brokers such as eToro. Then it's a case of waiting for changes to social networking behaviour to come into play.
---
Yearn.finance (YFI) – Best Altcoin To Exploit Decentralised Finance (DeFi) Opportunities
Unlike some of the big players, Yearn.finance is less about providing an entire blockchain, but instead, it runs protocols that enable investors in a variety of coins to get the best yield on their holdings.
Put in its simplest terms, the Yearn protocol associated with YFI connects borrowers and lenders. This means that there is no need for a financial intermediary, which reduces costs. The advanced coding used to make matches ensures returns are optimised. Yearn.finance investors lend to counterparties who provide collateral for the exchange and agree to repay the loan with interest at a predetermined date.
Decentralised Finance (DeFi) is one of the growing trends in the crypto market and the neat features of Yearn.finance take the traditional model of lending and borrowing to another level. YFI is an altcoin that offers a way to capture the full potential of what modern cryptocurrencies offer. As such, it is well-positioned to benefit from growth in the DeFi market.
Yean.finance Price Chart 2020 – 2022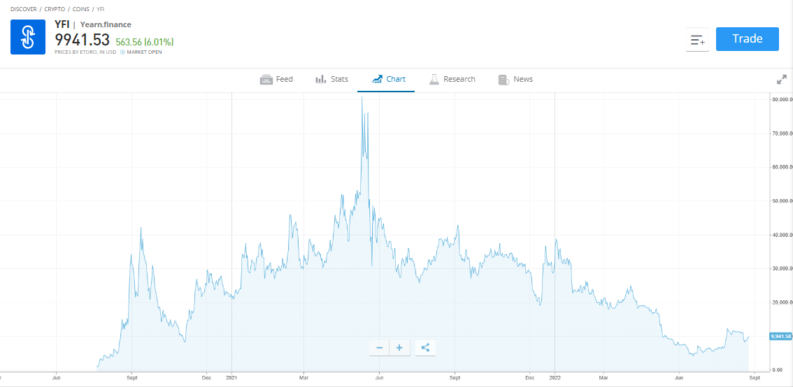 Source: eToro
*Your capital is at risk
Reports from the Yearn.finance team make for interesting reading. They reveal that new operations are being trialled, which will expand the coin's services into other areas of the finance ecosystem. Leveraging of stable coins will be provided by ytrade.finance and iborrow.finance will provide credit delegation vaults for smart contract to smart contract lending.
---
Uniswap (UNI) – Altcoin Offering The Benefits Of Decentralised Trading
Founded in 2018, Uniswap has been rated by CoinMarketCap as one of the top altcoins to buy thanks to the way it enables investors to trade cryptos without needing to use a centralised exchange. Uniswap can itself be thought of as an exchange, but one that investors can buy into by purchasing UNI, which offers neat features for the traders who use it.
One way Uniswap stands out is that it uses AMM (Automated Market Maker) protocols to make the pricing of coins more straightforward. This is a move away from relying on the traditional model of using bid and offer spreads to determine market price. Uniswap, in contrast, calculates a mid-price using metrics such as market liquidity and the market cap of coins. Bid-offer spreads at conventional exchanges are notoriously wide, which makes trading cryptos expensive. Indeed, this altcoin offers a user-friendly way to circumnavigate that problem.
Uniswap Price Chart 2020 – 2022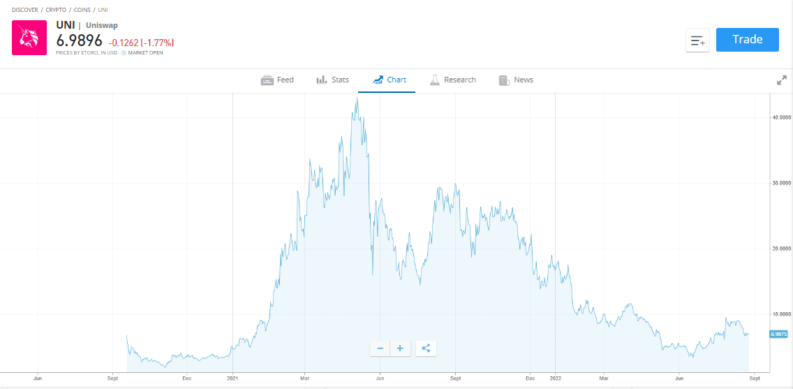 Source: eToro
*Your capital is at risk
Another attractive feature of Uniswap is that it's also possible to generate a return on your holding of UNI. Investors who become part of the Uniswap system and provide liquidity are rewarded with interest. Any form of passive income is always welcome.
---
Decentraland (MANA) – Leading Real-Estate Metaverse Altcoin
Like The Sandbox, Decentraland taps into the growing metaverse market but does so with a real-estate twist. More importantly, user numbers and the size of transactions are on the rise.
Big institutional investors – including Kosmos Ventures, Animoca Brands and Alpha Sigma Capital – are buying into Decentraland, which has resulted in the coin developing a market capitalisation that has moved it into the top-40 cryptos by size. It's also reported that in late 2021 the virtual real estate lot named Fashion Street Estate was sold for $2.4m.
Not all of the property deals involving MANA are of that scale. Small-time players can buy entry-level priced Decentraland real estate using MANA coins, and that means the virtual world being developed has a broad following.
The platform is currently one of the largest metaverse-related cryptocurrencies in the market, and as more are drawn to the Decentralised Metaverse, the MANA coins needed to finance transactions can be expected to increase in price.
Decentraland Price Chart 2020 – 2022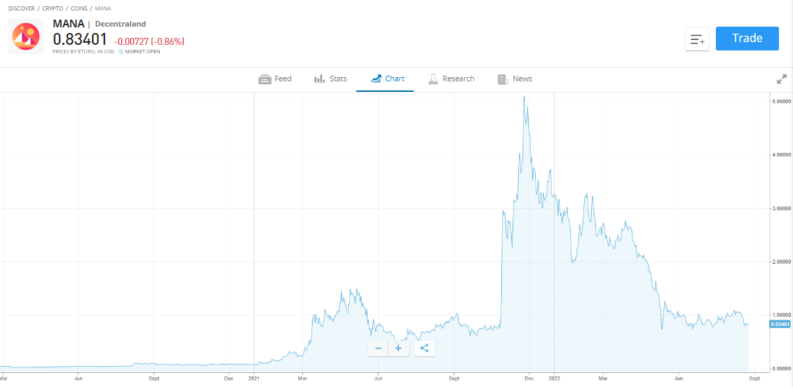 Source: eToro
*Your capital is at risk
As with The Sandbox, a position in Decentraland could be an investment that pays off in the long term. The societal changes needed for metaverse platforms to become more mainstream take time to work through the system, but Decentraland is one of the front-runners. That makes it one of the altcoins where the growth prospects outweigh the potential downside.
---
Axie Infinity (AXS) – Best Altcoin For Tapping Gaming Potential
Axie Infinity offers a way for online gamers to earn crypto while playing the games they love. Users are rewarded with AXS (Axie Infinity Shard) and SLP (Smooth Love Potion) tokens by breeding and raising Pokémon-style characters.
Those who might not necessarily be born gamers can still benefit from the growth in online gaming by buying the coins as an investment and benefiting from price rises as the platform becomes more popular.
There is also an NFT (Non-Fungible Token) element to Axie. The unique Axie characters are in NFT form and are traded between users, with the most expensive reportedly commanding a 300 ETH (approx. $510,000) price tag.
Axie Infinity Price Chart 2020 – 2022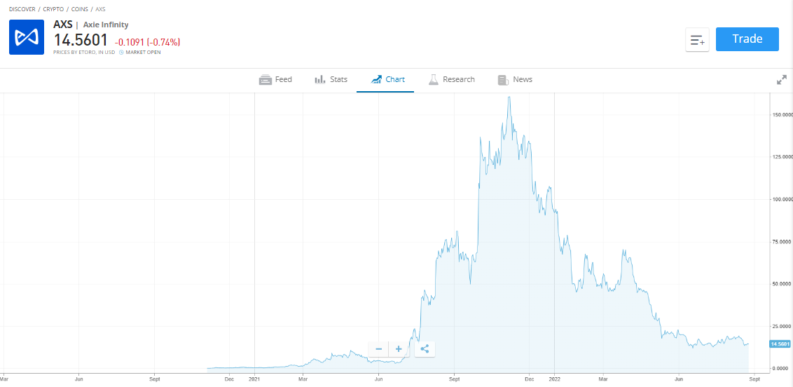 Source: eToro
*Your capital is at risk
The success of AXS is tied to the long-term prospects of the play-to-earn sector. With prices of the coin expected to continue to rise over the next five years, this could indeed be an altcoin for traders of the gaming persuasion to bear in mind as it – and others like it – enter the mainstream.
---
Polkadot (DOT) – Best Multi-Functional Altcoin
Polkadot has surged in value due to it providing user-friendly solutions to several challenges facing other cryptocurrencies. DOT is on the up, and demand for the coin has built to the extent that it has moved within the range of the Top-10 of cryptos by market capitalisation and is now valued at $8.2bn.
Polkadot is a programmable blockchain, which means, like Cardano and Ethereum, users can build decentralised applications (Dapps) or even create their own crypto or gaming platforms. As a relatively new entrant, it has taken the best parts of established blockchain technology and bolted on some neat additional features.
Another upside of buying Polkadot is that it allows staking. Holders of coins who tie their position up for a period of time can expect to receive additional coins as a form of interest – and the annual yield is typically in the region of 10%. It is also much more energy-efficient than Ethereum, which answers the question of how cryptos can become more sustainable.
Polkadot Price Chart 2020 – 2022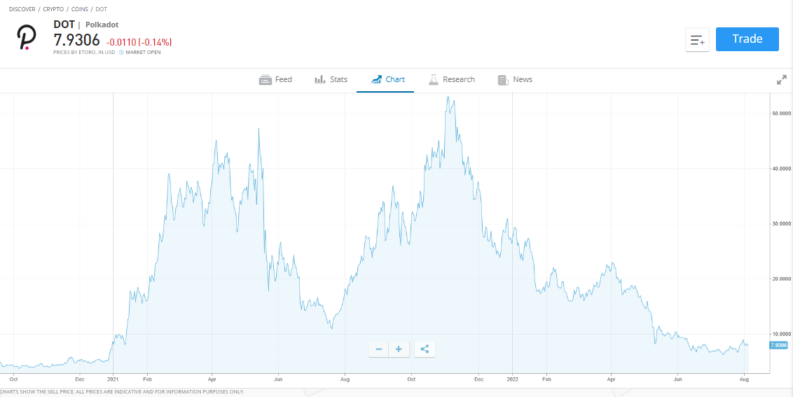 Source: eToro
*Your capital is at risk
Polkadot, like Cosmos, also addresses the problem of interoperability – it enables other blockchains to communicate with each other. Which adds another item to an already impressive list of reasons why Polkadot is one of the best multi-functional altcoins to buy now.
---
Cardano (ADA) – Altcoin With The Most Developed Mainstream Client Base
The slump in crypto prices during the first half of 2022 has impacted some coins less than others. Cardano has fallen in value by around 64% since the start of the year, but its strong branding and neat tech features meant it didn't fall as far as some of its peers.
Underlying strength of demand suggests that now could be the time to buy into price weakness. A quick double-check of ADA price history shows that its all-time high, at the time of writing, was up more than 3,000% from its launch price in 2017.
One of the attractive features of Cardano is that it is programmable and allows users to create Dapps. There are other cryptos that offer that functionality, but Cardano's have been rolled out into real-world, mainstream programs. One example being the decision by the government of Ethiopia to use Cardano to create a blockchain-based national ID system.
Cardano Price Chart 2020 – 2022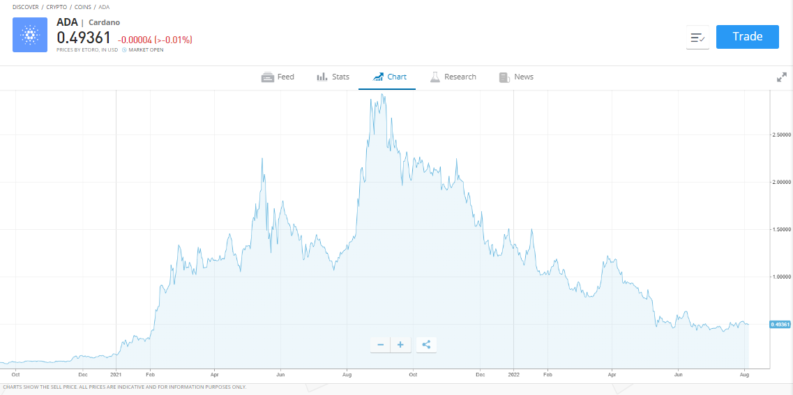 Source: eToro
*Your capital is at risk
Those looking for a potential catalyst to cause the price of ADA to surge will want to monitor the progress of the hard fork in the Cardano blockchain, which is due to take place in 2022. Called Vasil, the extensive upgrade of blockchain protocols will result in transaction times being faster, cheaper and possibly in smaller size.
The Vasil fork is one of several long-term and well-thought-out upgrades the creators have lined up for Cardano, which means it is well positioned to take advantage of future developments in the crypto sector.
---
Solana (SOL) – Altcoin With The Most Commercial Approach
Like Cardano and Ethereum, Solana is a layer-1 blockchain. That means that it can be used to support users looking for a home for their innovative new projects as well as carrying out transactions. The potential growth of markets such as NFTs is hard to estimate with any accuracy, but Solana is in a good position to be able to maximise its involvement in the space.
Processing times at Solana are faster at Cardano and it also offers cost-savings over its big rivals. The governance structure of Solana also gives it an edge over many other altcoins. It was created in 2017 by Solana Labs of California. While other cryptos morphed out of a more egalitarian and principled approach, Solana has been set up in an attempt to make its investors money.
Solana Price Chart 2020 – 2022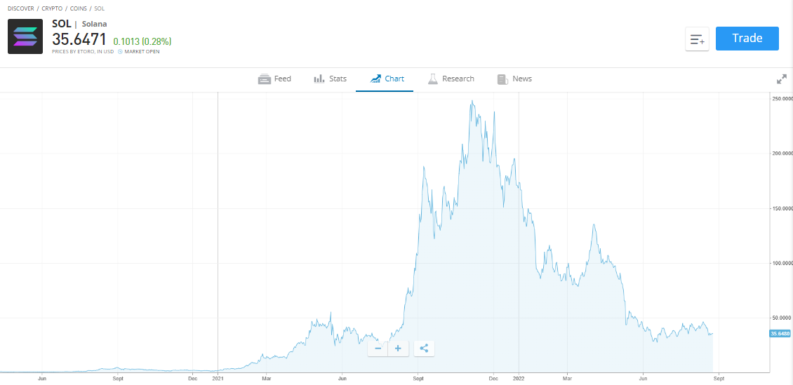 Source: eToro
*Your capital is at risk
Whereas Ethereum is still overseen by the not-for-profit Ethereum Foundation, those managing Solana have a keen eye on the bottom line. As a result, decision-making is streamlined, which means upgrades are implemented more quickly. For traders, it is worthwhile to consider that Solana focuses on giving users what they want, rather than changing the world.
---
Ethereum (ETH) – Best Alternative To Bitcoin
Last but not least on our list of the best altcoins is Ethereum. Its place on our list is partly because of its size (market cap of $203bn) and prominent position in the market. Whereas, close to five years ago, Bitcoin accounted for 87% of the crypto market, it is cryptos and Bitcoins closest competitiors such as Ethereum that have seen this erode to around 42% today.
Originally intended to complement Bitcoin, Ethereum has grown to challenge BTC for the top spot in the market thanks to its 'executable code', which allows for transactions that are faster than those of Bitcoin.
Ethereum's pitch to investors is that it is the most 'usable' coin with the strongest brand recognition. Through 2021 it was the Ethereum platform that innovative producers of NFTs (Non-fungible tokens) turned to when they were looking to launch their innovative products. It is also well positioned to benefit from the exploits of other altcoins with Axie.infinity and Decentraland being examples of altcoins that have chosen Ethereum to host their platforms.
Ethereum Price Chart 2020 – 2022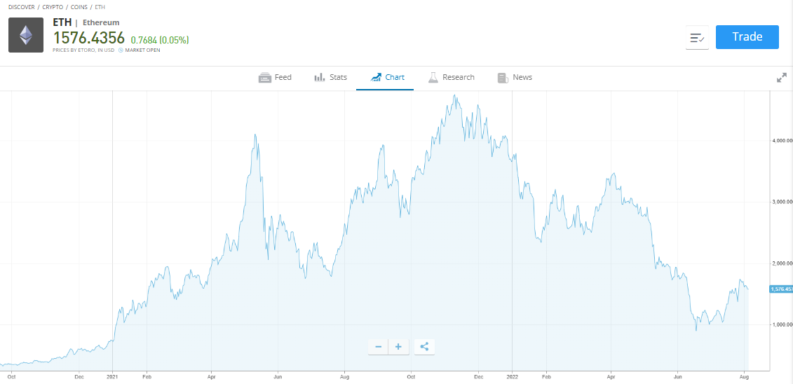 Source: eToro
*Your capital is at risk
Another major price driver of ethereum is the tech upgrade called The Merge. This involves a change from Proof-of-Work (PoW) to Proof-of-Stake (PoS) protocols. The Merge represents a major overhaul of how the Ethereum blockchain operates and will allow holders of ETH to stake their coins.
The upcoming reorganisation is so extensive that the planned roll-out has suffered a number of setbacks. But if, or probably more accurately, when it is finally completed, the price of ETH can be expected to bounce. Ethereum's move to PoS will mean a market-leading coin will solve some of the aforementioned problems associated with cryptocurrencies and their energy use.
---
Altcoin 'Funds'
The obvious dilemma facing altcoin investors is how to take positions in the best coins but not back losers. To allow investors to spread their allocation range of altcoins with the click of one button, some brokers have come up with special instruments which can be thought of a basket of altcoins. Some of the funds cover a range of altcoins, while others, such as eToro's DeFi Portfolio, focus on coins in the decentralised finance space.
eToro DeFi Portfolio Price Chart 2020 – 2022
Source: eToro
*Your capital is at risk
Altcoin funds allow traders to spread the risk on their positions and hope that the gains on the winners outweigh the losses on the trades that don't pay off. They also offer a low-maintenance way of taking positions in the best altcoins without having to devote time to researching the pros and cons of all the coins in the market.
---
Final Thoughts
One of the thousands of altcoins could end up being the crypto that brings about the democratisation and decentralisation of the global financial system. The potential for stunning gains is balanced out by the uncertainties, which could result in that coin being the wrong one to back and it becoming worthless.
That means the altcoin market needs to be treated with a lot of respect. Those committed to gaining exposure would do well to be very disciplined in terms of position size. The standard risk management rules relating to diversification also apply, only more so.
Choosing the right platform for your crypto trading is equally important. Some exchanges are completely unregulated, which means there is zero client protection should they go bust. This list of trusted crypto brokers includes firms that have been reviewed by AskTraders analysts to ensure they offer the safest and most cost-effective route into the market.