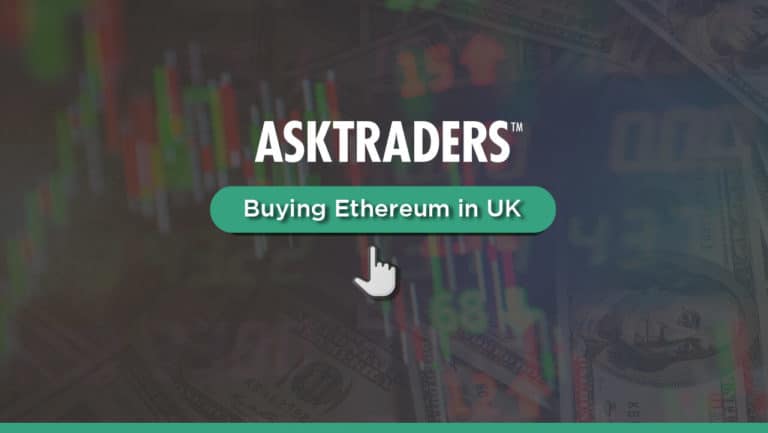 In the crypto world, size matters, which means Ether is one of the front runners in the race to becoming the dominant coin.
This review will outline the reasons why millions are buying ETH and the best way to buy ethereum safely. The article will cover how to buy ethereum, looking at the following points:
---
What is Ethereum?
Ethereum is a platform that uses blockchain technology to allow users to exchange digital currency. The native cryptocurrency token of ethereum is called ether, which can be bought to facilitate transactions on the blockchain or as an investment. This is based on the premise that the blockchain will become more widely used.
One standout feature of Ether is that it also supports other tokens and new innovative digital markets such as NFTs (Non-Fungible Tokens).
The open-source technology and smart contract functionality of the Ethereum blockchain mean that it has a lead on the Bitcoin platform in that it can perform a wider range of transactions faster and more cheaply.
Ethereum was developed some years after Bitcoin and benefits from being a second-generation project. It was also developed early enough (2015) to get a head-start on most other altcoins. Building on that success, Ether has taken the initiative and committed to upgrading the core elements of its blockchain framework.
A move from Proof of Work (PoW) to Proof of Stake (PoS) protocols is being implemented to unlock potential new markets and make the Ethereum platform more energy efficient. That's good news for the users of the platform and also for holders of ETH coins who will benefit from extra demand driving the price of ether higher.
Ethereum – Daily Price Chart – 2019 – 2022
Source: IG
---
Ethereum's Historical Price Performance
The price history goes a long way to answering the question – is ethereum worth buying?
The Ethereum system went live in July 2015 when 72 million coins were minted. The first recorded transaction was one month later on the Kraken system and was priced at $2.77 per coin.
In 2016, as a result of the exploitation of a glitch in the DAO Venture Capital Fund's smart contract software, a theft of $50m worth of ether took place. Ethereum then split into two separate blockchains, Ethereum (ETH) with the theft reversed and the original chain coin, Ethereum Classic (ETC).
Putting such issues firmly behind it, ETH has at times posted a price increase equal to a multiple of 121. In January of 2018, ETH was rocketing and printed an all-time high price of around $1,400. Other notable surges in the ETH price include the 3,050% rise between January 2020 and May 2021, and the doubling in value in less than two months following price hitting 1,706 in July 2021.
It's been far from plain sailing for holders of ether – it is known for its extreme price volatility and occasional huge sell-offs. The first half of 2022 was a time when the price of ether plummeted by more than 77%.
Ethereum's functionality has seen its popularity soar. More than any other altcoin, it is ETH that is seen to have taken the best parts of Bitcoin while simultaneously upgrading the weaker features of BTC.
This is reflected in the top-10 rankings of cryptos by market capitalisation:
Bitcoin (BTC) $447.1bn
Ethereum (ETH) $222.4bn
Tether (USDT) $65.3bn
USD Coin (USDC) $54.2bn
Binance Coin (BNB) $49.2bn
Binance USD (BUSD) $17.8bn
Ripple (XRP $17.7bn
Cardano (ADA) $16.58bn
Solana (SOL) $13.3bn
Polkadot (DOT) $9.1bn
When considering its prospects, Ethereum's comparison to Bitcoin Cash is important. Like all forms of tender, cryptos have to perform two functions – to act as a store or wealth and as a means of exchange. Bitcoin continues to dominate the second aspect and uses its first mover advantage and strong brand recognition to attract buy-and-hold, and even buy-and-forget investors. Those Bitcoin positions can act as an emotional hedge in case the price does increase dramatically.
Ether's competitive advantage stems from its usability. Bitcoin Cash has grown out of Bitcoin as an attempt to develop a BTC-based platform and coin that is better suited to being used in transactions. However, Bitcoin Cash, and many other altcoins, are struggling to keep up with the in-roads ethereum is making in terms of being an effective means of exchange.
The coin that best meets the above two criteria can be expected to become the dominant crypto and go through to challenge fiat currencies for the position as the world's base currency. If that scenario pans out in the way crypto fans imagine, then the value of the 'winning' coin will be exponentially higher than it is today.
Ether's appeal can be explained by breaking it down into the following:
Faster – The ethereum network allows for transactions to be processed, on average, every one-to-two minutes. This compares well to Bitcoin's average, which is in the region of 10 minutes. This is important considering the number of everyday purchases made where customers and retailers rely on exchange being confirmed as soon as possible.
Cheaper – With regards to cost-benefits. Ethereum transaction fees can spike when volumes balloon but most of the time, ETH undercuts its bigger rival.
Trading Volumes – If you forget about market cap for a moment and focus on average trading volumes, you'll see that Ethereum is putting through more than 50% of the volumes that Bitcoin is.
Critical mass – Having been around for some years, ETH has gone some way to building brand recognition and developing consumer confidence. That is important for a platform that is designed to support third-party tokens.
---
Ethereum, 'The Merge' And Energy Use
The innovative and borderline experimental nature of cryptocurrencies has resulted in some of the original processes coming in for criticism as the technology has 'settled down'.
One of the main problems for Bitcoin and Ether has been the vast amounts of energy they use. This partly stems from the platforms being more successful than their creators imagined, and also reflects a global shift in attitudes towards energy efficiency.
Both coins started 2022 using as much electricity as medium-sized countries such as Argentina and the Netherlands. There is also the problem of IT equipment, which is discarded after being used to mine coins.
Unlike Bitcoin, Ether has taken the bold step to restructure its operations and move to PoS protocols. Like any other IT makeover, this involves significant risks, most notably the chance that PoS blockchains may be proven to not be as secure as PoW.
Once 'The Merge' is completed, the Ethereum platform can be expected to be far more energy efficient, faster, and cheaper to use. It will also allow users of the platform to stake their crypto, which involves tying up coins for a period of time to receive a reward. In the case of Ether, this will be in the form of additional coins and can, from an investor perspective, be similar to receiving interest on a cash balance in a savings account.
Ethereum – Price Range & Volatility
Source: IG
One important aspect to keep in mind is that all forms of trading involve taking measures to protect yourself from scams and scammers.
Crowdsourcing and drawing on the experiences of others is one way to protect yourself. This Top-5 list of crypto brokers offers prominent names that are well known in the sector. One other tip is to start out by practising trading using a demo account. These use virtual funds, so the trading is risk-free.
---
How to Buy Ethereum
If you're looking for the cheapest way to buy Ethereum, then the pricing at online brokers such as Pepperstone, IG and eToro, are transparent enough to allow full due diligence to be completed.
While all crypto trading is unregulated, these platforms do operate in other markets such as equities, which means their business activities are monitored by highly regarded financial authorities. Traders who are looking to trade crypto, but might consider stocks, and commodities such as oil and gold can trade all those markets from the same easy to set up account.
Specialist platforms such as Coinbase, which have sprung up to support crypto trading are another option. These are unregulated and only offer crypto markets.
If you do want to trade Ethereum, then it's necessary to sign up with your chosen broker, complete the application process and wire funds into your account. You are not obliged to trade straight away. In fact, it's a good idea to be patient and pick trade entry point. There's no need to jump in – a well thought out strategy is important if you are going to be profitable trading the markets.
The mechanics of buying Ethereum at eToro involve accessing the market, opening the trade monitor, entering how much you want to trade and whether you want to buy or sell.
Stop-losses and take-profit orders are risk management tools, which automatically close out a position if price moves to a certain level. Given the notorious price swings in crypto markets, it is possible to get 'stopped out' on a position that ultimately comes good. For that reason, other crypto traders take a different approach to risk management and don't use stop-losses, but instead trade in small size. As such, if their holding crashes to zero they won't be completely wiped out.
It's also worth factoring in that most cryptos are traded in USD, so if you want to buy ethereum with GBP, you'll probably need to factor in forex conversion rates into your strategy.
---
Final Thoughts
Ethereum's superior functionality has, for many years, resulted in it being the 'go to' crypto for those looking to use the coins to carry out some kind of transaction. Nothing can ever be guaranteed, but users and investors are warming to the idea that 'The Merge' will be successful and could even be the move that helps Ether step out of the shadow cast by Bitcoin.
It's still early days for Ether and all other cryptos but the exciting developments make it a coin to watch. Few would suggest going 'all-in' on any cryptocurrency, but if you are taking the decision to buy ether then broker selection is also important. None of the specialist platforms have been stress tested to any extent, so using a multi-asset broker that offers crypto, as well as other markets appears the safer option. It takes minutes to open an account and once done, you'll be in the best possible position to start your journey into buying ethereum.