Corporate Social Responsibility (CSR) policies are becoming a make-or-break feature of investment decisions. Small individual investors and significant pension funds alike are factoring in more than just the bottom line when deciding whether to buy a particular stock.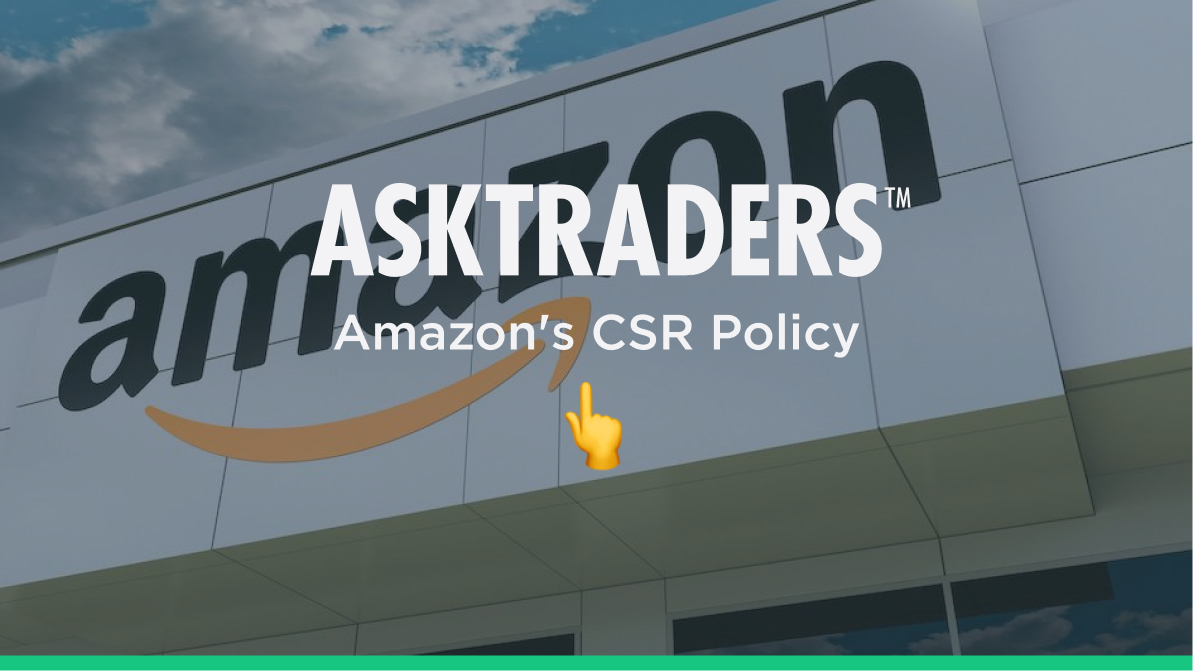 A big business like Amazon, no matter how profitable, can be overlooked if its ecological credentials and relationship with the wider community also don't stack up. Looking into Amazon's CSR credentials makes for an interesting case study.
The trend towards greater corporate consciousness has been building for decades and doesn't look like easing off any time soon. This is best demonstrated by the new protocols that have been drawn up to allow for easier comparisons of CSR credentials. Using them can help investors avoid the risk of taking positions in a brand that turns toxic. Not getting stuck in a bad position is ultimately good in terms of trading P&L.
CSR research does require some digging around. For starters, the best way to measure any firm's CSR policy is to bypass the motivational slogans and work down to the hard facts. It's also important to establish if a firm's CSR aims are appropriate, proportionate, and measurable. This report offers a summary of Amazon's CSR credentials and the outlook for a firm that just can't be ignored.
What is Corporate Social Responsibility?
CSR policies are non-binding but public commitments made by firms. They outline how a company interacts with its environment, staff and the communities in which they are based. They also include targets designed to incentivise improvements in corporate behaviour. As CSR policies have become more important, they have also grown in size and can run to hundreds of pages. They tend to be a mixture of headline-grabbing feel-good statements and granular details relating to project implementation.
The standards and measuring tools used to calibrate CSR are constantly changing, which reflects the topic is not a pure science but rather one largely driven by consumer and investor sentiment. With the goalposts constantly moving and with direct comparisons between firms in different sectors difficult to carry out, it was the International Organisation for Standardisation that came up with the idea of building a clear framework of agreed standards. Their flagship benchmark, known as ISO 26000, offers a template that firms can choose to follow, but the ISO itself doesn't enforce them. The ISO standards aren't binding but make it easier to compare the firms in one sector – for example, online retail – with others in the same sector or, indeed, different areas of the economy.
What is Amazon's CSR Policy?
When considering Amazon's CSR policy, it's good to start by factoring in how the company has revolutionised global consumer behaviour. It's possible to go through the details relating to Greenhouse Gas Emissions (GHGs) of Amazon vehicles and the average salaries of employees, but the incredible overhaul of day-to-day retail activity has also impacted global ecology and communities.
The revolutionary approach of Amazon highlights how measuring CSR progress can be challenging. How can policies weigh up the benefits of home deliveries being more carbon-efficient than individuals travelling independently to shops against the social impact caused by the death of the high street?
Environmental Policies
Under the stewardship of talismanic founder Jeff Bezos, Amazon has come to be as much a state-of-the-art tech firm as an innovative retailer. While Amazon started out selling books online, it has morphed into the world's go-to retailer and a leading player in the data centre sector. As a result, the environmental policies of the firm have also had to adopt "a broad, science-based approach to addressing the climate crisis". (Source: Amazon)
Amazon's CSR Approach to Carbon
The firm has a pledge to be net-carbon-zero in emissions by 2040. That date sounds some way off compared to other tech stocks such as Google and Microsoft, which are so up-to-date on emissions that they're looking to reverse the consequences of historical carbon emissions instead. The products delivered by Amazon's retail operations are physical rather than virtual, and that currently equates to delivery drivers in largely carbon-fuelled vehicles.
The firm aims to be powering its operations with 100% renewable energy by 2025.
It has 10,000 fully electric delivery vehicles in the US.
Plans are in place to invest $100m in reforestation projects around the world.
The $2bn Climate Pledge Fund will back visionary companies whose products facilitate a lower-carbon global economy.
The fully electric delivery vehicles are a good example of Amazon's innovative approach. The vans will save millions of metric tons of carbon emissions each year. They also reflect the firm's aggressive approach to timelines.
Amazon Web Services (AWS) is an increasingly important part of the group. These data centre services come with a significant carbon footprint, but one the firm is making efforts to tackle. Since 202, Amazon has been the largest corporate buyer of renewable energy in the world. One neat move by the firm is the effort to design its way to lower greenhouse gas emissions. A study by 451 Research found that AWS's infrastructure is 3.6 times more energy-efficient than the median of the surveyed US enterprise data centres. The majority of this saving comes from technical advances such as combining a more energy-efficient server population with much higher server utilisation.
Amazon's CSR Approach to Waste & Recycling
Amazon's approach to packaging is described by the firm as its top priority, and it needs to be. Being such a household name has opened the door to jokes and memes about 'over-packaged Amazon products.'
The firm states its goal is "to deliver products undamaged to customers while minimizing our environmental impact" (source: Amazon). It could be that the firm has been overthinking the problem, as it claims to have used "a science-based approach that combines lab testing, machine learning, and materials science" (source: Amazon).
The firm is busy 'shrinking packages' and has schemes designed to cut down on waste products. The open box and refurbished device schemes offer a chance for lower-grade products to still find a home. Since 2015, the firm has:
Reduced the weight of outbound packaging by 36%.
Eliminated 2 million tonnes of packaging material.
Confirmed that 2 million products have attained Amazon Frustration-Free Packaging (FFP) status.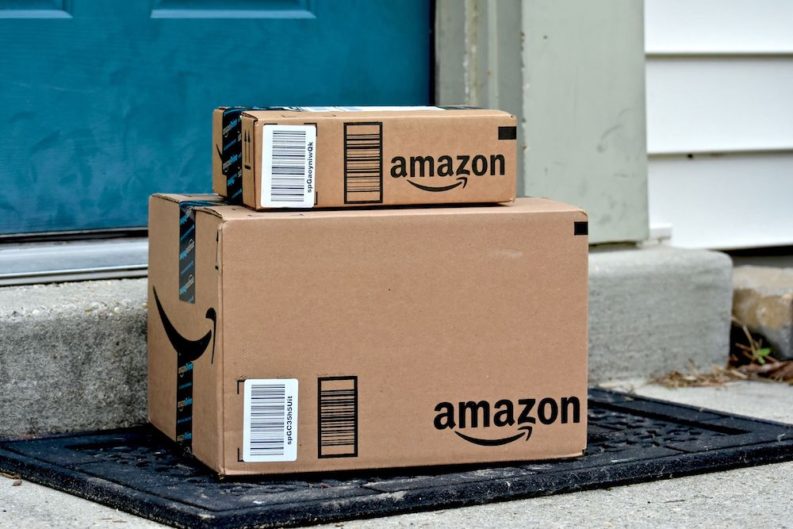 Amazon's CSR Approach to Water
Amazon returns a healthy score in terms of water usage. Many of the firm's fulfilment centres can collect and recycle water and come fitted with rainwater collection tanks or recharge wells.
Also, the data centre operations of Amazon Web Services (AWS) use direct evaporative technology for cooling buildings. This significantly reduces energy and water consumption.
Social Policies
Amazon's social interaction policies are broken down into two categories:
Housing and Food Insecurity
Invested in a flagship homeless centre in Seattle.
$2bn Housing Equity Fund to promote affordable housing.
Partnering with schools and food banks to deliver 30 million meals.
Education Support
Invests to support STEM education.
Amazon Future Engineer program for upskilling people in poor communities.
Girls Who Code programmes.
Corporate Policies
Amazon employs a staggering 1.5 million people worldwide.
Diversity
The firm actively promotes hiring from diverse communities. In the US, Amazon actively seeks out candidates from schools and universities serving ethnically diverse populations. These include colleges that are seen as being historically Black and Hispanic, Hispanic serving institutions and Women's Colleges. The firm also has a strong track record in terms of expanding employment opportunities for people with disabilities.
Training
Amazon recently invested millions in educational training for thousands of employees.
Amazon also reimburses up to 95% of tuition and fees for employees seeking to gain or expand in-demand skills.
Free online education has been offered to over 100,000 students worldwide.
With so many staff employed, it is unsurprising that some bad press has surfaced. During the COVID-19 pandemic, one case involved two members of staff, who alleged they were fired for raising concerns about COVID protection PPE being inadequate.
How Does Amazon Compare to Other Companies?
Amazon is, to some extent, playing catch up, and part of that is due to the firm's timeline. The firm went public in 1997, six years after fast-food giant McDonald's started taking CSR seriously. Being a newcomer doesn't provide you with much slack in the world of CSR, and the rate at which Amazon has adopted CSR protocols has led to some criticism. The first Amazon sustainability executive, Kara Hartnett, for example, wasn't appointed until 2014, two years after Microsoft went carbon neutral.
Raw materials aren't as big an issue for Amazon as they are for firms that operate entirely in the manufacturing sector. The CSR programmes of Coca-Cola and Nike, for example, have raw materials much higher on their agenda. The major potential headache for Amazon is ensuring the products it sells are sourced in line with its CSR policies. This requires staff to engage with suppliers and sub-suppliers to ensure products and services are provided in a way that respects the environment and human rights.
Amazon-branded products are easier to control, and the firm provides a clear and transparent breakdown of all of its suppliers. In this regard, it can be considered to be doing as much as it can.
Amazon lowered its annual carbon footprint for the first time in 2022. By comparison, in 2022, Microsoft's emissions declined by 0.5%.
How to Invest in Ethical Companies
Choose a Broker
While CSR documents can be lengthy in size and demanding of time and dedication from analysts, the good news is that onboarding to a brokerage account is comparatively simple. You can set up an account and buy Amazon shares in a matter of minutes.
One crucial factor to consider is whether your broker is trustworthy. There are instances of scammers running off with client funds, and so one way to check if your broker is legit is to establish if it is licensed by a regulator. If it is regulated by one of the below Tier-1 authorities, you're off to a good start.
The Financial Conduct Authority (FCA)
The US Securities and Exchange Commission (SEC)
The Australian Securities and Investments Commission (ASIC)
Cyprus Securities and Exchange Commission (CySec)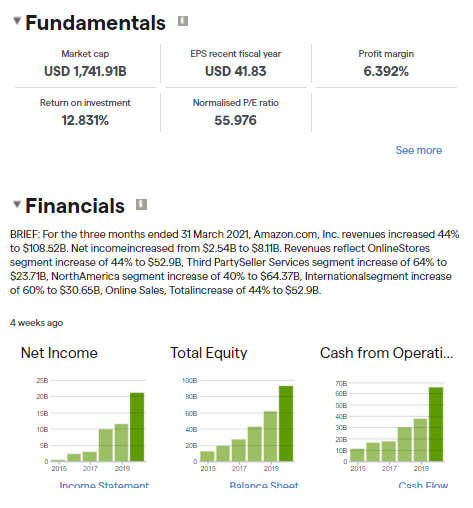 Source: IG
As one of the biggest firms in the world, most online brokers offer a market in Amazon stock. The firm is listed on the Nasdaq Stock Exchange under the ticker AMZN.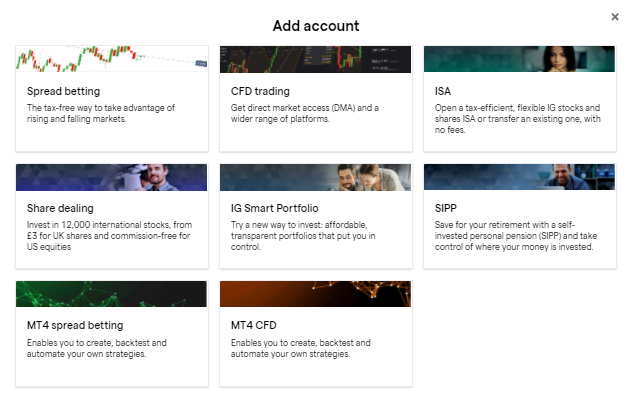 Open & Fund an Account
The process of setting up a brokerage account can be done using a handheld or desktop device and can be done entirely online. Regulated brokers will ask you to provide some personal information and information on your trading objectives. This is so the broker can comply with Know Your Client (KYC) rules and regulations as laid out by regulators. The process usually takes several minutes to complete.
The next step is to send funds to your new account. Modern brokers offer a variety of payment options, with debit and credit cards being popular due to them being almost instant. Some payments incur admin charges, although not all, so it's worth shopping around.
If you're still weighing up whether or not to buy Amazon stock, then test-driving the experience using a demo account could be for you. Demo accounts take moments to set up and give you access to the same live platform as if you had fully onboarded. The difference between the two is that in a demo account, you trade using virtual funds, so it's risk-free. As they're free of charge, there's good reason to set up with a few different brokers and find out which is your preferred choice.
Research Companies Using Technical & Fundamental Analysis
The decision to buy Amazon shares can be based on Fundamental Analysis and Technical Analysis. The former involves studying the company's core business operations, aspects such as revenue streams, debt profiles and investment plans. Technical analysis uses market data, such as historical prices, to identify the optimal times to pull the trigger on a buy or sell order. It's common for traders to use fundamental analysis to determine if a stock is a buy or not and then use technical analysis to try to enter into the trade at the optimal time.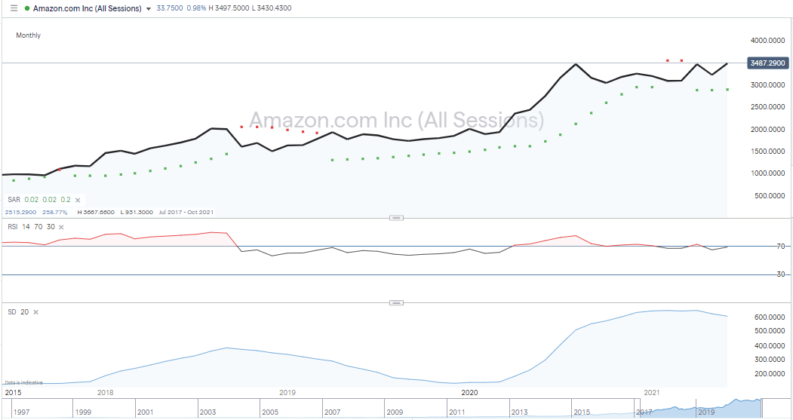 Open an Order Ticket and Set Your Position Size
Amazon shares are a popular market to trade, so they often appear on the home screens of broker platforms. To access the market, just click on the name or icon or look it up using the search function.
If you want to dive straight in, then buying shares is as simple as entering the amount you want to trade and clicking 'buy'. There are some additional tools that are worth considering as they might help you manage your risk.
Set your Stops and Limits
Stop Losses and Take Profit orders are automated instructions that are built into the system to close out some or all of your position in Amazon if the price moves to a certain level. Stop-losses close out losing trades and Take-Profits crystalise gains. There is a school of thought that buy-and-hold investors are better off managing risk using other techniques, such as trade size, but the main lesson to take is that having a clear strategy and target price is important to making a profit.
Select and Buy Amazon Shares
A lot of the work related to buying Amazon shares is front-loaded. Once you've completed your research, checked the CSR credentials and set up your new account, the act of trading is literally a tap of the screen or click of a button. It's also easy to keep up to date with your position using the portfolio section of the platform. This is where you can double-check your trade details, which is always recommended, monitor the profit or loss on the live position, and when the time is right, sell out of your position.
Is Amazon an Ethical Investment?
In a little over 20 years, Amazon has grown from being a start-up into one of the world's largest companies. It's a dominant player in many crucial global sectors and is redefining business practices. Its innovative approach does extend to CSR issues, but there are as many misses as hits, and the firm's approach to social and eco-interaction is very much a work in progress.
Amazon has for some time lagged its peer group in terms of adopting CSR policies, and in 2023 the firm didn't make it into Newsweek/Statista Inc.'s list of the Top 300 Most Responsible Companies.
That being said, the firm has changed its approach, and recent upgrades in targets suggest the tech giant is heading in the right direction. For most, this indication of greater corporate responsibility is enough to mean that CSR is not a deal-breaker in terms of investment decisions.
The core online retail division of the firm is hamstrung by its need to operate on super-slim margins and having an incredibly large number of suppliers. This double-whammy means the firm has a lot of 'challenges' to overcome. The shift into data centre hosting and streaming services could help the firm's CSR score. Indeed, the business models of AWS and Amazon Prime Video are far easier to manage in CSR terms, so it's likely Amazon will improve its ranking in the coming years as those divisions expand.