** Content does not apply to US users**
eToro has been a leading name in online trading since its launch in 2007. The company strives to make investment technology accessible to anyone and has put great effort into developing tools and technologies that make online trading easier for private online traders.
---
76% OF RETAIL CFD ACCOUNTS LOSE MONEY
---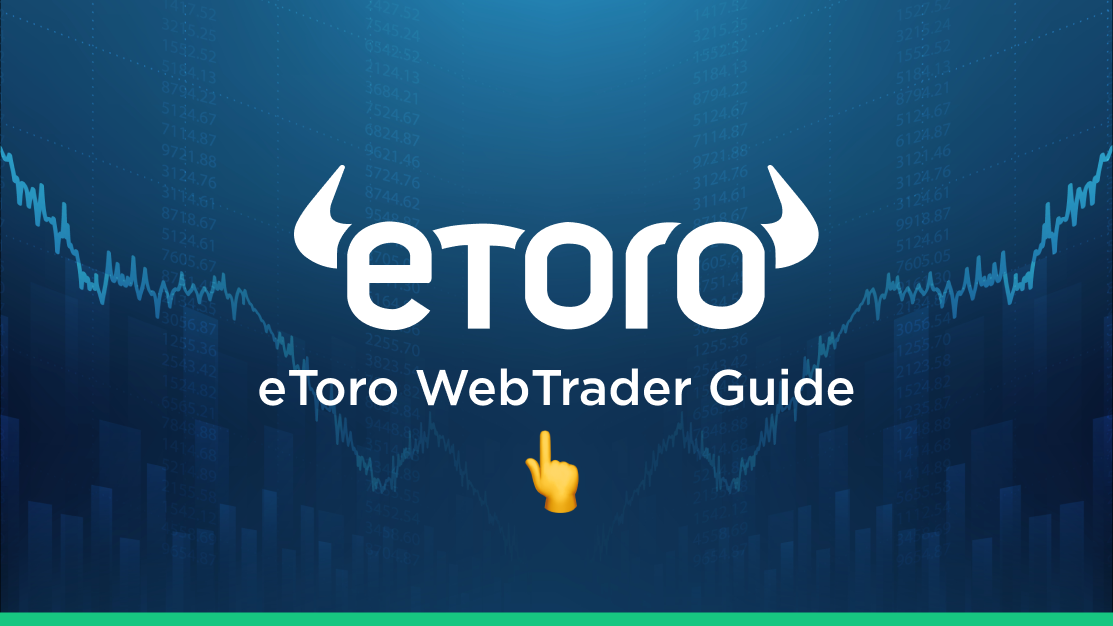 eToro has become a truly international name and now serves millions of customers from 140 countries across the world.
The eToro WebTrader platform was developed to make online trading easier to manage for anyone, anywhere, using innovative but intuitive technology.
We will look at the top features of the WebTrader system:
Accessible online trading
Social trading
Unique proprietary software
Free demo accounts
Education and training
About eToro
eToro is a CFD trader, which means when you trade on eToro, you do not own the actual stock. You enter a CFD (Contract For Difference) with the owner to settle the difference when the deal has concluded. A CFD is basically an agreement between the online trader and the broker to pay each other the difference between the price of an asset. CFD trading gives the trader flexibility and the ability to profit from both rising and falling markets.
However, it is riskier than some other forms of investment, so it's important to research the pros and cons of CFDs before deciding to trade.
If you've done your research and are happy to go ahead with CFD trading, is eToro the best CFD broker for you? It could well be. It's a popular and well-established platform that only requires an initial investment of £200 for a live account.
One element of the system that's attractive to new traders is the ability to set up a free demo account. This lets you practice trading and get a feel for the platform using virtual money before you deposit any real funds into the system.
A detailed CFD broker comparison on LiberatedStocktrader.com put eToro in the top three CFD brokers when looking at funding and company size. Their conclusion was that eToro is well established with a large customer base but still only requires a small investment to get started, making it a desirable choice for many small online traders.
The eToro WebTrader
The eToro WebTrader is the system you'll use to manage your eToro portfolio. It's designed to make online trading accessible, intuitive and easier to get started with, even if you're new to the process.
If you set up a demo account, you can familiarise yourself with the WebTrader functions and options without investing any real money, which may be one reason eToro is so popular among new online traders.
The demo version is free and offers all the same functions found on a live account. You'll be able to see real money rates, social trading information and how much you would have made on each trade. It's just that you're dealing with virtual money. The current version is the eToro WebTrader 2.0, which integrates the innovative eToro Copy Trading and CopyTrader software that allows you to search for traders to follow and automatically copy their trades into your own account.
The Copy Trading software even provides a leaderboard of successful traders, enabling new users to easily copy their trades. The current version of the WebTrader takes social trading to a new level and gives new investors who want a straightforward and partially automated social trading experience a nicely integrated and relatively user-friendly platform.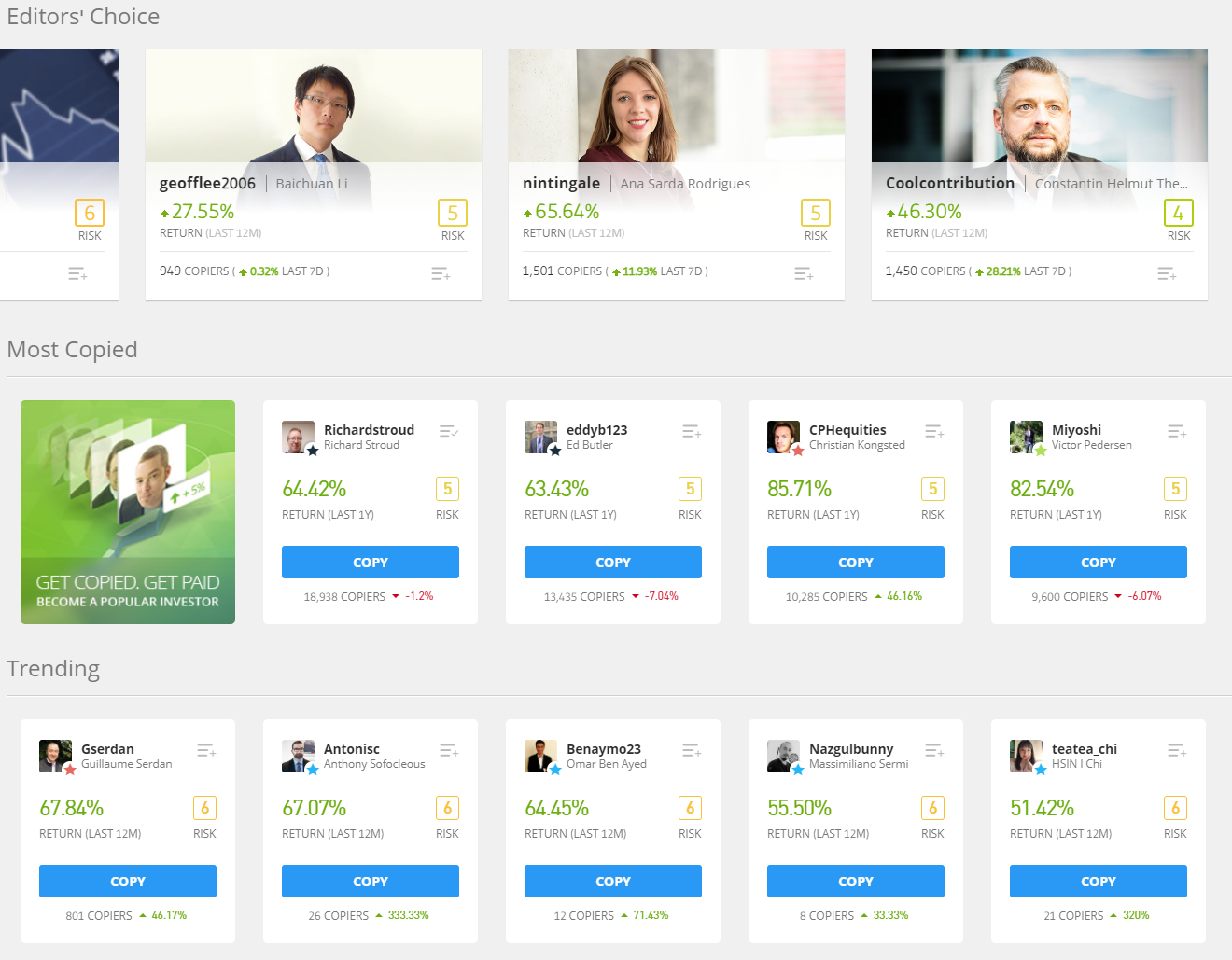 Note: Your past performance is not an indication of future results.
The WebTrader platform seems to be a major reason why some broker comparison sites rate eToro so highly. It doesn't even require a download. It's a web-based application that works with most popular web browsers such as Chrome, Firefox and Internet Explorer.
Using eToro WebTrader
Once you have your eToro account, you can start trading, or practicing if you still only have a demo account. Unlike the original WebTrader application, the eToro WebTrader 2.0 allows clients to manage trades directly from the central platform using the portfolio section. From here, clients can:
Trade personally by entering orders directly
Manage and monitor their personal positions in the market
Manage and monitor other traders' transactions if they are using the Copy Trading function
If you are reasonably good with technology, you probably won't find the platform too difficult to navigate.
There is a section displaying the instruments you can trade, such as commodities, currency pairs and indices, and for each instrument, you'll find a price chart and an alarm that can be set to alert you when a certain price is reached.
There are Sell and Buy buttons for each instrument, and clicking them will bring up a pop-up screen where you can enter your order.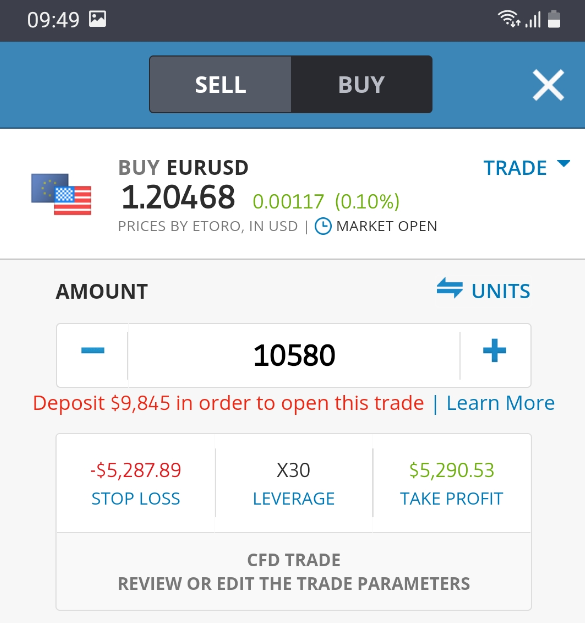 There is a section where you can view open trades, orders, history and news, and a separate section showing your account balance, invested amount, net profit and equity.
There's a clearly displayed Help button where you can find answers to commonly asked questions.
New users may also want to check out the resources on the Trading Academy page. These trainings and tutorials are available to all registered users, including those who only have a demo account.
Social trading
The eToro platform has positioned itself at the forefront of social trading. The eToro WebTrader has several tools and functions that allow eToro clients to make the most of the exciting world of social trading.
Proprietary software exclusive to eToro
A leaderboard of successful traders
The ability to automatically copy trades
An opportunity to learn about online trading through copy trading
CopyTrader is a proprietary software developed and owned by eToro. They have been integrated into the eToro WebTrader 2.0, meaning that customers doing their trading through eToro are using a unique software system that has developed over time to provide online traders with a cohesive, user-friendly application highly focused on social trading. Social trading is appealing to new and experienced traders alike, allowing anyone, of any experience level, to increase their own chances of success by simply copying the trades made by other, more experienced traders.
The new, updated eToro platform provides online traders with easy access to a list of successful traders to copy and the ability to search for, follow and automatically copy successful traders. No system of online trading is without its risks, and there are no guarantees with this (or any) form of online trading, but the strong focus on social trading means that many new traders, or those trying out CFD trading for the first time, are finding eToro a highly attractive option.
Markets available
Generally speaking, the first thing online traders need to decide on is which markets to invest in.
While most people will do their own personal research on this, the eToro WebTrader makes it simple to check out markets available directly from your home screen, where you'll find your various investment options and their current market rates. Clicking the chart icon next to each option will display a chart for that option and allow you to access all the data you might need to make your investing decisions.
eToro also provide one-click trading which, once set up, removes the need to be constantly watching market rates for each investment. This function allows you to enter some basic information that will be used every time you buy or sell using one-click trading.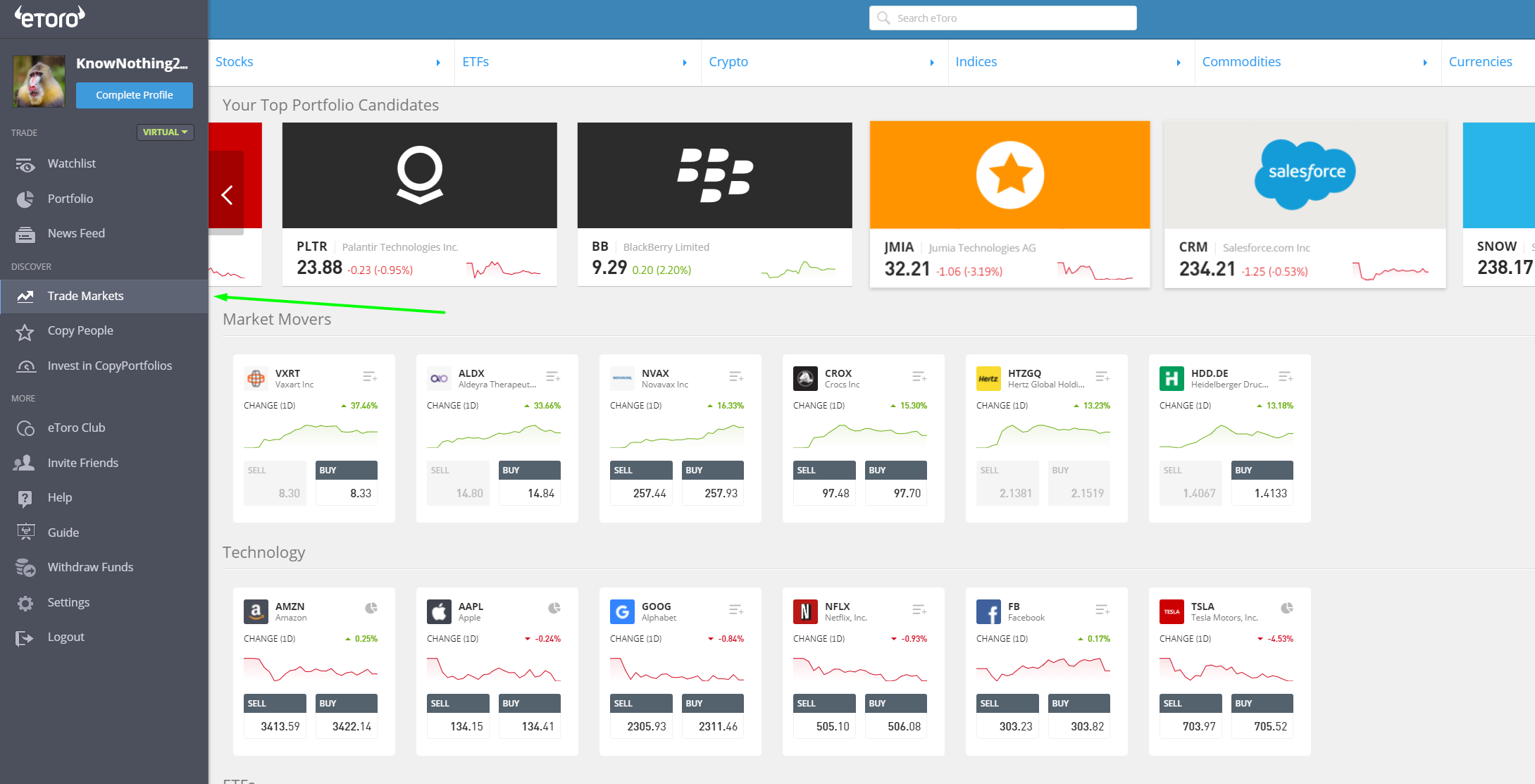 It includes your risk level, the amount you want to invest, the maximum amount you're willing to lose and how much profit you're planning on taking. Once you've decided on these parameters and logged your preferences, you can buy or sell with just one click.
Copy-trading also, of course, reduces your need to be constantly watching market fluctuations, as the activity of the traders you're copying will be automatically replicated in your account.
How to get started
To start trading, you simply need to open a live account (or transfer your demo account to a live one) and fund it. Log in to your account and click on Deposit Funds to get started. You can fund your account using wire transfer, PayPal, Neteller or a credit card. Once your funds are in your account, you're ready to start trading. As already mentioned, there are a few different ways you'll be trading with the eToro WebTrader. You'll be able to place direct orders, use CopyTrader to automatically replicate other traders and enable one-click trading if that suits your needs.
An important section of your account to keep an eye on is, of course, your open trades. This shows all the investments in your portfolio, both orders you placed manually and automatic trades that have been placed due to Copy Trading. To monitor your copied trades, you need to go to CopyTrader view, and there you can view trades sorted by the investors they're copied from. You can also click on any investor to see the full list of open trades you've copied from that particular investor. In this section, you can also view your trading orders, your account history and the latest market news.
Advantages of the eToro WebTrader
There are a variety of online traders you can use, and many of them are similar to eToro in that they are primarily CFD traders or offer CFD trading as one of multiple options. The versatility of the eToro WebTrader, however, is certainly an advantage for many small investors. It makes online trading:
Simple
Social
Secure
Personal
Intuitive
Educational
Any new program or application can take some getting used to, but the platform really is clearly laid-out and reasonably straightforward. The integration of exclusive eToro developed software ensures a top-rate social trading experience that can be easily automated. According to their website, eToro takes security seriously, employing high levels of cyber security and keeping customer funds in Tier 1 European banks. Although the WebTrader is a web-based tool, the company have not sacrificed the personal touch, stating that their customer service team is available 24 hours a day from Monday through Friday to answer any questions clients may have.
The system is fairly intuitive, with panels grouping relevant functions together, and the demo account offers a free, risk-free way for clients to try out the platform. There is also a strong educational element provided by the eToro Trading Academy, which offers live webinars, a financial trading eCourse and various video tutorials. It's easy to see why many new online traders see eToro as a desirable choice.
The bottom line on the eToro WebTrader
The eToro WebTrader certainly has some unique features that make it appealing to both new and more experienced online CFD traders. As already stated, all online trading carries some risks, and it's important to research the risks involved in a particular type of trading before committing to investing in it. But if you've decided to give CFD trading a try, the eToro platform gives you a great opportunity to get started. You get to sign up for free, practice first with virtual money, upgrade to a live account and invest a small amount initially.
eToro has created an efficient, easy to navigate Copy Trading system to maximise your chances of successful trades.
The system itself is straightforward to navigate and includes a help section for new clients to find answers to their questions. Customer service is available 24 hours a day, five days a week. What's more, you'll have access to all the training available in the Trading Academy, even with the free demo account, so there's ample opportunity to educate yourself before you put any real money on the line. That alone makes eToro an option well worth considering.
PEOPLE WHO READ THIS ALSO VIEWED:
eToro is a multi-asset platform which offers both investing in stocks and cryptoassets, as well as trading CFDs.
Please note that CFDs are complex instruments and come with a high risk of losing money rapidly due to leverage. 76% of retail investor accounts lose money when trading CFDs with this provider. You should consider whether you understand how CFDs work, and whether you can afford to take the high risk of losing your money.
Past performance is not an indication of future results. Trading history presented is less than 5 complete years and may not suffice as basis for investment decision.
Copy trading is a portfolio management service, provided by eToro (Europe) Ltd., which is authorised and regulated by the Cyprus Securities and Exchange Commission.
Don't invest in cryptos unless you're prepared to lose all the money you invest. This is a high-risk investment, and you should not expect to be protected if something goes wrong. Take 2 mins to learn more.
eToro USA LLC does not offer CFDs and makes no representation and assumes no liability as to the accuracy or completeness of the content of this publication, which has been prepared by our partner utilizing publicly available non-entity specific information about eToro.