Key points:
Apple shares are down 21% in 2022
However, KeyBanc remains bullish on the stock
The firm raised iPhone revenue estimates
After a decline over the last couple of months, shares of tech giant Apple (NASDAQ: AAPL) have fallen 21% in 2022, as general market sentiment has taken a hit due to headwinds, including soaring inflation, rising interest rates, and more.

However, in a note to investors on Tuesday, KeyBanc analyst Brandon Nispel said the firm remains bullish on Apple, keeping an Overweight rating and $185 price target on the stock.
The analyst raised iPhone revenue estimates, while he said data showed Indexed Spending was +11% month-over-month in September, compared to the three-year average of 0%.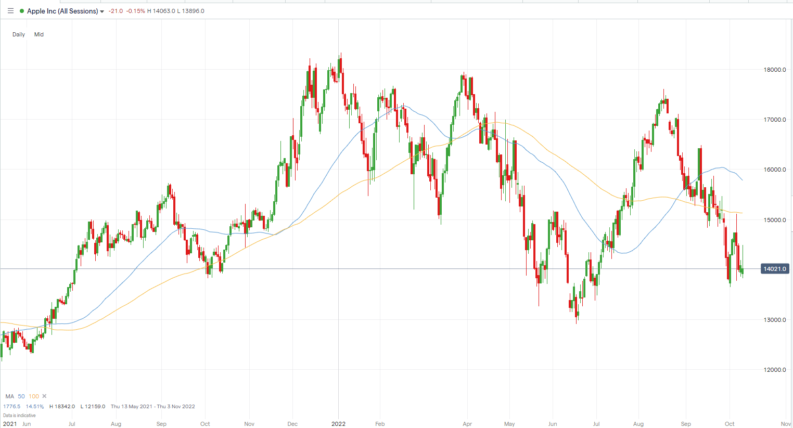 Also Read: Three Day Trading Strategies for Apple Stocks
Nispel added that KeyBanc data continued to demonstrate strength in the fourth quarter finishing at +28% quarter-over-quarter compared to the +24% QoQ average, and he believes the fourth quarter benefited from an extra week of iPhone sales and a mix shift to higher-priced devices. As a result, the analyst thinks the data backs up his above consensus hardware revenue estimates.
Elsewhere, Barclays analyst Tim Long lowered his price target on Apple shares to $155 from $169 on Tuesday, maintaining an Equal-Weight rating on the stock. However, the analyst took a similar stance on revenue, with Barclays seeing a 3% upside to September quarter hardware revenue estimates, even when accounting for 200 basis points of incremental currency headwinds.
Long increased his hardware revenue estimate for the quarter due to a slight iPhone upside and much-improved MacBooks, offsetting Services weakness.
Apple shares are currently trading around the $140 mark.