Shares of ARC Minerals Ltd (LON: ARCM) have fallen 13.25% after hitting new all-time highs on Tuesday in what can be described as a typical pullback in the middle of a bullish trend.
The copper-cobalt mining company has a controlling interest in several high potential mines located in the Zambian copper belt, such as its Zamsort copper-cobalt project, currently in the exploration stages.
ARC Minerals mining resources are located near world-class mines such as the Sentinel and Kansanshi copper mines operated by First Quantum Minerals and the Lumwana mine operated by Barrick Gold.

The miner has small scale and large scale mining licenses in Zambia and is currently in the middle of an 11,000 metres drill programme to outline a maiden copper and cobalt Mineral Resource at its Kalaba project.
ARC Minerals' projects are progressing well as investors cheered the latest move by the firm's management to surrender 75.8 million share options to prevent the dilution of existing investors. The company also halted any future award of shares to its executives.
Investors were pleased to see the mining company take such bold action to protect its share value, which led to its new all-time highs.
The miner is set to benefit from rising global copper prices fueled by high demand for the metal and has been approached by some major players looking to partner with the firm and exploit its copper resources.
However, ARC Minerals is in an exclusive agreement with Anglo American and does not have to worry about finding partners in the future due to its assets' attractiveness.
From a technical perspective, the miner's shares are likely to hed higher when the current pullback ends. Regardless, we cannot say how high it will go, given that it is trading near its all-time highs.
ARC Minerals share price.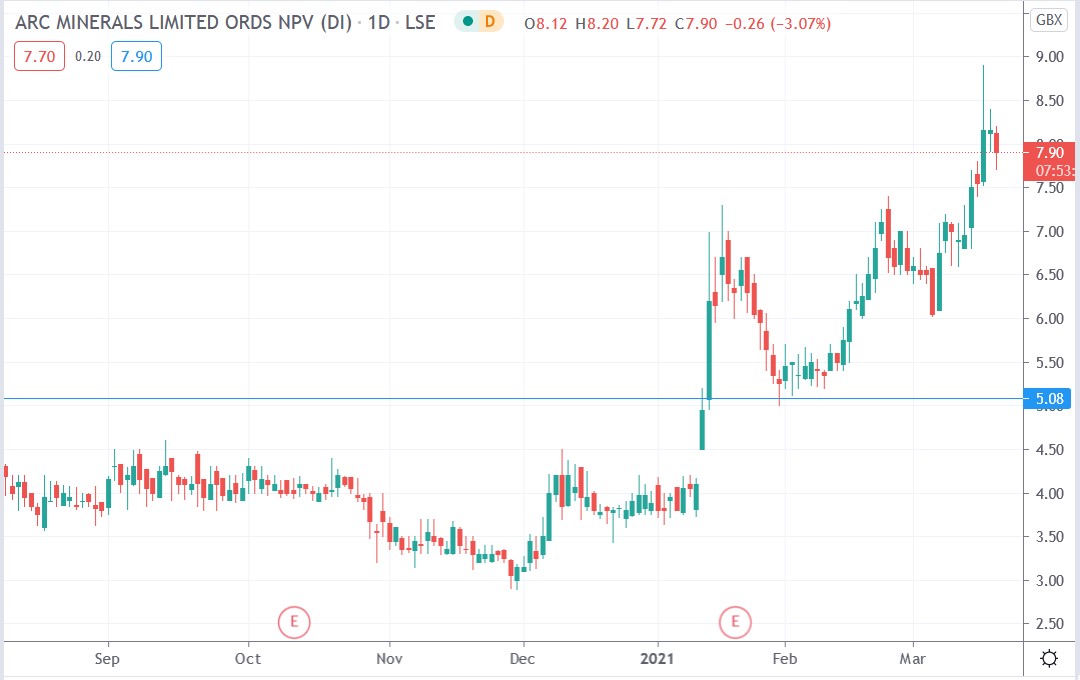 ARC Minerals shares have fallen 13.25% from their recent all-time high of 8.9p to a low of 7.72p.