Key points:
The AUDUSD currency pair had given up its gains at writing.
The RBA raised its official cash rate by 25 basis points today.
The pair will remain under pressure until the Fed rate hike.
The AUDUSD currency pair was trading much higher earlier today during the London session after the Reserve Bank of Australia hiked its official cash rate by 25 basis points as expected, bringing it to 2.85%. The dovish hike was expected but disappointing at the same time since the latest Australian inflation data showed a significant spike in inflation.

RBA Governor Phillip Lowe said that the central bank's board was monitoring the inflation situation in the country and would not hesitate to hike rates by a more significant margin in future if needed. However, he also warned that all options were on the table, including holding the rates stable if inflation starts falling.
Also read: 8 Best Forex Trading Strategies.
However, the latest Australian inflation data showed that inflation in Q3 had risen to 7.3% beating analysts' consensus estimates of 7.0% and the previous print of 6.1%. Some people thought the RBA would hike rates by 50 basis points in the face of rising inflation but were disappointed.
Investors expect the US Federal Reserve to hike rates by 75 basis points later this week, making it the most hawkish leading central as all its peers, including the RBA, have been raising rates at a slower pace than the Fed.
The expectation of an aggressive interest rate hike from the Fed further dampened the Aussie's prospects as markets remain focused on the Fed rate hike scheduled for Friday. However, the RBA reassured investors that it would do everything in its power to ensure that the high inflation figures recorded recently are temporary.
Jim Chalmers, Australia's Treasurer, also voiced his concerns about high inflation, saying it is the country's number one challenge. Phillip Lowe echoed the same sentiments saying that high inflation remains a scourge for the country.
The Aussie was also boosted by the economic growth witnessed in China, given that the Asian giant is Australia's largest trading partner, which means that Chinese economic growth tends to flow into Australia in the form of demand for the goods the country supplies to China.
The AUDUSD currency pair could fall further ahead of the Fed rate hike on Thursday.
*This is not investment advice.
The AUDUSD price chart.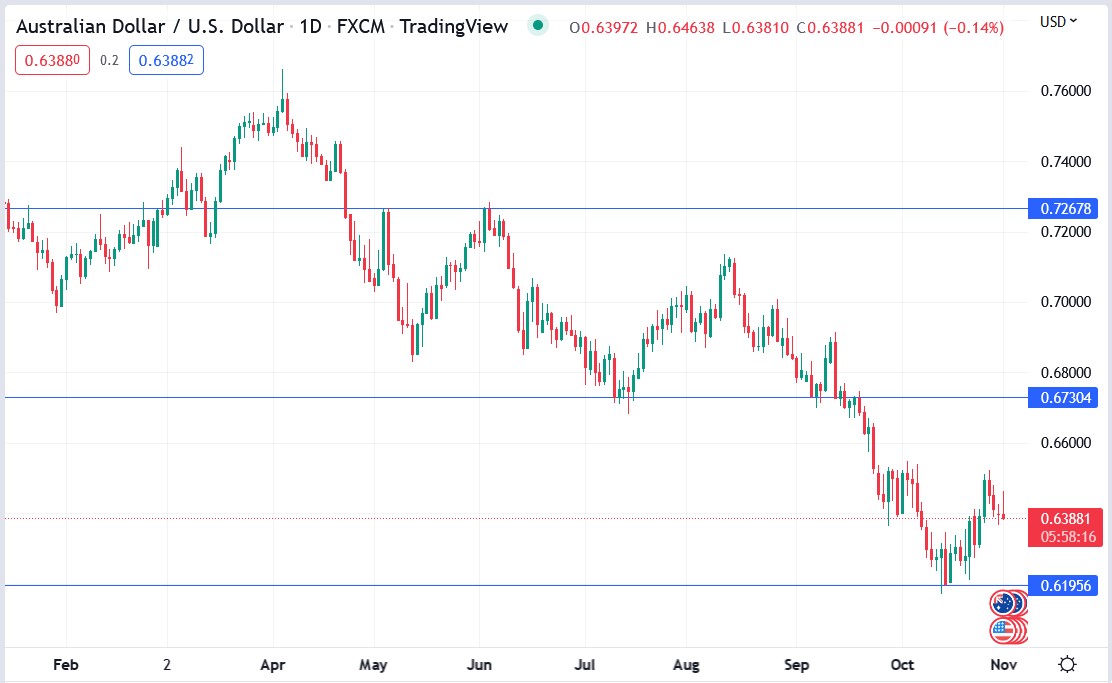 The AUDUSD currency pair was trading down 7.6 pips (0.12%) as the Aussie traded sideways against the greenback.