Shares of UK cinema operator Cineworld Group plc (LON: CINE) rallied 21.3% as retail investors bought the company's stock in a move to squeeze out short sellers who are mostly institutions. 
Cineworld is a beneficiary of the recent battle between institutional investors such as hegde funds who are shorting stocks that appear overavalued and retail investors who are determined to prove the institutional traders wrong.
In our last update on Cineworld stock as shown on the chart below, we saw that the stock was forming a pre-breakout structure characterised by a larger ascending triangle pattern and a smaller consolidation signaling a potential breakout.

However, we were not optimistic about a breakout given the fact that many countries have reinstituted lockdown measures to curtail the spread of the second wave of coronavirus infections, which means that movie theatres are likely to remain shut for a few months.
As a technical trader, I've learnt over the years that it pays to trust the technical picture, which usually predicts the price action that shall results from fundamental factors such as the latest battle between retail "amateur" traders and the institutions "professionals".
It is hard to predict such moves as the market is always full of surprises, but in most cases the technicals usually win, although it might take a while for a move to play out given that our last  Cineworld article was published on 5th Janaury 2021.
Cineworld stock has been trading sideways since then, that is, until this week's rally validated our thesis. Other shares that have benefited from the short squeeze battle incluse UK educational publisher Pearson and US video games retailer GameStop Corp. 
Disclaimer: The technical are not always right, but in my opinion, they are better than engaging in a battle like the current one. However, we would have benefited from the battle not by participating in it, but by trusting our technical analysis.
Cineworld share price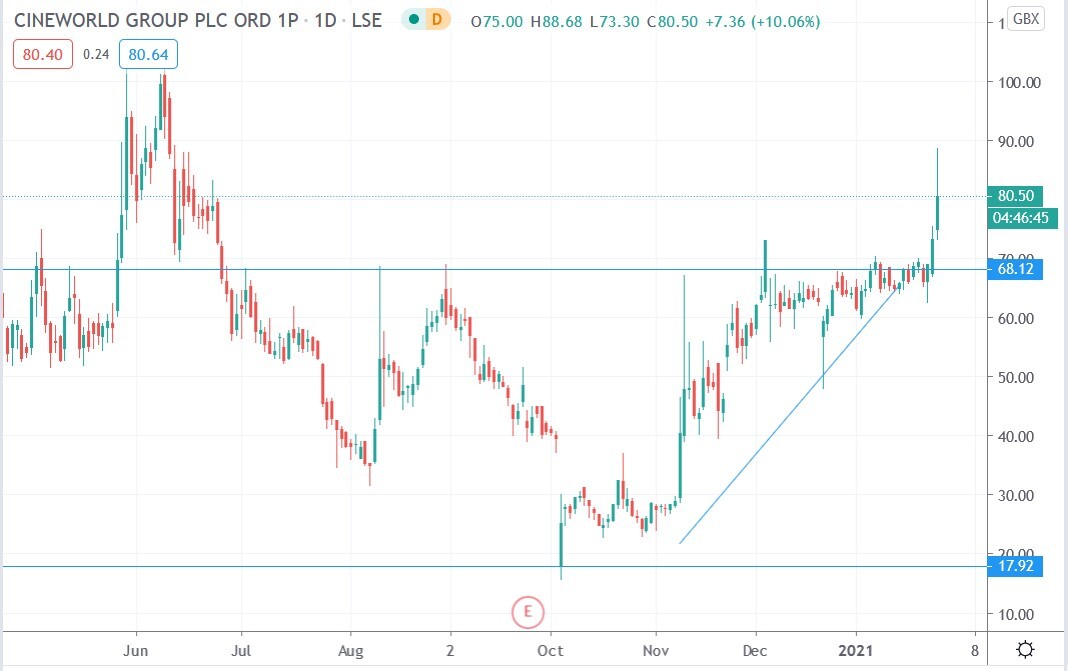 Cineworld shares surged 21.3% higher to trade at 88.72p having rallied from Tuesday's closing price of 73.14p.