Shares of Dev Clever Holdings PLC (LON: DEV) have fallen 36.9% from their April all-time highs and appear to have hit a support level. Can the shares rally higher to recoup some of their recent losses?
The company's shares have bounced off the level once before retesting it, creating ideal conditions for bullish traders looking to establish new positions in the software company that describes itself as an expert in digital innovation.
Dev Clever shares broke above the current support level, which acted as resistance back in February, then rallied higher before falling back and retesting the level, then embarking on another rally, supporting the above thesis.

The software firm that operates in the EdTech space has attracted significant funding from institutional investors such as Singapore's One Nine Two that has invested £10 million in the company after meeting certain milestones.
The last time I covered Dev Clever, its shares were trading near their all-time highs and seemed quite overvalue despite the company's upbeat prospects. Soon afterwards, the firm's shares started falling until recently when they hit the support level below.
The EdTech industry is projected to grow from $85.8 billion in 2020 to $181.3 billion by 2025. Dev Clever could generate over a billion dollar's in revenues if it captures a tiny fraction of the industry.
The company has also partnered with India's National Independent Schools Alliance ("NISA") to roll out its career preparation products to all schools under the umbrella organisation representing a market of millions of students.
Dev Clever's long-term prospects are quite attractive, and its share price is also quite appealing due to the recent decline. Bullish traders should take advantage of the current setup. However, nothing is guaranteed in the markets as the shares could easily fall.*
*This is not investment advice.
Dev Clever share price.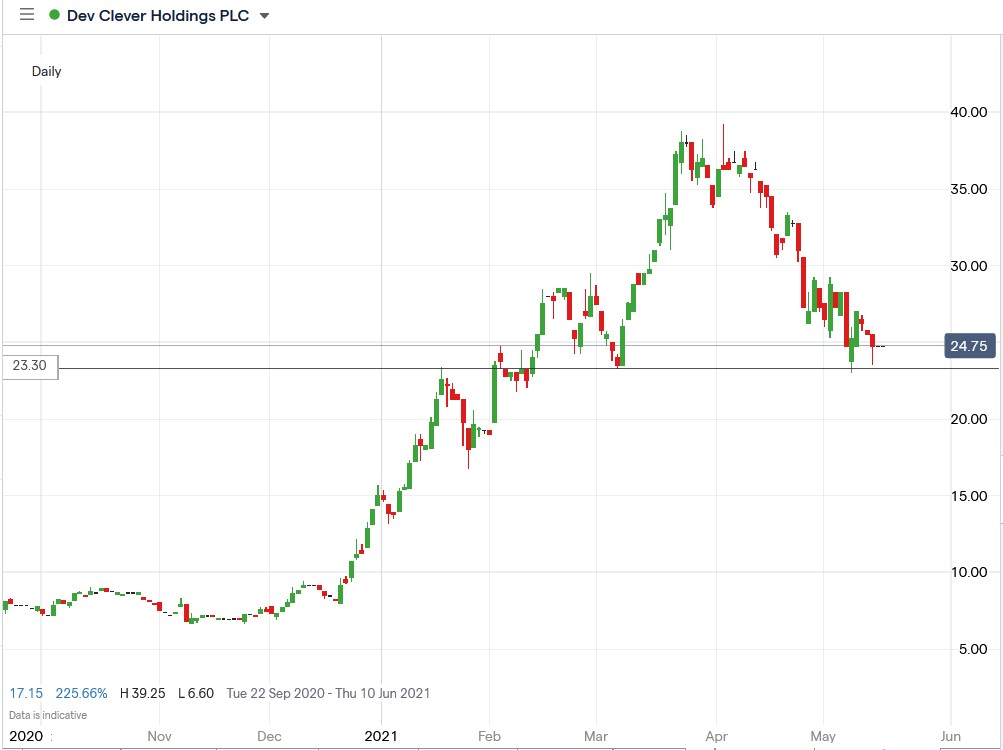 Dev Clever shares are down 36.94% from their April high of 39.25p to their current price of 24.75p. Can they rally again?