Shares of Dev Clever are down on Wednesday despite the company announcing its first material local contract win in India, worth $1.5 million.
The contract will see Dev Clever implement its immersive careers guidance and STEM-based virtual reality educational library at schools under central and state governments in India. 
The deal follows on from the five-year exclusive partnership agreement with the National Independent Schools Alliance, India's largest governing body for budget private educational institutions and Veative Labs.

Additionally, Dev Clever has also secured a government-funded pilot to deploy its platform and virtual reality learning services into one of India's 1,248 central government KV schools and subsequently roll out to the rest of the central government school sector. 
The pilot will assess the impact within the central government school system, and if successful, it will be rolled out further later in the year.
Chris Jeffries, CEO of Dev Clever, said: "Despite the devastating and tragic pandemic impact that has hit India hard, I am pleased to announce our first material local contract win following the formation of our partnership agreement with NISA and Veative. Our localised platform is now live and with the on-boarded marketing and support resources we expect to be able to report further progress during the coming months.
"We have also received substantial interest in our proposition from KV schools which has resulted in a comprehensive pilot trial that, if successful, has the potential to open up the remaining KV public schools across India for our technology and services."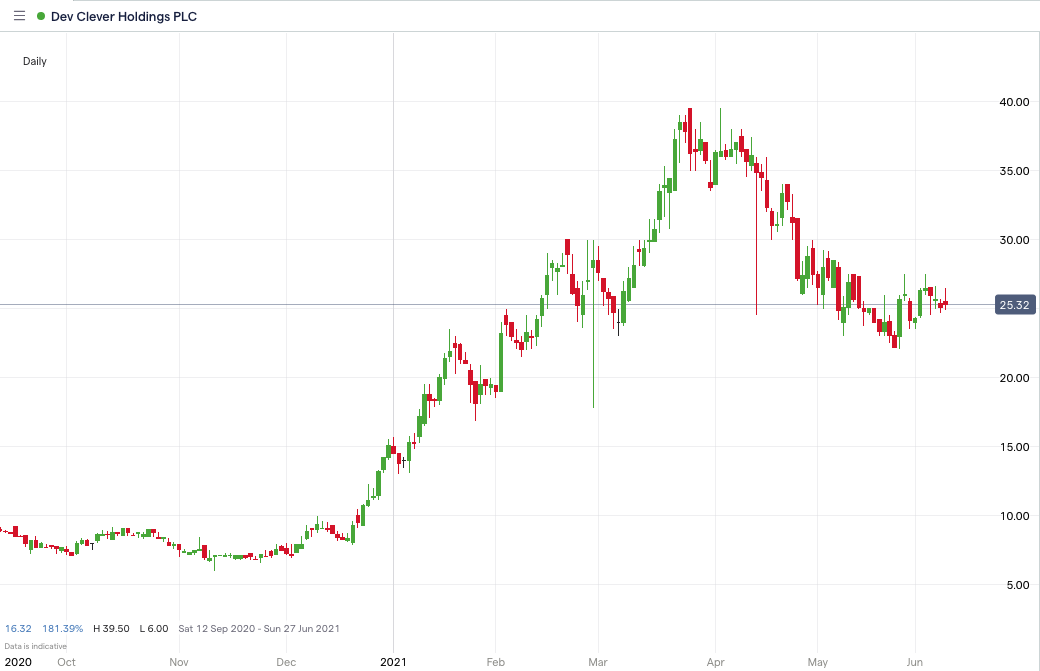 Dev Clever's share price is currently down 0.98% at 25.32p. 
Should You Invest in Dev Clever Shares?
One of the most frequently asked questions we receive is, "what stocks are best to buy right now?" It's a wide-ranging question, but one that we have answered… Our AskTraders stock analysts regularly review the market and compile a list of which companies you should be adding to your portfolio, including short and longer-term positions. Here are the best stocks to buy right now