Shares of Empire Metals Ltd (LON: EEE) 30.2% boosted by a flurry of business activities, including the sale of its 50% stake in CGC, after bottoming on 21st May 2021.
The mining company sold its 50% interest in Georgian Copper & Gold for $3.3 million in cash, leaving it with a solid cash base of £3.1 million.
Empire Metals is currently focused on its Eclipse and Central Menzies gold projects in Western Australia, although it has three precious metals projects in Austria.

The miner recently suffered a setback in its efforts to sell its fully-owned subsidiary GMC Investments Ltd to Candelaria Mining Corp after the deal was faced with multiple delays.
Empire Metals could not quickly reach an agreement with its joint venture partners in Georgia, Caucasian Mining Group (CMG), regarding CMG's right of first refusal on the Transaction. The deal was first announced on October 26, 2020.
The miner's shares bottomed on May 21 after revealing that it had entered into an option agreement to acquire a controlling 75% interest in four exploration licenses covering the Central Menzies Gold project in Australia.
Investors cheered the move, as evidenced by the resulting rally in its share price. The latest rally can also be attributed to the appointment of Shaun Bunn to the Empire Metals board as its Managing Director.
Shaun assumed his role on 1st June. Investors appear to support the miner's latest developments. However, Empire Metals shares are trading near a significant resistance level, and I'll monitor the stock to see if the price can break above resistance.
In the meantime, the latest rally could weaken at the current resistance level as the bulls and bears fight for control.
*This is not investment advice.
Empire Metals share price.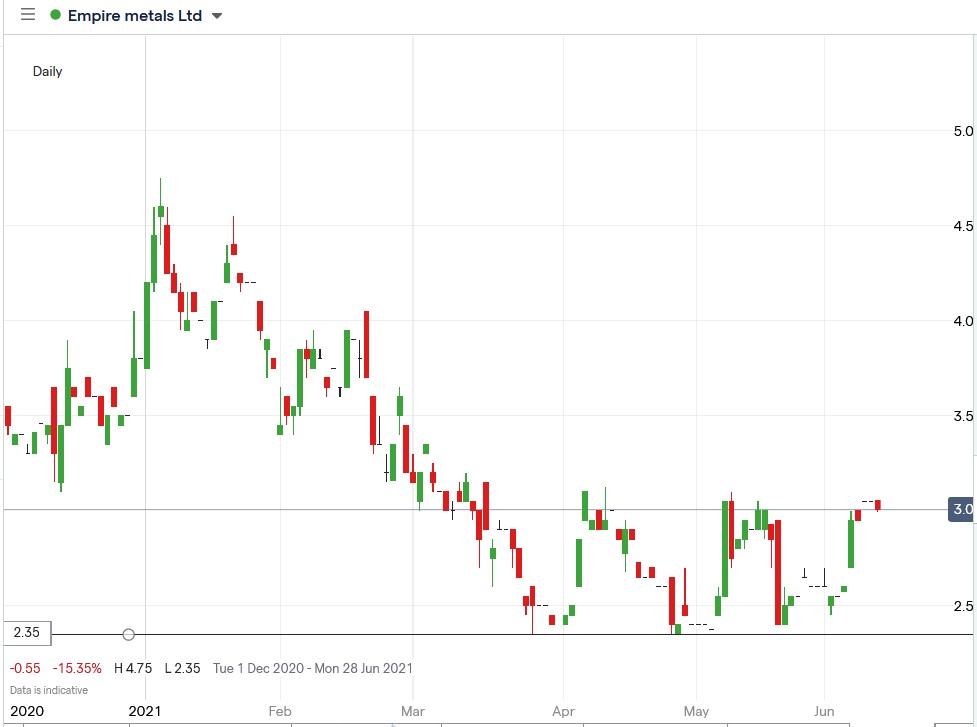 Empire Metals shares are up 30.21% from their recent low of 2.35p to their current price of 3.06p.