Shares of British steelmaker EVRAZ plc (LON: EVR) are up 22.5%, and many wonder whether the shares will keep rising for the foreseeable future so that they can buy.
Well, nobody can tell whether a stock will rise or fall, especially since short-term price moves are primarily driven by swings in investor sentiment rather than a company's fundamentals.
Regardless, the company, which mostly operates in Russia, has solid fundamentals. Its 2020 profits surged to $848 million compared to the $326 million recorded in 2019 despite the tough year that most businesses faced due to the coronavirus pandemic.

Evraz has started the year in high gear, given that it recently signed a two-year agreement with TMK to supply 160,000 tonnes of rolled pipe billets to the company.
It is unclear whether Vanadium sales shall pick up this year, given the 46% drop witnessed last year due to lower demand for the malleable transition metal.
Form a technical standpoint, Evraz shares are trading slightly off their all-time high of 710p and could rise to that point. Depending on its financial performance, we could see its shares make new all-time highs later this year.
Evraz shares have been on a sustained rally since March 2020, as shown in the weekly chart below, and I wouldn't be surprised if we got a significant pullback soon before another rally begins.
Steel demand is expected to surge this year as the global economy recovers, and any positive results from the company could trigger a rally above its all-time highs. This is a solid large-cap stock, and this is unlikely to change in the medium-term.
Evraz share price.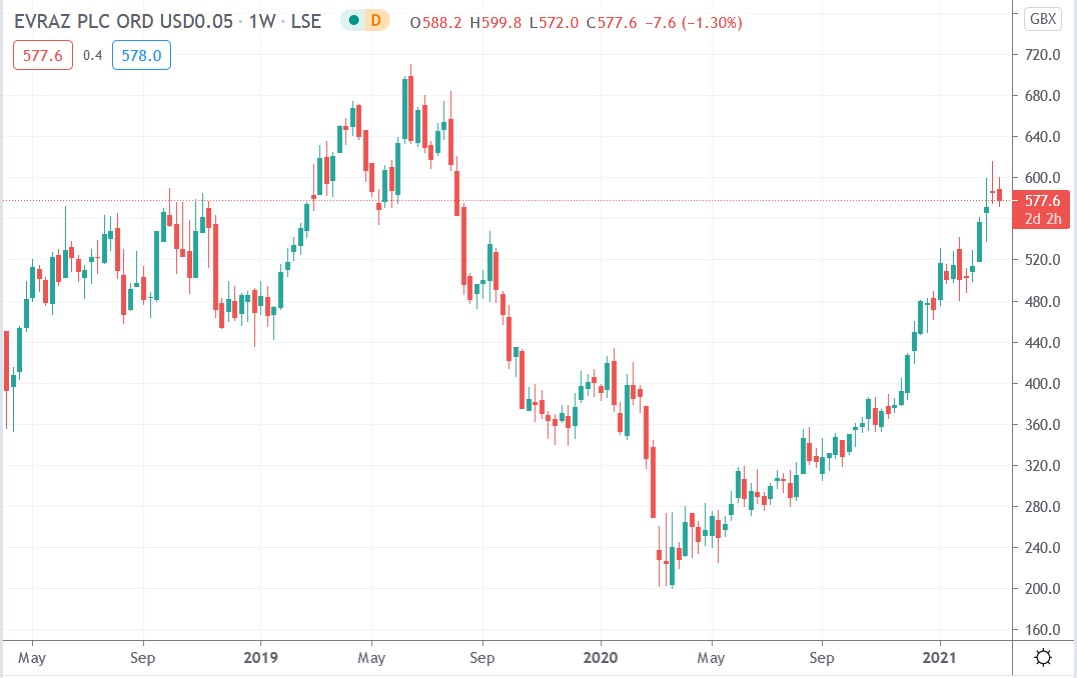 Evraz shares are up 22.5% this year, is there more upside potential in the foreseeable future?