Key points:
The GBPUSD currency pair fell despite the Bank of England's 50 bps rate hike.
The record hike comes after the BoE's dovish outlook for the UK economy.
Inflation is set to hit 13% as the UK slides into a recession in Q4 2022.
The GBPUSD currency pair was trading down 0.23% despite the Bank of England announcing a record 50 basis points rate hike, the largest rate hike in 27 years. However, the rate hike did not help the pound after the central bank warned that the UK economy would enter a recession in Q4 2022.

The Bank of England singled out the Russia-Ukraine war and the resulting sanctions as the primary driver behind the UK's record-high inflation. The central bank warned that inflation would peak at 13% later this year, compared to its May forecast of 11%.
Also read: The Top 10 Forex Trading Tips.
BoE Governor Andrew Bailey expressed his deep sympathy for low-income earners who will be hit hardest by the record-high inflation reflected in their energy bills and the prices of everyday goods.
However, he warned that the bank had no choice but to keep raising interest rates to lower inflation, which does not make sense in the broader picture since the high inflation is no longer driven by consumer spending but by high fuel and energy prices.
Another sector that is bound to suffer immensely from today's rate hike is the real estate industry, as mortgage rates soar to reflect the higher base rates set by the central banks. There is a significant risk that a large percentage of mortgage holders may be pushed to default on their payments if they increase.
The UK housing market was booming last year, and many people bought houses that they may struggle to pay off in the current economic climate. However, a crashing real estate industry amid slowing consumer spending will push the UK economy into a recession in Q4.
The impact of all the above negative factors is likely to drive the pound lower since a currency usually reflects the economic state of the country that issue a particular currency. Therefore, a weaker UK economy will be reflected in a weaker pound.
Furthermore, the US dollar has been gaining ground against its global peers, including the pound, and this trend could persist for the rest of the year. Therefore, the pound could fall much further by the end of the year.
*This is not investment advice.
The GBPUSD daily price chart.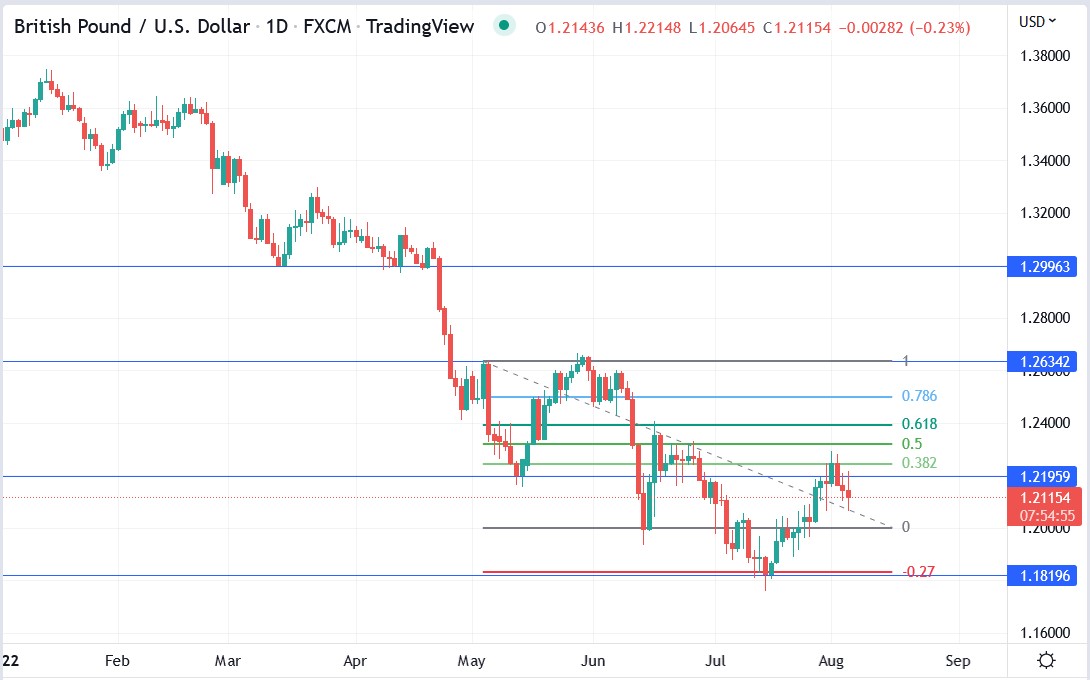 The GBPUSd currency pair was trading down 0.23% despite the BoE's 50 bps rate hike.