Key points:
The GBPUSD pair rallied higher initially before reversing course and falling.
The pair reacted well to positive final UK GDP and trade deficit data.
However, upbeat US PCE data and Fed expectations drove the pair lower.
The GBPUSD currency pair today oscillated between gains and losses, edging higher in the Asian and early London session before reversing all its gains and falling into negative territory. The pair was trading down 29.2 pips (0.26%) at writing.

The GBPUSD's losses in the American session were driven by investors' positive reaction to the US Personal Consumption Expenditure (PCE) data for August, despite the headline figure falling to 6.2% on an annualised basis versus the 6.4% recorded in July.
Also read: Top 10 Trading Tips.
Investors were more focused on the core PCE print, which guides the Fed's monetary policy, as it rose to 4.7% YoY versus July's 4.1% print. The print almost confirmed that the Fed would likely maintain its aggressive interest rate hiking schedule to combat record-high inflation.
The pound's initial rally was driven by the upward revision to the UK final GDP print for Q2 after the Office for National Statistics reported that the British economy expanded by 0.2% in Q2 dodging a recession by a whisker. Earlier figures indicated that the economy shrunk by 0.1%.
Investors cheered the positive UK GDP data combined with the positive current account data, which saw the UK's trade deficit shrink to £33.8 billion, beating analysts' estimates of a £43.2 billion trade deficit.
Furthermore, the pound was boosted by the Bank of England's second intervention in the long-dated bonds market to stabilise the markets by buying the government's long-dated bonds from Her Majesty's Treasury to ensure prices do not capitulate.
Overall, the GBPUSD currency pair is poised to end the week higher. However, we still have the US session trading, which could incur further losses as the dollar rallies higher, boosted by positive investor expectations about the Fed's future rate hikes.
The pound's gains were also limited by fears that the new UK government's deep tax cuts and spending program would stoke inflation, making the Bank of England's fight against record-high inflation much harder.
It remains to be seen how the British economy will react to the expansionary fiscal spending package proposed by the UK government and the BoE's rate hikes.
*This is not investment advice.
GBPUSD price chart.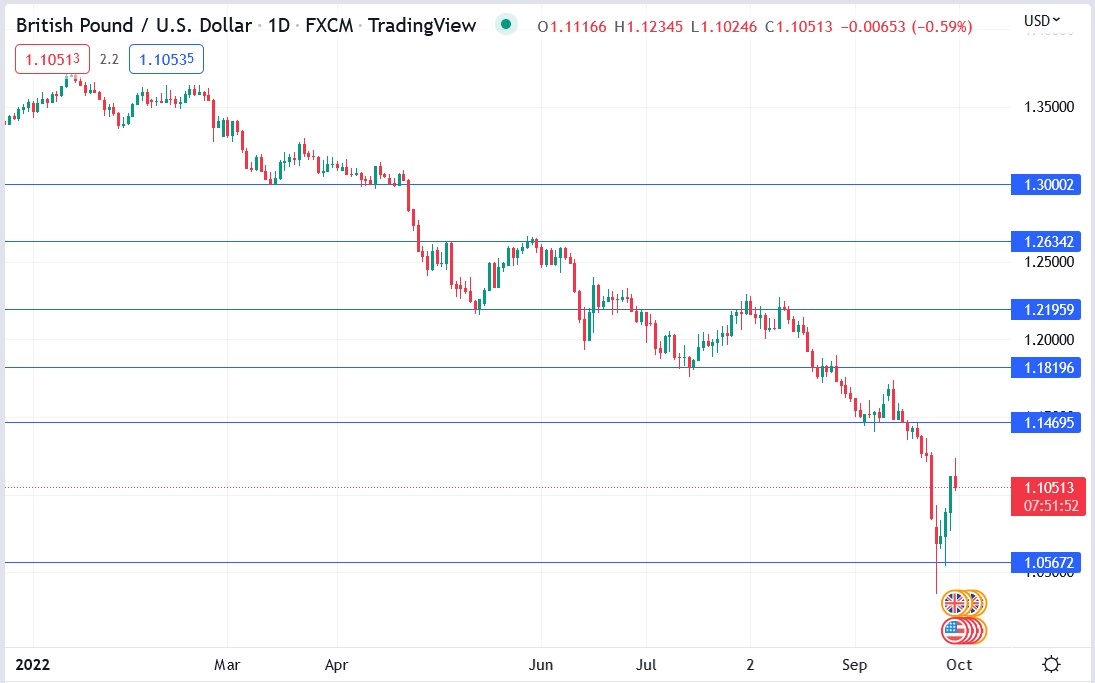 GBPUSD price today rallied higher before reversing course and falling. It will still end the week higher.