Shares of online retailer Boohoo Group PLC (LON: BOO) fell 8.77% despite the company raising its full-year revenue target after recording strong sales during the Christmas shopping period, but investors remained sceptical selling their shares.
Today's selloff is a clear indicator that the online retailer needs to do more to convince investors that the sweatshop labour scandals that rocked it in 2020 have been relegated to the past, which at the moment appears to be an uphill task.
As Warren Buffet famously said, "It takes 20 years to build a reputation and five minutes to ruin it. If you think about that, you'll do things differently." The quote couldn't be a more accurate depiction of Boohoo's current predicament.

The fashion retailer has seen its business boom driven by the coronavirus lockdowns that have forced consumers to shop online.
Boohoo announced that it had taken solid steps to transform its supply chain by banning 64 suppliers with unethical practices and looking for ethical partners to revamp its supply chain.
The retailer reported that sales across all major regions grew significantly led by the US, which saw sales grow 52%. In comparison, UK sales grew 40%, leading the company to raise its full-year revenue growth target to 36-38%, increasing from initial estimates of 28-32%.
Boohoo has thrived during the past year as many brick & mortar retailers struggled due to the store closures occasioned by the coronavirus lockdown given the company's e-commerce business model.
The company has also benefited from the fast-fashion nature of its products that appeal to younger consumers, who replace their fashion items much more frequently than older consumers.
However, it seems like the supply chain scandals and the resulting ethical concerns could be a major obstacle to Boohoo's share price in the future.
The retailer must do a lot more to convince investors that it has revamped its business practices to eliminate all unethical supply chain practices.
Boohoo share price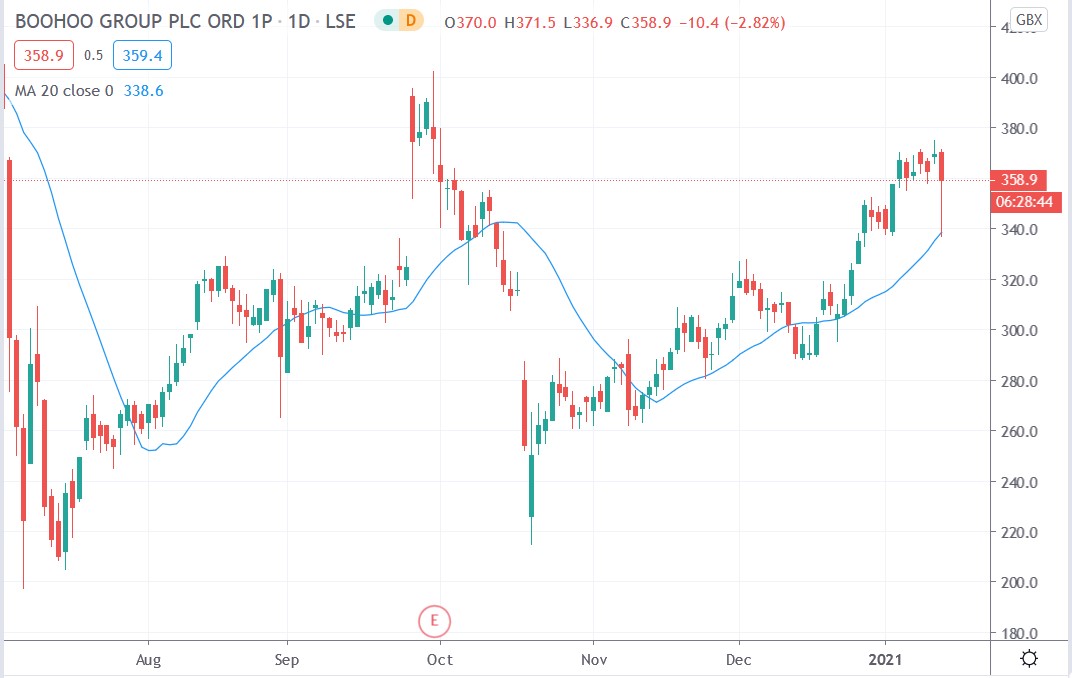 Boohoo shares fell 8.77% to trade at 336.9p having dropped from Wednesday's closing price of 369.3p.