Key points:
The IAG share price is attempting to rally higher from a support zone.
The airline group has a history of good relations with its workers.
However, a few factors could derail the rally. Read on to find out more.
The International Consolidated Airlines Grp SA (LON: IAG) share price has fallen 28.8% this year but is currently attempting to rally higher from a crucial support level. Can IAG shares rally higher, and which factors could fuel such a rally?

The first major factor that could boost IAG's share price is if crude oil prices continue to trade at current levels around $87.8 per barrel or much lower in future, which would significantly lower fuel prices leading to higher profitability.
Also read: Best Airline Stocks To Buy.
The airline group could also benefit from an improvement in the number of staff reporting to work, given the many flight cancellations that IAG's airlines and other airlines have been forced to announce due to staff shortages.
British Airways has a long history of stability, with its pilots going on a two-day strike in 2019, the first time in 40 years that its pilots had gone on strike. However, the airline's pilots are angry that the airline had refused to fully reinstate their salaries after cutting them when the pandemic struck in 2020.
The airline had cut pilot salaries by 20% in 2020 to remain afloat and save pilot jobs and has since lowered the cut to 8%, yet the pilots want their total salaries to be reinstated. In addition, the pilots are planning to stop providing voluntary overtime hours.
The British Airways Pilots Unions (BALPA) has criticised the airline's CEO, Sean Doyle, for refusing to acknowledge their demands and addressing them, which is what they are planning to only work for the hours specified in their contracts.
BALPA is currently negotiating with the BA management team, but there seems to be no progress. As a result, the airline will likely face a potential strike in the coming weeks if the standoff with the pilots is not resolved.
Meanwhile, investors and traders should monitor the IAG share price chart to see how its shares will perform in the future. We could see a rally higher, or the price could fall further in case of adverse developments. Therefore, investors should be aware of the risks before buying IAG shares.
*This is not investment advice.
IAG share price.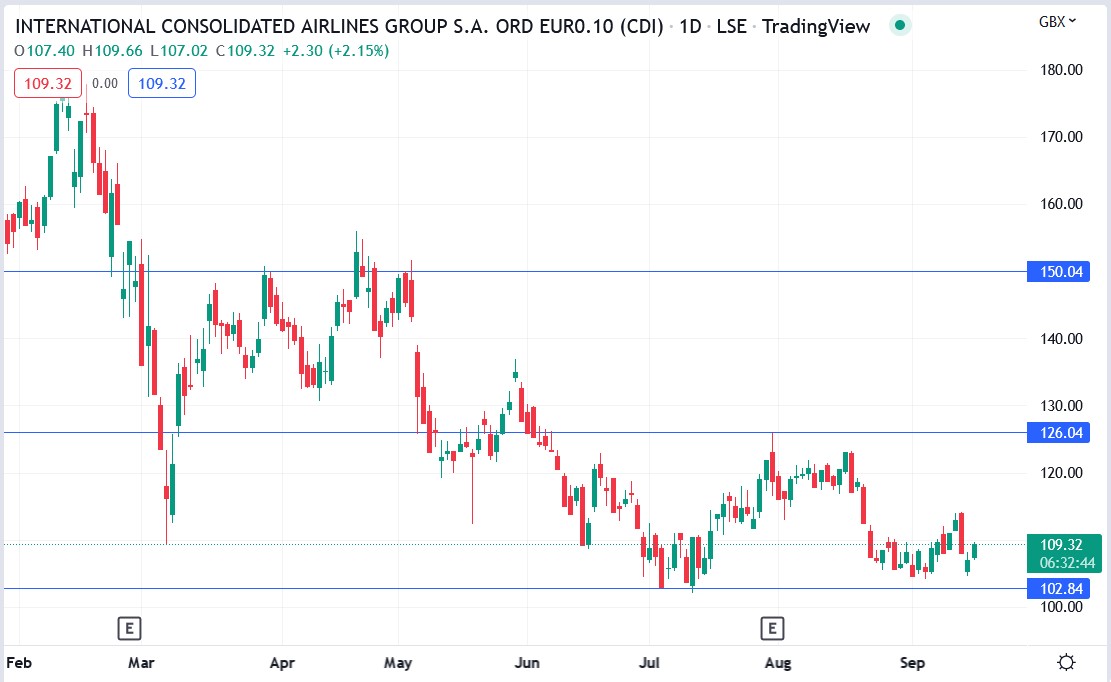 The IAG share price has fallen 28.78% since the year started; however, they are now attempting to rally.