Key points:
RAD crypto stock price today rallied 78.9% but later gave up some of its gains.
The crypto represents the peer-to-peer coding platform known as Radicle.
Investors should wait for a pullback before buying the RAD crypto.
The RAD crypto is the token for the Radicle peer-to-peer code collaboration platform. The coding platform comprises a desktop client and a web client that allow users to Radicle-Link and Radicle's smart contracts.

Radicle works with other established crypto platforms such as Etehrscan, ethBuild, MyEtherWallet, the web3.js library, and the ether.js library. Coders can interact with Radicle smart contracts via these platforms and perform different functions.
RAD Crypto price prediction
RAD crypto surged 78.9%, breaking above two resistance levels, 7.846 and 9.344. As a result, investors and traders holding RAD coins had a chance to cash out for a significant profit before the crypto gave up a significant portion of its gains.
RAD was trading at 7.62 at writing, representing a 40.6% gain, and had fallen back below the two resistance levels. After today's massive rally, I expect RADUSD to rise back above the two resistance zones and maybe even head higher.
The crypto's following resistance levels are at the just broken 7.846 and 9.344 levels, after which the 11.74 resistance level comes into play. If this level is broken, the next significant level would be at 14.197, above which the 16 and 18 levels would become relevant.
Investors wondering how long it will take for the bullish moves to play out should understand that there is no way to know how long such a move will take. It could happen in weeks or days if we get solid moves like today's rally.
It is essential for investors to time their entries well so that they do not buy at or near the tops and suffer massive declines. It is never a good idea to buy crypto after a rally such as today's since the chances of a pullback is relatively high. It is always best to wait for a pullback before buying.
Investors should also question whether a project can survive over the long term or whether it is an overhyped project that could collapse. For example, Radicle seems like a project with decent prospects, but I am not a software engineer or coder; hence, I cannot speak about the project's quality, determining its longevity in the market.
*This is not investment advice. Always do your due diligence before making investment decisions.
RAD crypto price.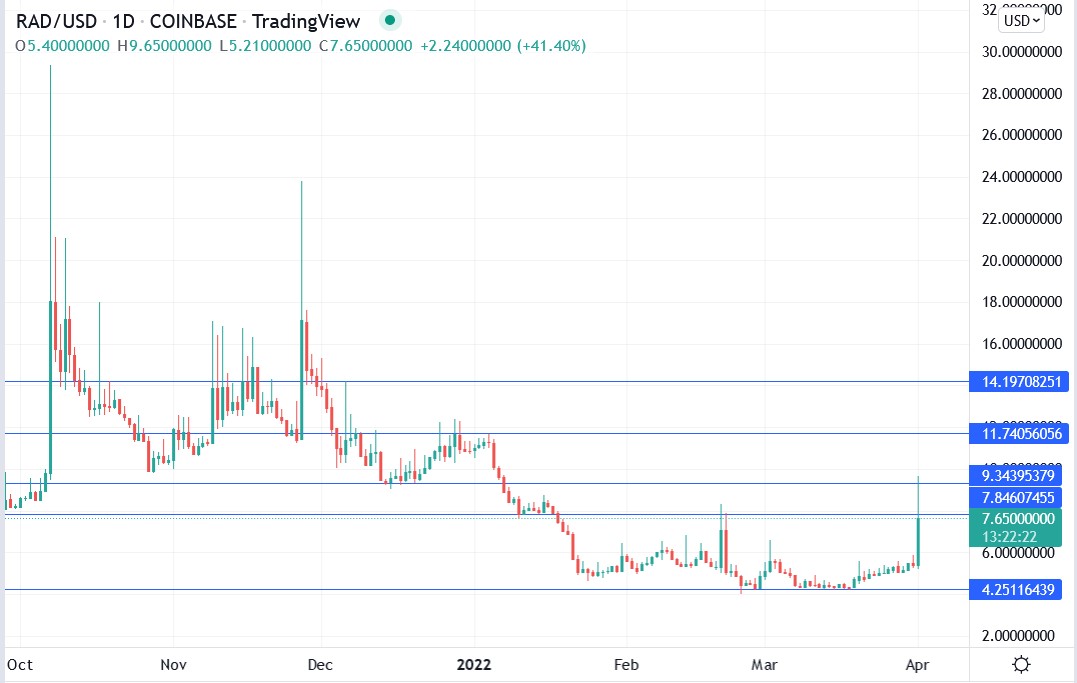 The RAD crypto price surged over 78.94% to trade at 9.643, rising from Thursday's closing price of 5.389.