Key points:
Royal Mail shares sunk 8.595 as CWU workers plan more strikes.
The situation is becoming direr for the company and its workers.
However, a quick resolution seems impossible at the moment.
The Royal Mail PLC (LON: RMG) share price sunk 8.59% today after the Communication Workers Union (CWU) confirmed that its members would strike for 19 days during the busy holiday shopping period.

The move comes after the company announced a strategic change in its working relationship with the CWU following an impasse in the current negotiations. Royal Mail said that it was reviewing and will serve notice on some of the historical deals made with the CWU.
Also read: 12 Best Shares To Buy As A Beginner.
According to Royal Mail, the CWU is holding the company hostage by vetoing many of the reforms proposed by the company to transform the firm and make it more competitive in the cutthroat parcel delivery industry.
However, CWU is fighting back with its latest announcement trying to force the company to reconsider its position. Unfortunately, CWU's demands come at the wrong time, given that Royal Mail has been losing £1m a day due to the strike action.
I believe that any further strike action would give Royal Mail a good reason to fire the workers participating in the strike action. Royal Mail's management has already referred the negotiations to Acas (the Advisory, Conciliation and Arbitration Service) as it pursues other solutions.
CWU has accused Royal Mail of trying to "casualise" the postal service by transforming it into an employer similar to Uber. In contrast, Royall Mail has defended its position, saying that its customers have other choices and must modernise its operations to remain competitive.
Royal Mail pointed out that it had asked the CWU to participate in talks mediated by ACAS on 22 September 2022. Still, the union did not show up for the talks, instead choosing to announce more strikes, further disrupting the company's operations.
Royal Mail customers should know that 24-hour strikes are planned for October 13, 20, and 25, as well as 28 November. The strikes will affect the Black Friday week and Cyber Monday, with all of the company's workers expected to participate in the strikes.
Other strikes on different dates will involve different teams and combinations, but the above strikes will bring Royal Mail's operations to a standstill.
*This is not investment advice.
Royal Mail (RMG) share price.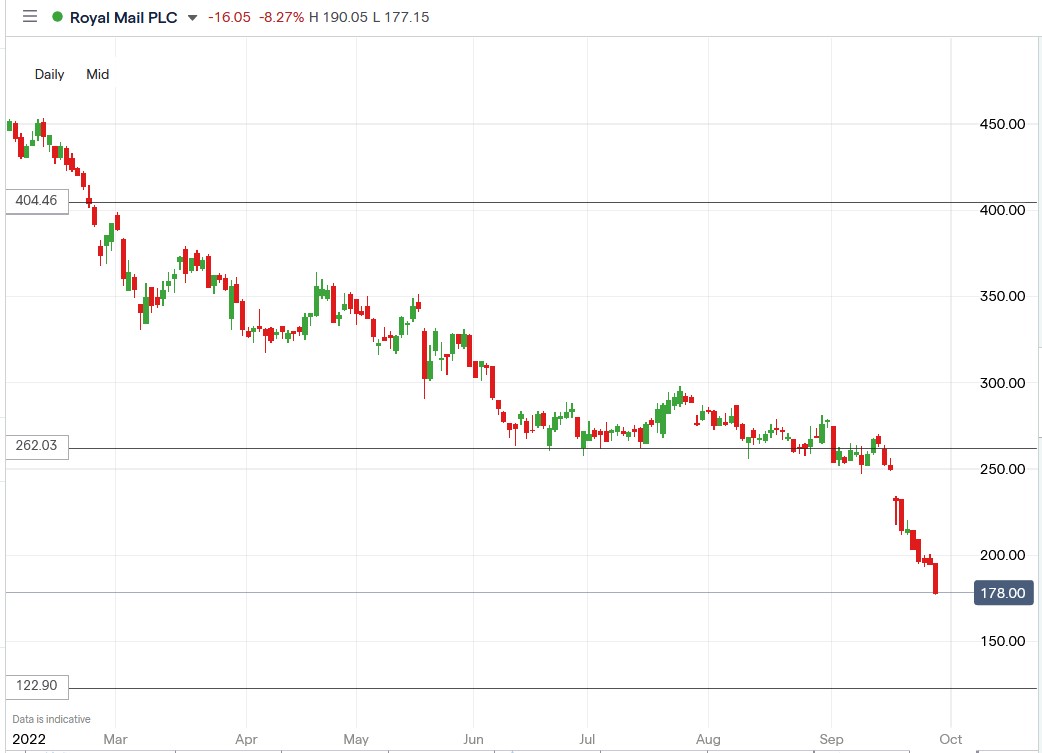 The Royal Mail (RMG) share price plunged 8.59% to trade at 178.00p, bringing its monthly losses to 34.39%.