Shares of S4 Capital PLC (LON: SFOR) are up 23.4% in 2021 after the advertising company hiked its revenue forecasts twice in the same month, driven by many Westerneconomies' reopening.
The advertising company hiked its revenue growth target this year to 35% from the 30% figure set early last month after another 5% hike. The company owned by Sir Martin Sorrell has been growing from strength to strength since he bought it as a cash shell in late 2018.
S4 Capital reported that trading during the first fourth months of its 2021 financial year had accelerated significantly, with revenues surging almost 84% compared to the 71% revenue growth reported in Q1.

The ad company intends to raise $350 million via a term loan to fund its expansion strategy. Most of its past growth has been generated from such as MediaMonks, MightyHive and BizTech.
Sir Martin Sorrell has accomplished an impressive feat building the company from scratch to its current market capitalisation of £3.131 billion in just over two years, proving that he can build a global company to rival WPP, from which he was ousted as CEO in 2018.
Its contract wins with BMW and Mondelez drove S4 Capital's first revenue hike in May. The company is solely focused on digital advertising, unlike other global ad agencies that do all forms of advertising.
The company has carved a niche for itself among the most prominent global corporations that are pivoting more towards digital advertising as consumers spend more time on their mobile devices instead of on traditional media such as TV, Radio and physical newspapers.
S4 Capital is well-positioned to profit from the massive shift to digital advertising as most advertisers direct their marketing budgets into digital advertising and away from traditional media.
The company is currently trading at new all-time highs but is likely to keep rising; hence, bullish traders still have an opportunity to profit. I would wait for a pullback before jumping in.
*This is not investment advice.
S4 Capital share price.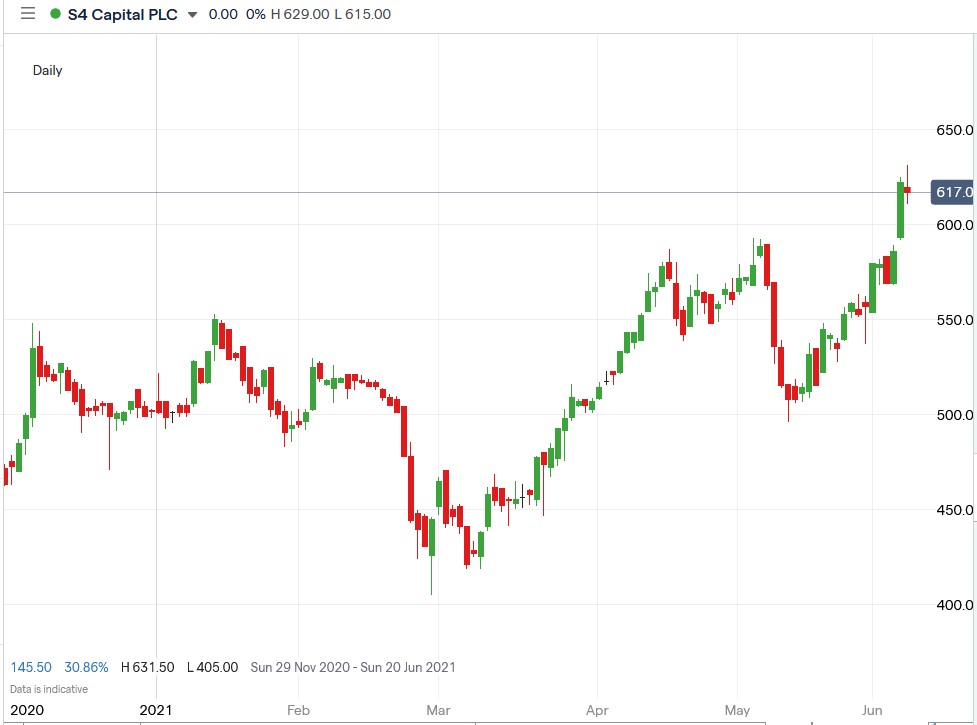 S4 Capital shares are up 23.38% in 2021 amid several revenue estimates hikes. How far can they go?