Key points:
Science in Sport announces sales up, logistical problems
However, sales are only just about keeping pace with inflation
There's also the little point of an immediate capital raise
Science in Sport (LON: SIS) has performed the interesting trick of presenting the half year results as doing so well that it's time to have an emergency capital raise. Well, the company might quibble over whether it's an emergency or prophylactic and it is indeed true that capital is a great deal cheaper when you don't absolutely, immediately, need it. But the discount to the prevailing price is 35% which doesn't look all that much like something close to market now, does it?

As to what Science in Sport actually does, it's in that world of the appliance of science to sporting endeavours – obviously. But the specific manner is in the marketing of "premium performance nutrition". We might claim that this is to go to professional sportsmen but the reality is that it's really to those who would like to be. A much, much, larger market that.
The interims contain a description of one problem: "Unbudgeted raw material and carriage costs, as notified in the July trading update, and £0.3m in restructuring costs will add £2.9m to costs in 2022" Unbudgeted rises in costs are also known as inflation. This is an important point because it makes this something to note: "Despite a challenging environment, revenue grew by 10% in H1" Inflation's been around 10% – OK, not exactly, but around. And if you're only just keeping up with inflation then you're not in fact growing. This is a lesson that we've all got to learn quickly, for this is the first time we've faced a seriously inflationary environment in perhaps 5 decades. Growth, now, means the top line grows by more than the inflation rate.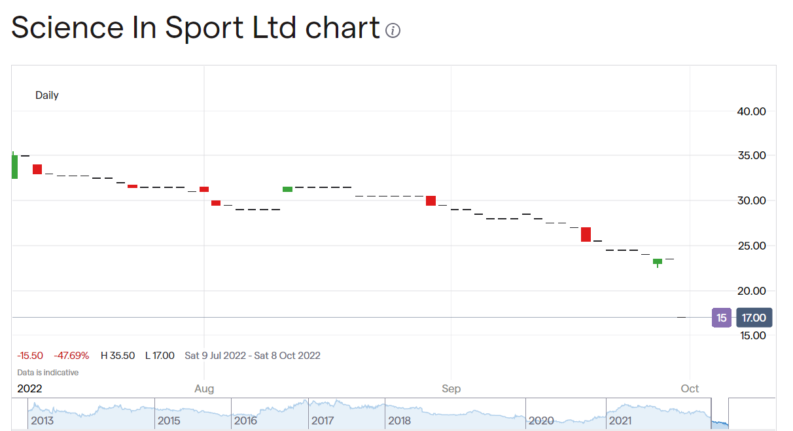 Also Read: The Best Vegan Companies To Invest In
SIS insists that it has headroom within its current banking facilities and yet there is this rights issue to deal with: "Proposed Placing of £5.0 million through the issue of 33,333,333 New Ordinary Shares" the net proceeds of which are simply to strengthen that balance sheet.
Now, perhaps this is wise given the likely economy in the near future. But a 35% discount to the immediately prevailing price does seem a pretty large dilution given those claims that everything is just Top at present.
The bigger issue here though is what do we think of the sector? That idea of amateurs and wouldbes taking varied supplements to improve their sporting performance? Is this some cyclical fad which is going to disappear? Even, something that recessionary times will curb? Or is it some structural change in enough of the people that growth will continue even if not as fast as before? We do, after all, know – as clothing and furniture sales online have shown us – that either can be true in a specific sector, cyclical or structural. So any longer term position needs to be based upon a view on that.
In the short term, of course, the SIS share price is going to be heavily influenced by the success or not of the placing of these news shares.