Latest

21:03


US Equities Close Green
DOW: +0.49%
S&P: +0.52%
NASDAQ: +0.84%
19:56


Brexit Update

Following a phone call between UK Prime Minister Johnson and European Commission President von der Leyen, both parties have released statements…

Von der Leyen stated that they "welcomed substantial progress on many issues. However, big differences remain to be bridged, in particular on fisheries."

A Downing Street spokesperson said "negotiations were now in a serious situation. Time was very short and it now looked very likely that an agreement would not be reached unless the EU changed its position substantially."

The main topic in the Downing Street statement was fisheries, saying that if there was to be an agreement then the EU needed to shift its position on fisheries significantly.
19:25


Coca-Cola

Coca-Cola (NYSE: KO) will cut around 2,200 jobs globally including 1,200 in the United States as part of its restructuring efforts.

The cuts represent approximately 12% of Coca-Cola's workforce.

Coca-Cola shares are up 0.55% so far today at $53.35.
17:20


XpresSpa and United Airlines Announce Partnership

Shares of health and wellness company XpresSpa Group (NASDAQ: XSPA) are rallying on Thursday after the company announced its XpresCheck subsidiary has entered into an agreement with United Airlines (NASDAQ: UAL) to offer COVID-19 testing services.

Full Story: XPRESSPA STOCK SURGES 25% ON NEWS OF UNITED AIRLINES PARTNERSHIP
16:35


European Equities
FTSE 100: -0.35%
DAX: +0.87%
STOXX 50: +0.52%
IBEX 35: +0.23%
CAC 40: +0.03%
15:58


Signature Aviation

Shares of Signature Aviation PLC (LON: SIG) surged 41.7% after the company confirmed that it is in talks with US private equity firm Blackstone Group about a potential cash offer of $5.17 (£3.80)a share for the company.

Full Story: SIGNATURE AVIATION SHARES SURGE 41.7% ON BLACKSTONE'S $5.17 TAKEOVER OFFER
14:49


Google-Fitbit Deal

The Google-Fitbit deal receives conditional approval in EU after antitrust concessions.

The EU conditionally approves Google's $2.1B acquisition of Fitbit (NYSE: FIT).

Google will have to silo off user data and not use it for targeted advertising and ensure that Android phones will continue to work with other fitness wearables and smartwatches.

Fitbit shares are up 0.42% at $7.22.
14:35


US Equities
DOW: +0.51%
S&P: +0.54% New Record High
NASDAQ: +0.60% New Record High
10:53


Brexit

According to reports, an EU official says that a UK trade deal is "fairly close" and a deal is possible by the end of the week.

Manfred Weber, a German politician who has served as leader of the European People's Party in European Parliament has tweeted to say that Europe should only approve a Brexit agreement if it is agreed before Sunday so that they have time to scrutinise any potential deal.
09:31


Bidstack Shares Surge

Shares of Bidstack Group PLC (LON: BIDS) surged 25.8% today after the in-game advertising group announced that it expects its full-year revenues to exceed analysts expectations driven by huge demand from advertisers.

Full Story: BIDSTACK SHARES SURGE 25.8% ON UPGRADED FULL-YEAR REVENUE EXPECTATIONS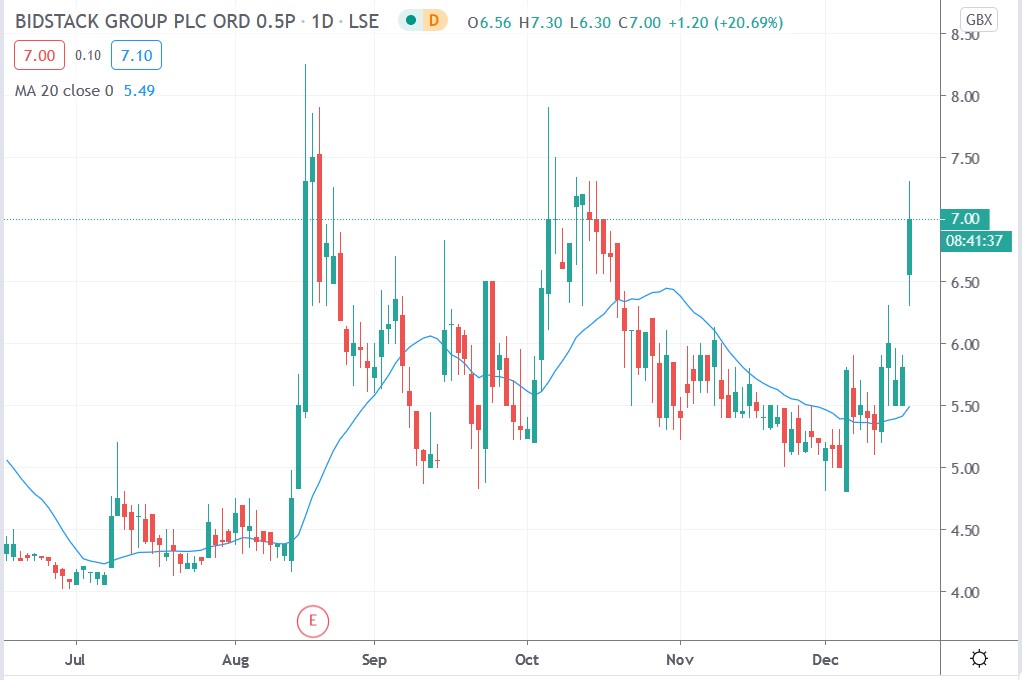 08:05


European Equities
FTSE 100: +0.29%
DAX: +1.13%
STOXX 50: +0.78%
IBEX 35: +0.56%
CAC 40: +0.64%
Latest News:
Roku shares rose 4.48% after hours to $340.41 after WarnerMedia said HBO Max will be available on Roku's platforms starting today
The Fed kept interest rates on hold and pledged to continue at least $120bn in monthly asset purchases until "substantial further progress" has been made in the economic recovery
BarkBox Inc is merging with blank cheque company North Star Acquisitions in a $1.6 billion deal
Luckin Coffee agreed to settle accounting and fraud charges with the SEC for $180 million