Shares of Superdry PLC (LON: SDRY) surged 14.9% as investors reacted to the positive trading results achieved over the 18 weeks to August 28, while its full-year results for the 2021 financial year showed significant improvements compared to fiscal 2020.

The trading update revealed that the fashion company's revenues rose 1.9% over the 18 weeks compared to a 29.6% drop recorded in a similar period last driven by the easing of lockdown restrictions in the UK and other countries.
Superdry noted that the revenues generated by its physical stores increased dramatically, with UK stores registered a 765 jump in sales. Furthermore, US stores recorded a whopping 169% jump in revenues during the review period.
In contrast, in-store sales in the EU fell 10%, driven by extended lockdown measures at the start of the review period. However, the fashion company's wholesale revenues were up 12.7% compared to last year as its retail partners stocked up due to positive expectations.
The fashion brand's full-year 2021 results were unimpressive after it recorded a 21.1% drop in revenues to £556.1 million compared to the £704.4 million recorded in fiscal 2020.
Superdry's finances improved in fiscal 2021 compared to 2020, given that it maintained its gross margins while shrinking its losses before tax 78% to £36.7 million compared to the £166.9 million booked in fiscal 2020.
Julian Dunkerton, Superdry's CEO, said: "Like most brands with a physical presence, our performance over the past year has been impacted by the significant disruption of Covid-19, but I am really proud of how the business has stepped up and returned to revenue growth in Q4."
Adding:
"We have used this time effectively to accelerate our brand reset and put the business in the best possible position for the future. We have strengthened the team with the appointments of Shaun Wills as CFO, Silvana Bonello as COO and Peter Sjӧlander as Chairman."
The fashion retailer currently focuses on growing its brand and product portfolio while constantly engaging with its customers.
Superdry share price.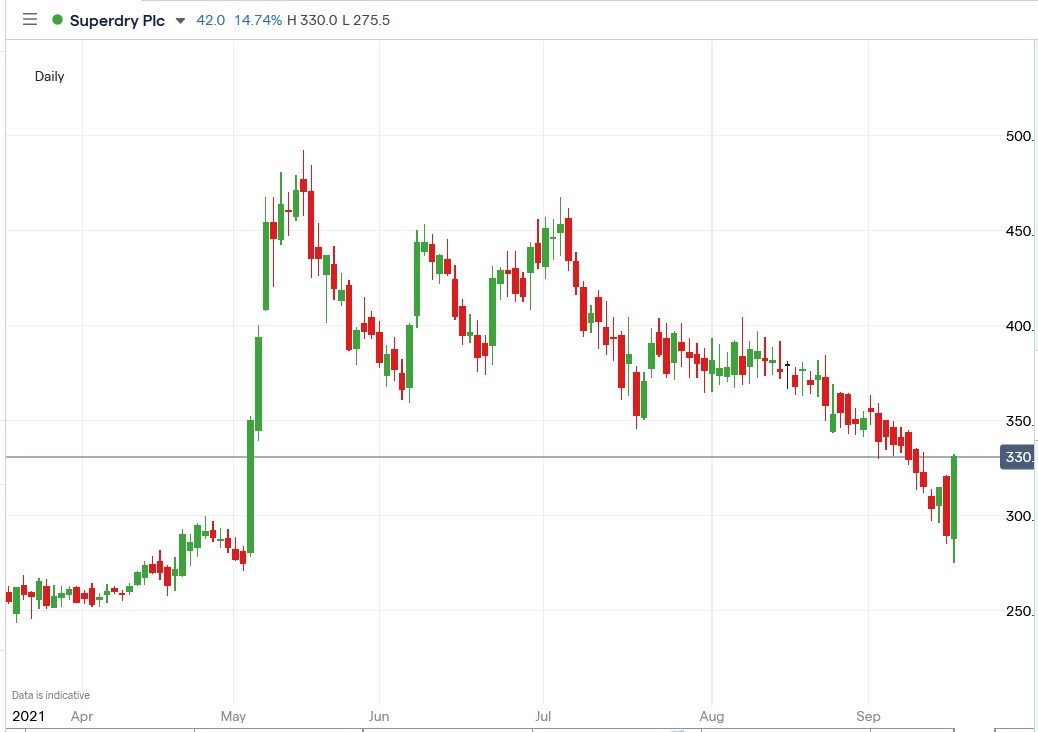 Superdry shares surged 14.89% higher to trade at 332.6p, rising from Wednesday's closing price of 289.5p.