Key points:
Supreme PLC posted a trading update Monday morning
Its overall performance has been pleasing
SUP shares jumped at the open
Supreme PLC (LON: SUP) reported its trading update for the six months that ended September 30, which saw early signs of recovery in its retail division.

The group's overall performance has pleased the company, and the year-end trading has been consistent with projections.
Supreme's Vaping segment, which contributes significantly to the group's profits, has maintained its high growth trajectory propelled by a combination of recent acquisition momentum and organic development.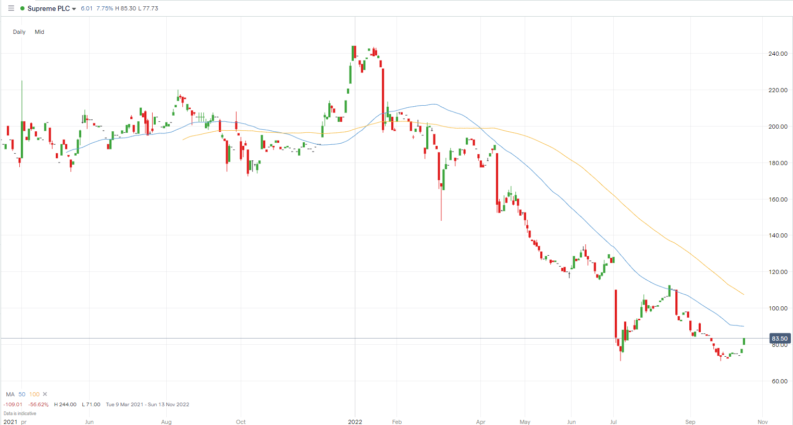 Also Read: A Guide to the Best US S&P 500 Index Funds
In other areas, its Lighting category slowed in accordance with the general market slump, the company stated. However, Supreme explained that the downturn was only transitory following early signs of a recovery in retail sales in September and October.
In addition, the remaining segments of the company continue to be "profitable, resilient and highly cash generative," according to Supreme.
Furthermore, Supreme continues to be optimistic about its future growth, concentrating on generating organic growth while completely integrating its most recent Vaping acquisitions.
The group believes it has the "strong operational foundations and a clearly defined growth strategy" to increase its retail footprint and capitalise on the transition from tobacco to Vaping.
The company stated that it will report its interim results for the six months to September 30 on Tuesday, November 29.
Following its trading update, Supreme shares jumped to a high of 85p at the open. They are now trading 5.85% higher at 82p at the time of writing. However, the stock has felt the full force of the macroeconomic environment this year, with its shares tumbling 66% in 2022.