Victrex (LON: VCT) shares are rallying after the company said it delivered good volume growth in the first half and saw improving momentum across several end markets.
The polymer solutions company also said dividends have returned to pre-covid levels, with an interim dividend for shareholders of 13.42p. The company's 2020 dividend was deferred and then cancelled.
Revenue for the six months ended 31 March 2021 came in at £150.9 million compared to £151.5 million during the same period in 2020. This was down to a 16% fall in medical revenue as elective procedures were put on hold due to the pandemic.

First-half sales volume increased 5%, driven by improving end-markets, with the company also seeing YoY growth and new applications in electronics, VAR & other industrial (M&E).
Looking ahead, the company said, "the first half reflects an improving momentum across several end-markets, but also some restocking within supply chains."
Its focus for the second half is to maintain good momentum, although they feel medical is likely to see a more gradual improvement until elective procedures return in more significant numbers.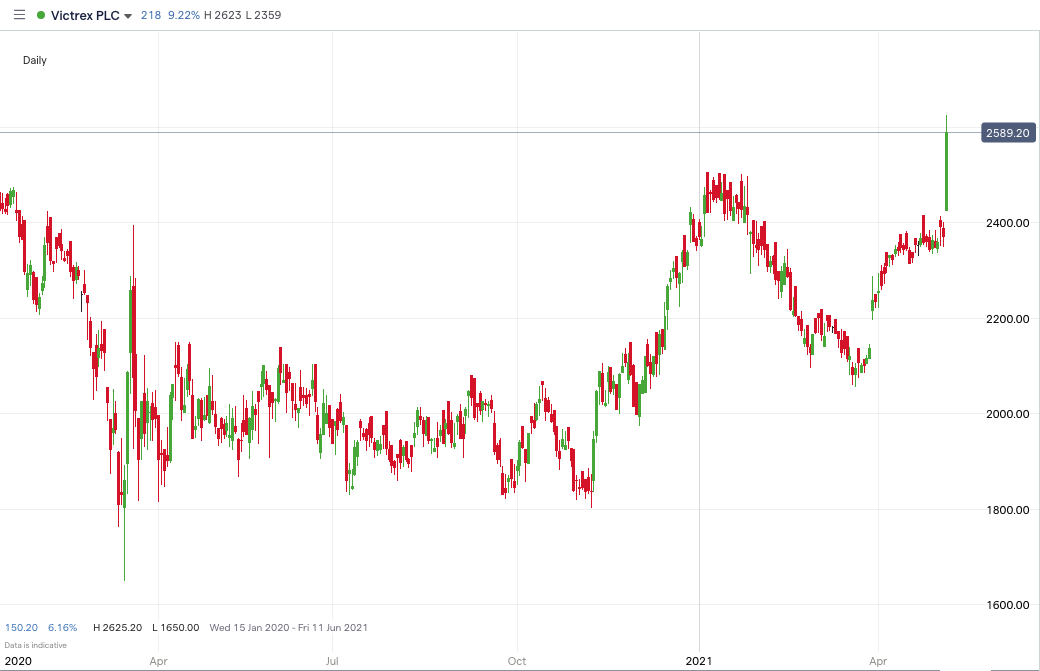 Jakob Sigurdsson, CEO of Victrex, said: "Victrex delivered good volume growth through the first half despite a strong performance in the prior-year period, as improving end-markets and our solid and sustainable recovery from the impact of COVID-19 continues.
"We saw record volumes for March and April, despite a softer sales mix, and our order book remains robust. Profits were in line with our expectations as mix – reflecting a strong Medical performance last year – inventory unwind and under-recovery of fixed costs, and accrual for the Group's All Employee Bonus scheme offset our performance."
He also added that "whilst there may yet be upside to our anticipated full-year performance, with the continued impact of post-Brexit inventory unwind on fixed cost recovery, and accrual for our All-Employee-Bonus scheme, at this stage we remain comfortable with current full-year expectations."
Shares of Victrex are currently up 9.73% at 2,594p.
Should You Invest in Victrex Shares?
One of the most frequently asked questions we receive is, "what stocks are best to buy right now?" It's a wide-ranging question, but one that we have answered… Our AskTraders stock analysts regularly review the market and compile a list of which companies you should be adding to your portfolio, including short and longer-term positions. Here are the best stocks to buy right now