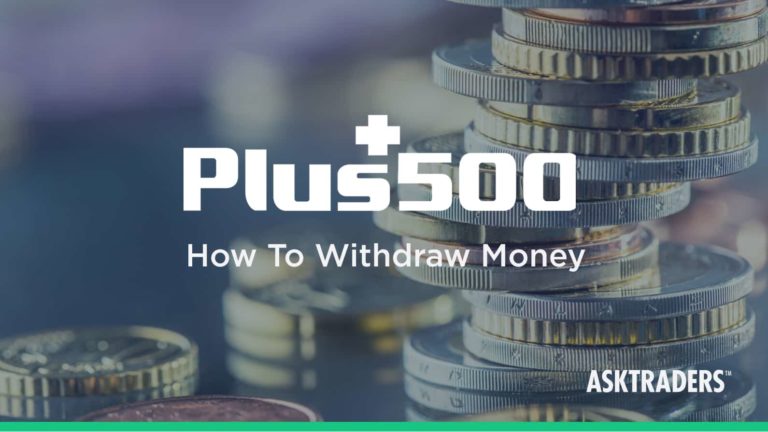 As a trader, the last thing you want to do after securing those hard-earned profits is waiting around until you can get your hands on them. So, in this guide, we'll take a look at the basics of Plus500 withdrawal process and some key information you need to be aware of.
Contents
How Do I Withdraw Money From Plus500?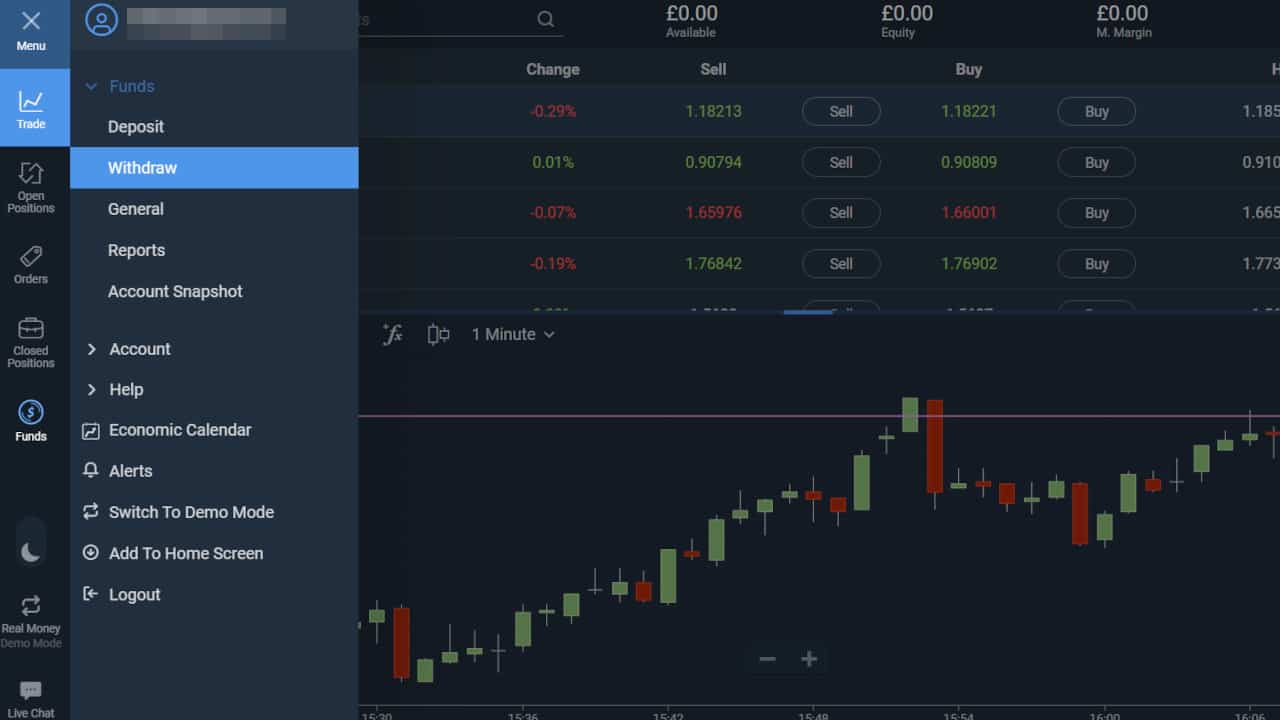 Here's how to withdraw money from Plus500:
Click the 'Menu' hamburger button (≡) in the top left-hand corner
Select 'Withdraw'
 Choose your withdrawal method
Enter the amount you want to take out
Click 'Open a Withdrawal' to finalise the removal of funds
Once you've completed these steps, a pop-up window will appear informing you that your withdrawal request was submitted successfully. Once you've opened a withdrawal request, it will go through several stages:
Requested – Your request has been received and is waiting to be processed
Approved (In Progress) – Withdrawal has been authorised by Plus500
Approved (Sent) – Funds have been sent to your selected payment method
Approved (Settled) – Withdrawal process is complete, subject to clearing delays
You can check the status of your withdrawal in 'Monetary History' section of your account: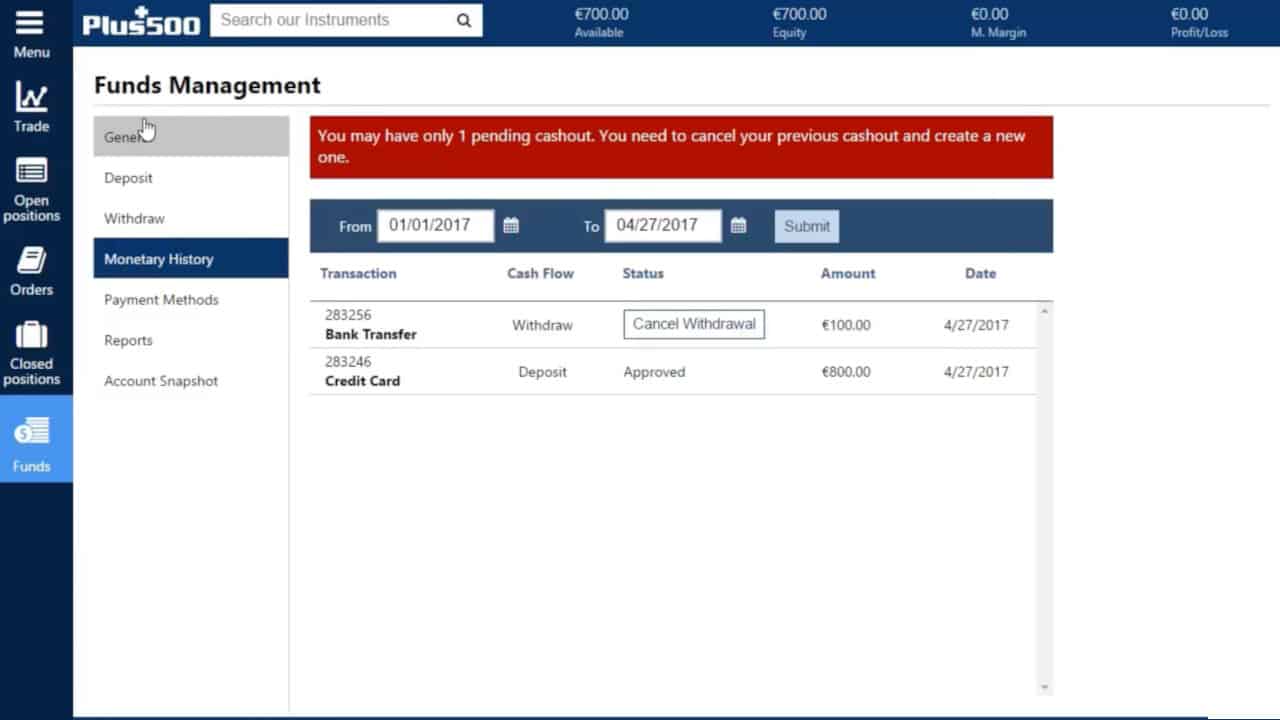 Need Faster Withdrawals?
If you're looking for a broker with quicker withdrawals, we recommend opening an account with one of our favourite brokers. From instant processing times to e-Wallet transfers within just one business day, these brokers are a great alternative if you want to get your money quicker in a pinch.
Plus500 Withdrawal Methods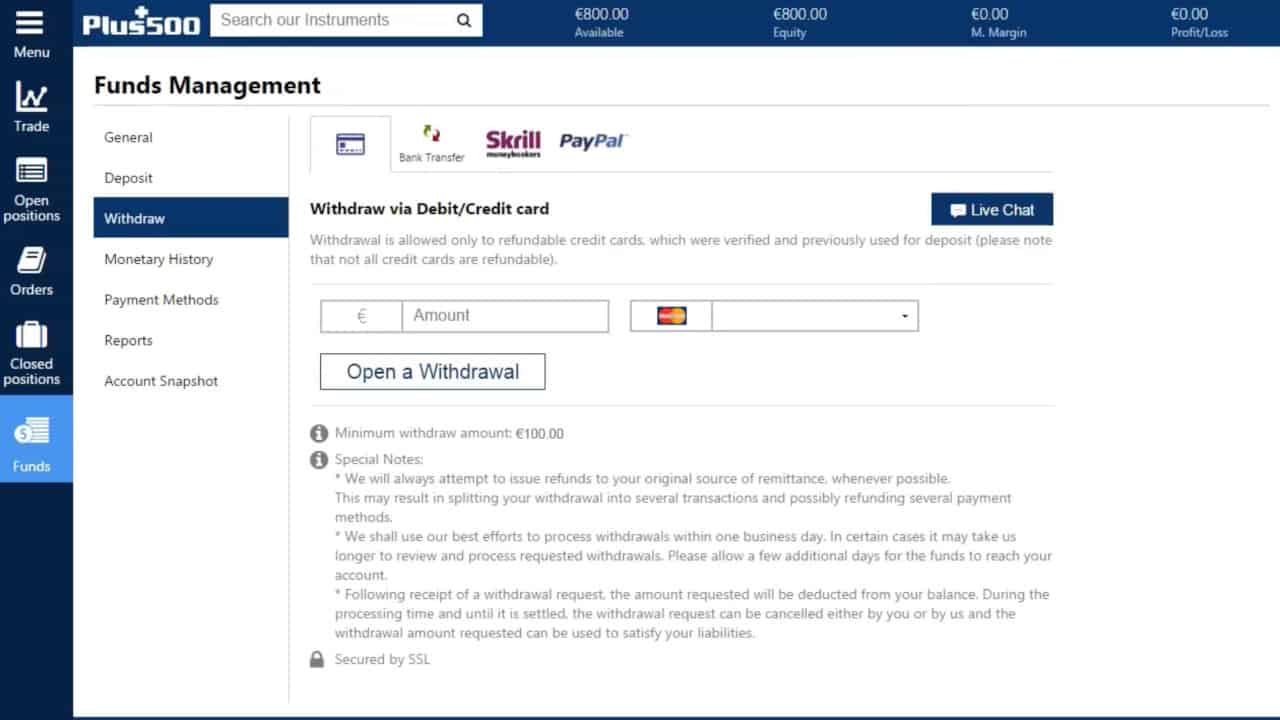 Plus500 offers several withdrawal methods to choose from. You can make a withdrawal by:
Credit/Debit Card (Visa & Mastercard)
Bank Transfer
e-Wallets (Skrill & PayPal)
You'll notice that Plus500 provides the minimum withdrawal amount for each method.
Related:  Plus500 Review
Plus500 Withdrawal Time
Withdrawal time varies from 3-7 business days depending on your payment method and the processing time of the third party remitter. Plus500 processes withdrawal requests within 1-3 business days, during which time it performs security checks before verifying your withdrawal request.
As a regulated broker, Plus500 must legally perform these checks to keep your account safe and ensure your money doesn't end up in the wrong hands.
Approximate withdrawal times:
Electronic Wallets – 3-7 business days
Bank Transfer – 5-7 business days
Credit/Debit Cards – Varies according to your bank's processing time
Plus500 Withdrawal Fees
Plus500 does not charge any withdrawal fees. However, there are some scenarios where you will be charged a fee:
Minimum Withdrawal Amount
Plus500 charges a fee of $10 for any withdrawal requests that are less than the minimum threshold, which varies depending on your chosen payment method. For this reason, it is important to always withdraw the minimum amount. You can find the minimum amount for each payment method on the withdrawal screen of the trading platform.
Maximum Withdrawals Per Month
You can make a maximum of five (5) withdrawals each month. If you make more than five withdrawals, Plus500 may charge you $10 (or currency equivalent) for each subsequent withdrawal over the maximum amount. Put simply, don't make a withdrawal more than five times each month.
Related:  Plus500 Fees: What To Expect
---
Conclusion
As a new trader, choosing the right broker can be a tedious process. However, if you are looking for a broker with low trading and non-trading fees, Plus500 may be the right fit for you. Plus500 allows users to have five free withdrawals monthly, in which $10 will be incurred for a withdrawal that exceeds the limits.
Regulated by several financial authorities globally, including the UK's FCA, and is listed on the London Stock Exchange, Plus500 is a good broker and is recommended for those who are keen to start trading on CFDs. With a great, easy-to-use platform, low trading and non-trading fees as well as competitive spreads, you should give Plus500 a try.
PEOPLE WHO READ THIS ALSO VIEWED: