Plus500 Review
Open Demo Account
14 minutes read
/
Updated: 14 October 2020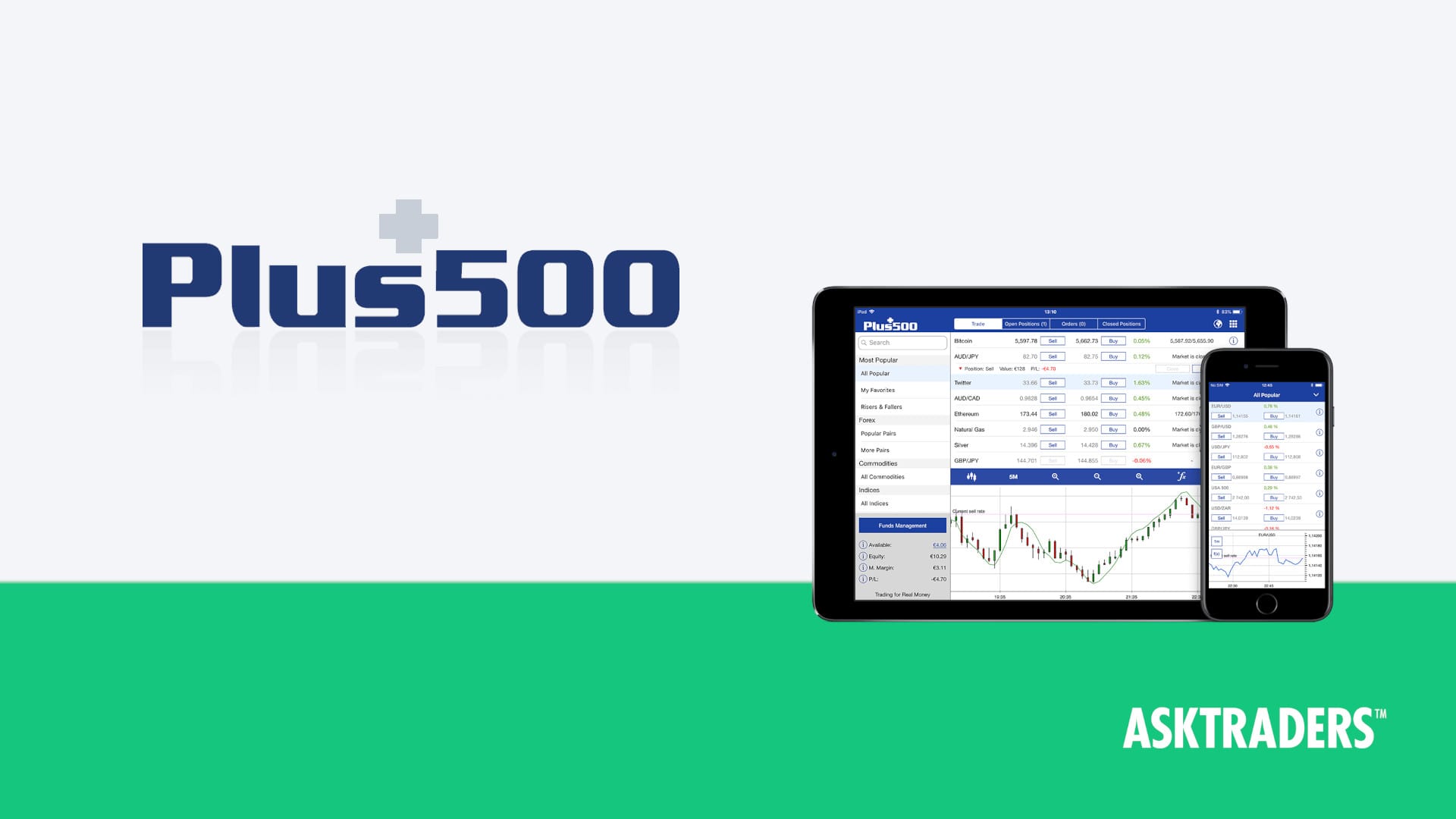 Founded in 2008, Plus500 (operating as Plus500UK Limited ) is a leading provider of Contracts for Difference (CFDs) from a wide range of markets across the globe with a rapidly expanding portfolio of more than 2,000 instruments.
Listed on the London Stock Exchange (symbol: PLUS) since June 2018, its shares are also a constituent of the FTSE 250 index.
Headquartered in Israel, it is regulated by several leading financial authorities, including the top-tier Financial Conduct Authority (FCA) in the UK. At the heart of this broker lies a commitment to innovation and research and development to deliver the best trading experience possible to clients.
But is Plus500 the right broker for you? In this Plus500 review, we'll be taking a look at everything you need to know about this broker, including account types, what fees to expect, regulation, trading platforms on offer and more.
Strengths
Regulated and authorised by the FCA
Easy-to-use platform
Quick and easy account opening
Low trading fees
Weaknesses
No support for MT4/MT5
Mediocre educational resources
Only offers CFDs
Inactivity fee
What can you trade?
Plus500 offers its clients access to a wide variety of currency pairs, including majors, minors, and exotics. In total, there are over 60 currency pairs to choose from, which is among the highest number available among all brokers. The number of currency pairs available, along with competitive leverage rates up to 1:30 and a minimum deposit of just £100, makes Plus500 a good choice for FX traders.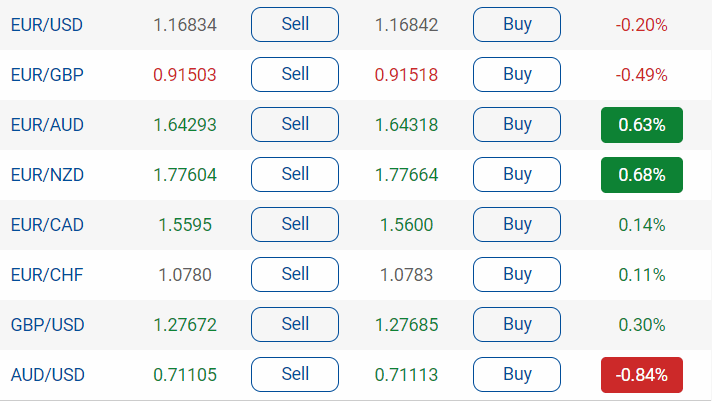 There are also several advanced trading tools available for Forex traders to help minimise losses and lock in profits such as Stop Loss, Stop Limit and Guaranteed Stop. Plus500 makes most of its money via the spread, so there are no commission fees to be worried about.
We particularly liked the user-friendliness of the Forex trading platform, which features a visual dashboard with useful Forex metrics such as 'Traders' Sentiment' and various other data points traders can use to gauge market sentiment: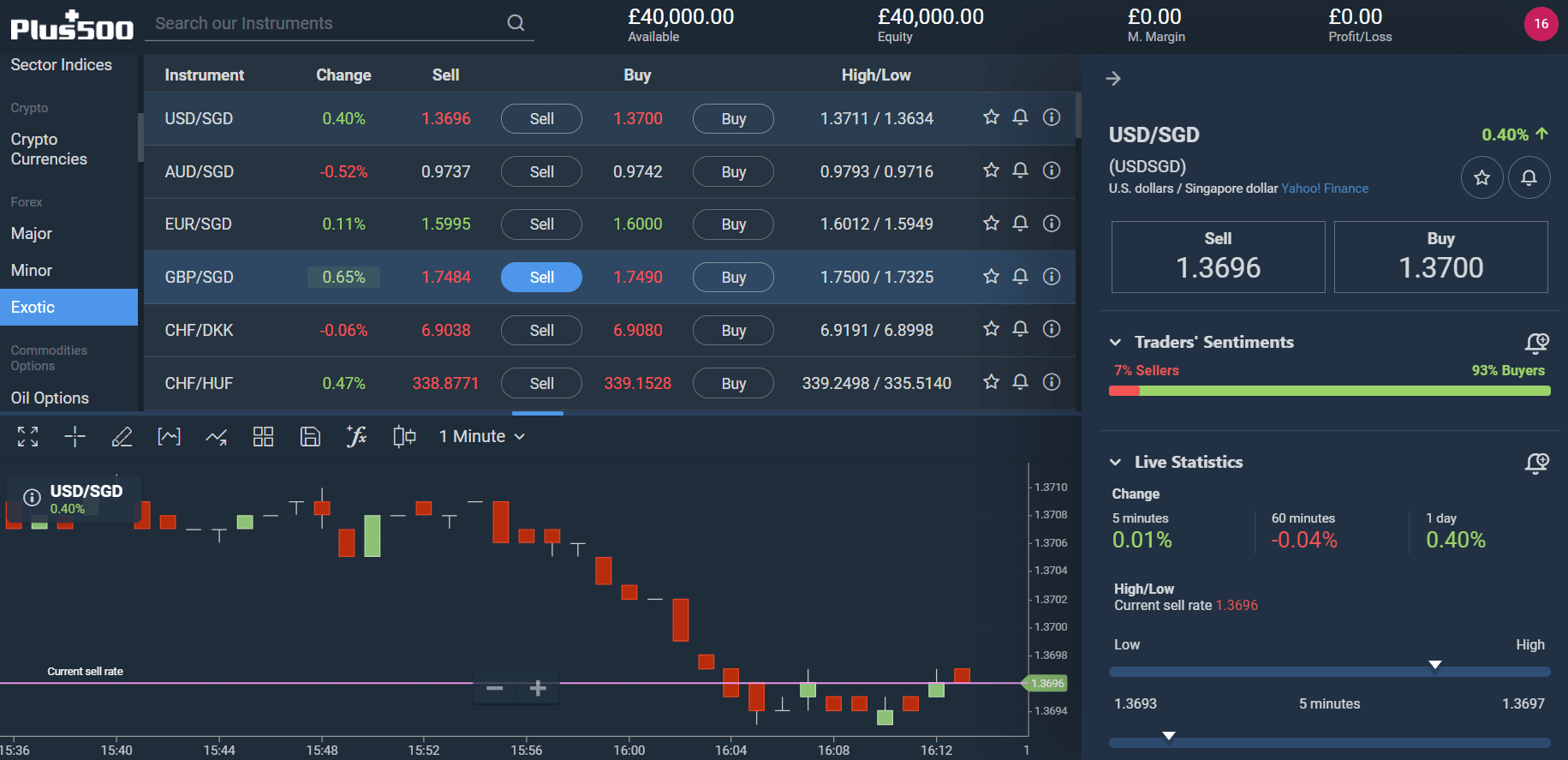 As we mentioned earlier, Plus500 is a leading provider of Contracts for Difference or CFDs. It should come as little surprise then that Plus500 offers clients a wide variety of CFDs to choose from, including:
Cryptocurrency CFDs
Index/Indices CFDs
Commodity CFDs
Share CFDs
Options CFDs
Let's take a look at some of these in a bit more detail:
Crypto CFDs
As you would expect, Plus500 offers many of the most popular cryptocurrencies and altcoins as tradeable CFDs, including Bitcoin, Dash, Ethereum and Ripple. It also offers CFDs on lesser-known cryptocurrencies such as Cardano, Tron and Monero as well as the Crypto 10 Index.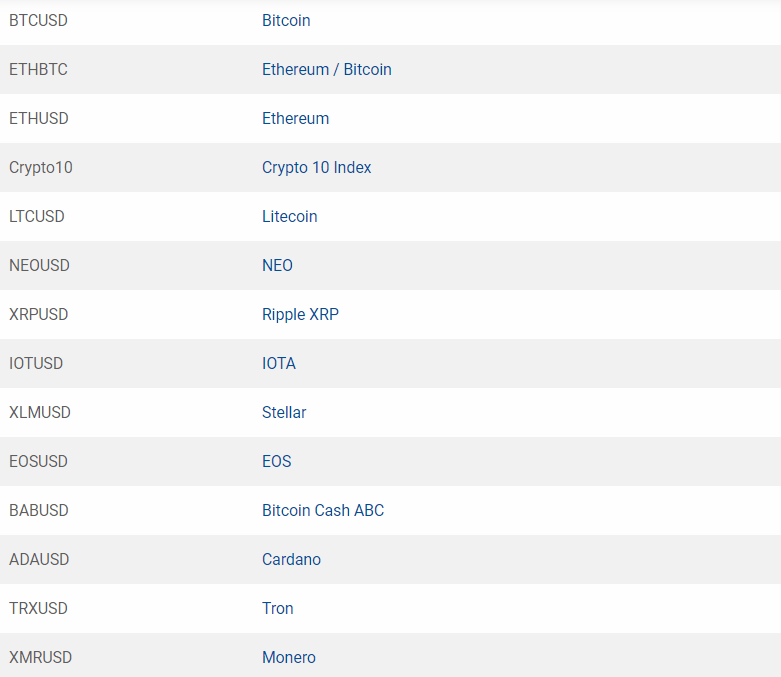 In total, there are 14 cryptocurrencies to choose from and, while this is far from the highest number available in the market, there is plenty of choice for aspiring crypto-traders. Traders looking for niche cryptocurrencies not supported by other brokers will also find Plus500's selection appealing.
You can trade cryptocurrencies using Plus500 with up to 1:2 leverage for retail clients and start with as little as £100. There's no need for an exchange account or a special digital wallet as you won't be buying the underlying asset outright.
Related
Share CFDs
Plus500 trading platform allows you to trade shares from the most popular markets around the world, such as the USA, UK, Japan, Germany and more. There are thousands of shares available to choose from across the full spectrum of industries, from Technology to Utilities and practically everything in-between.
The usual blue-chip stocks are available such as Amazon, Tesla and Facebook, as well as shares in emerging sectors such as cannabis. Plus500 provides a handy visual 'snapshot' of each share, where traders can easily see information at a glance such as spread, overnight funding costs, leverage and other useful information: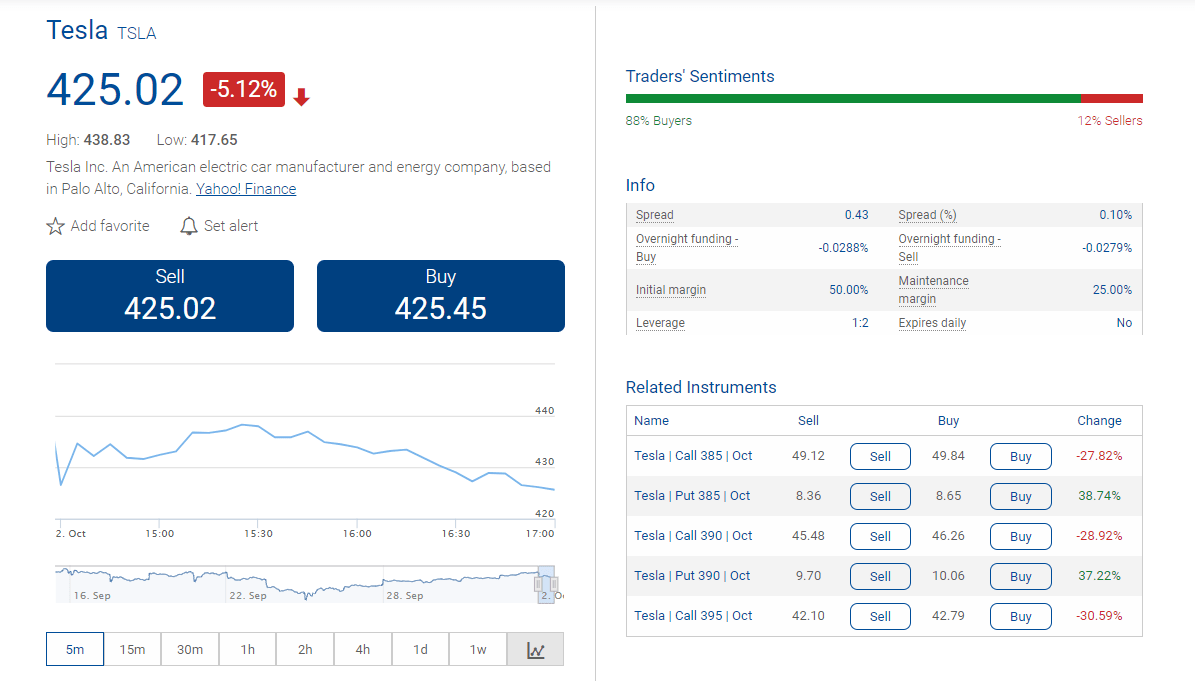 If you're in the UK, a unique advantage of trading share CFDs with Plus500 is the fact that there are is no exchange charges or stamp duty to pay. This means Plus500 clients save 0.5% versus a traditional UK share purchase.
On top of this, leverage up to 1:5 is available for retail clients with a low deposit of just £100 and the usual Stop and Limit orders to take advantage of. Stop and limit orders are particularly useful as they help to avoid slippage; a not uncommon and unfortunate consequence of trading.
Commodity CFDs
The Plus500 trading platform offers an above-average number of commodity CFDs to choose from, which includes popular commodities such as Gold, Silver and Oil. In total, there are around 22 to select, ranging from Oil (CL) right the way through to Feeder Cattle (GF). Just like other instruments, Stop and Limit orders are also available on commodity CFDs with leverage up to 1:20.
ETF CFDs
Traders looking for the benefits of ETFs, such as portfolio diversification, lower costs and tax benefits, will be pleased to hear that there are several ETF CFDs available. From the USO-Oil Fund to iShares AEX, Plus500 offers dozens of ETFs to meet the unique needs of every trader. Each is available with no commissions (0%), competitive spreads, and the Plus500 platform offers free advanced technical analysis tools to help you discover trading trends and leverage up to 1:5.
What did our traders think after reviewing the key criteria?
Fees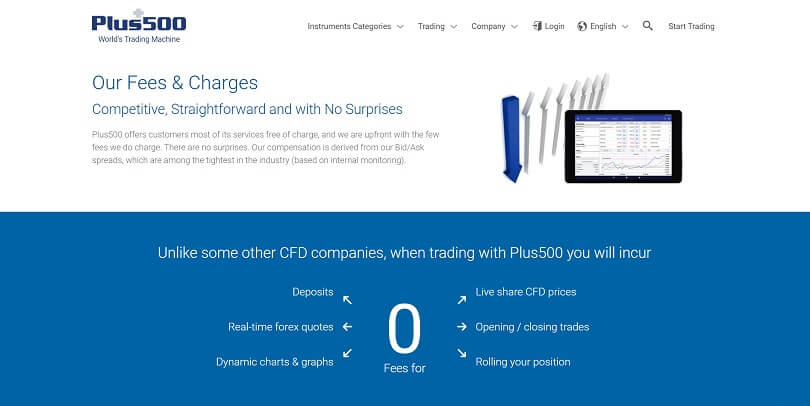 Like the majority of its competitors, Plus500 does not charge any deposit or commission fees and its compensated through the bid/ask spread, i.e. the difference between the buy and sell price of an asset.
When it comes down to the brass tacks, all you need to know is that Plus500 will not charge you for executing your buy or sell orders, also known as 'dealing commissions'. Instead, it makes its money off the cost of opening and closing a trade – a practice which is prevalent across the industry.
However, there are some additional trading and non-trading fees that you need to be aware of before signing up, including:
Currency conversion fee
Inactivity fee
Overnight funding fee
Guaranteed Stop Order fee
Withdrawal fee
Currency Conversion Fee
By default, all Plus500 accounts are denominated in Australian dollars (AUD) unless you specify your balance in another (home) country. When you make a trade, Plus500 will charge a currency conversion fee of 0.5% for all trades (open and close) on instruments denominated in a currency different to that of your account.
Inactivity Fee
A fee of up to $10 USD (or equivalent) per month will be charged if you don't log in to your trading account for a period of at least three months. From then onwards, this fee will then be charged monthly if no login is made into your account.
Overnight Funding Fee
Plus500 will charge an overnight, or 'swap' fee, if you enter and holding a CFD contract after a certain time in the day has passed. An overnight funding fee will be added to your account to
cover this. The overnight funding time for each instrument is shown under the details tab on the platform, while the fee depends on the type and size of products that you buy or sell, and the duration of the position: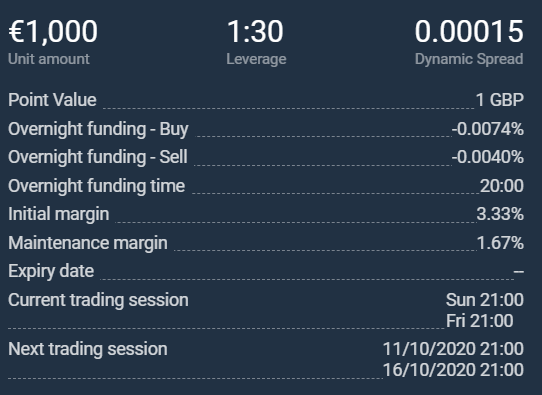 Guaranteed Stop Order Fee
Certain instruments allow for a 'Guaranteed Stop'  which guarantees that a position will be closed out at exactly the price specified with zero risk of slippage. However, there is a price for this peace-of-mind which is charged via a wider spread than normal.
Withdrawl Fee
While Plus500 does not charge a withdrawal fee, this only applies if you withdraw at least the minimum amount to your chosen payment method. For PayPal and Skrill, this is $50 USD (or equivalent) and $100 USD for bank transfers. If you don't withdraw the minimum amount, Plus500 will charge a fee of $10 USD (or equivalent).
Related
Account Types
Plus500 offers three account types:
Demo Account
Retail Account (Standard Account)
Professional Account
We appreciate the fact that Plus500 keeps things simple by offering just three types of account. Oftentimes, traders are confronted with a dizzying array of accounts, each with their own leverage, minimum deposit and spread levels. For new or inexperienced traders, trying to pick the right account type for them can be a daunting experience.
Demo Account
For beginners or those keen to take the Plus500 trading platform for a spin, the Demo Account is the perfect place to start. We like the fact that the Demo Account doesn't have any time restrictions, for example, a 30-day time limit, which we've seen with other brokers.
It's also completely free to use and incredibly easy to sign up. You can create an account with your email address or save yourself a bit of time by using your Google, Facebook or Apple account. The ability to sign in with existing accounts provides a frictionless experience that very few other brokers are currently offering. We were suitably impressed by how quick the overall sign up process was as we didn't have to spend time filling in forms to open a Demo Account.
With unlimited time and no restrictions, you can really take the time to get a feel for the platform and practice trading with virtual money before you jump into a Live Account and start trading with your own cash. There is no difference between the Demo Account and Live Account, so you can feel confident that you'll be ready to hit the ground running when you feel comfortable with the Demo.
Additionally, if the demo account's balance reaches 200 EUR or lower (or its equivalent), it will automatically be reset, so you can continue to practice trading. This allows even experienced traders to use the demo account to plan strategies.
Related

Retail Account
The Plus500 Retail Account, or standard account, is a turn-key solution that is ready to go for the vast majority of traders; sign up, open an account and start trading. Unlike the Demo Account, which is available instantly, to start trading with real money you'll have to go through a verification process with Plus500 which includes proof of identity and address.
Leverage on Retail Accounts depends on the instrument you're trading, but it's worth noting that, due to ESMA regulations, it is restricted to a maximum of 1:30 if you're in Europe. If you require more leverage, you'll need to sign up for a Professional Account which offers leverage of 1:300. However, for traders in Australia, ASIC regulations permit leverage of 1:300 for Standard Accounts while in Singapore it's 1:50.
Professional Account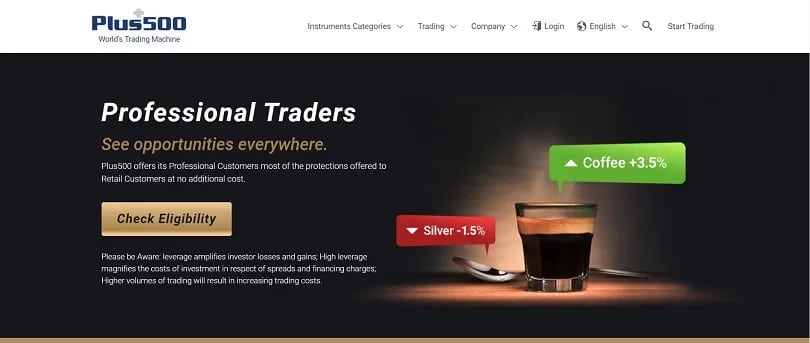 As we've already mentioned, Plus500 Professional Accounts benefit from higher leverage compared to Retail Accounts. The exact amount of leverage available depends on the CFD you're trading:
| | | |
| --- | --- | --- |
| Instrument | Retail Account | Professional Account |
| Forex | 1:30 | 1:300 |
| Indices | 1:20 | 1:300 |
| Commodities | 1:20 | 1:150 |
| Shares | 1:5 | 1:20 |
| Options | 1:5 | 1:5 |
| ETFs | 1:5 | 1:100 |
| Crypto | 1:2 | 1:20 |
Professional customers can increase their leverage while benefitting from the same protections afforded to Retail Accounts, such as cash rebates, access to the Financial Services Compensation Scheme and negative balance protection. To open a Professional Account, traders must meet certain criteria:
Performed an average of at least 10 transactions per quarter, of significant size, over the previous four quarters
Financial instrument portfolio of over €500,000, including cash savings and financial instruments
You work/have worked in the financial sector, for at least one year in a professional position which requires knowledge of the related transactions or services
Platforms
Unlike the majority of its competitors, Plus500 does not support the ever-popular MetaTrader trading platforms. While many traders will consider the inability to use either MetaTrader 4 (MT4) or MetaTrader 5 (MT5) a significant disadvantage, the Plus500 trading platform still has plenty to offer.
For starters, there are advanced risk management tools to add to your trading toolkit. These include 'Stop Limit' and 'Stop-Loss' levels, both available free of charge, which can be added to to your trades to lock in a profit or minimise potential losses.
Then there's a 'Guaranteed Stop' which further limits your risk by putting an absolute limit on your potential loss. Unlike a normal 'Stop-Loss', a 'Guaranteed Stop' protects you against losses even if the price of the instrument suddenly moves against you, also known as 'slippage'.
The trading platform itself is simple yet functional and extremely user-friendly, which makes it perfect for beginners would be less inclined to use MT4 or MT5.
However, don't be fooled by its simplicity; under the hood of the Plus500 trading platform lies a veritable arsenal of the usual technical analysis tools and other unique features such as an Economic Calendar, real-time sentiment analysis and dozens of technical indicators to choose from: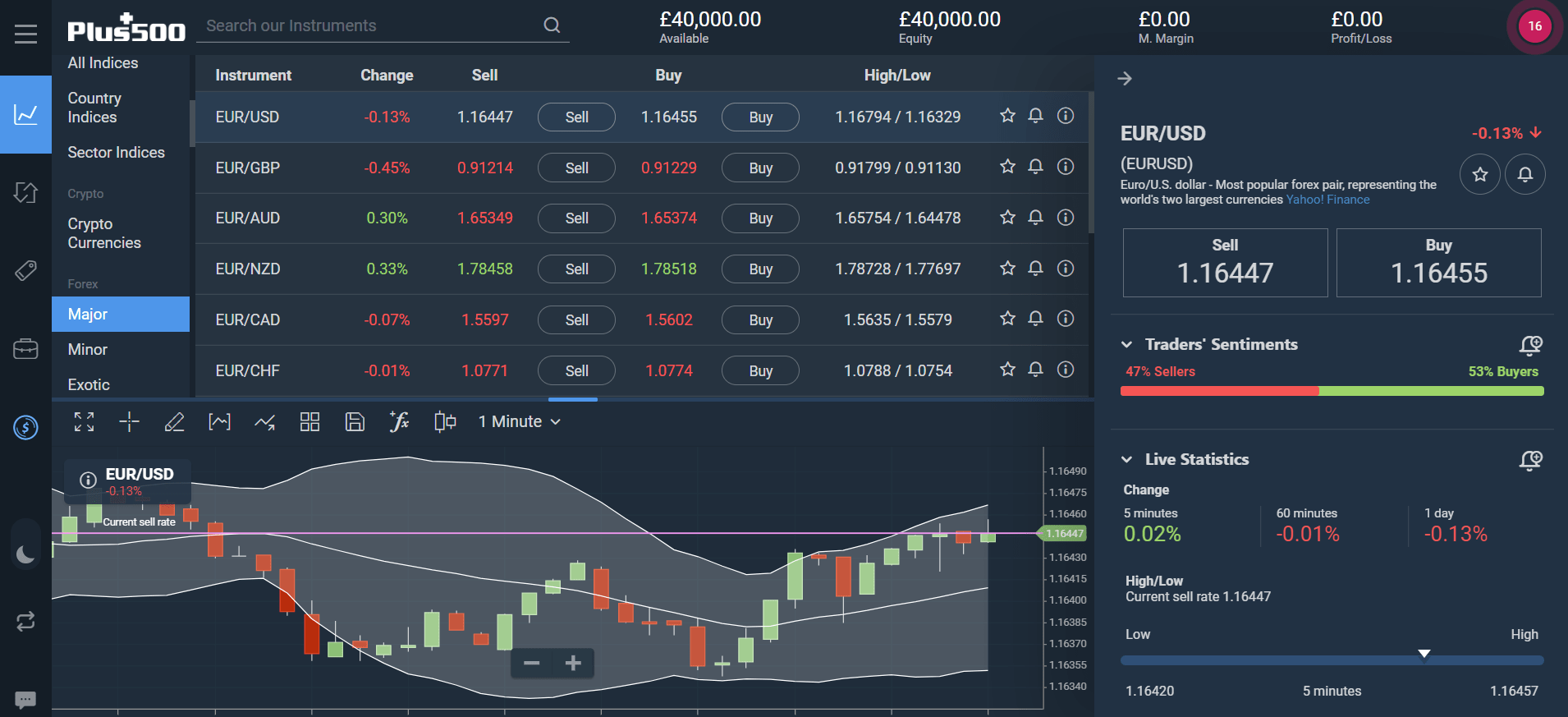 The platform itself is compatible across a host of devices, including desktop and mobile. You can download it as an app on iOS/Android for mobile trading on-the-go, or directly to your desktop for trading at home or in the office. It's worth noting, however, that the desktop version is only available on Windows as Windows 10 Trader. Alternatively, you can trade online using WebTrader, Plus500's web browser-based platform.
As you can probably tell, Plus500 is very much geared towards providing its customers with next-gen trading solutions and has invested a lot in building mobile and app-based platforms. Real-time trading alerts via the app are a great way to keep track of your trades, and many traders will appreciate the flexibility that being able to trade on-the-go-brings.
Related
Customer Support
Unlike the majority of its competitors, Plus500 has a customer service team that is contactable 24/7 to answer any questions or queries you may have. This is unique in the market as most other brokers only offer support 24/5 Monday to Friday. These additional operating hours will undoubtedly add value for Plus500 clients who trade on the weekend.
While the customer service team can be contacted around the clock via live chat and email, the inability to contact the support team by telephone may deter prospective clients who prefer to speak with agents on the phone.
There is also a disappointing lack of educational resources for new traders to learn from. While Plus500 does provide several videos on how to use the trading platform and basic overviews of some instruments, there just isn't enough content to engage and educate its clients. Access to educational material is an important part of the overall customer experience, particularly for new traders.
Disappointingly, Plus500 falls short of its competitor's efforts. However, if you're an experienced trader who knows what they're doing, this may not matter to you as much and you can jump straight into using the Plus500 platform.
Payment Methods
Plus500 offers traders plenty of deposit and withdrawal methods. You can make a payment using:
Visa
Mastercard
PayPal
Bank Transfer
e-Wallets such as Skrill
As well as the main payment providers mentioned above, Plus500 also accepts a host of lesser-known and international payment providers such as BPAY, Giropay, Klarna, Trustly, MyBank and Przelewy24. This impressive array of deposit and withdrawal methods is certainly one of the largest we've seen among brokers and only adds to the frictionless experience that Plus500 aims to provide for its clients.
Regulation & Deposit Protection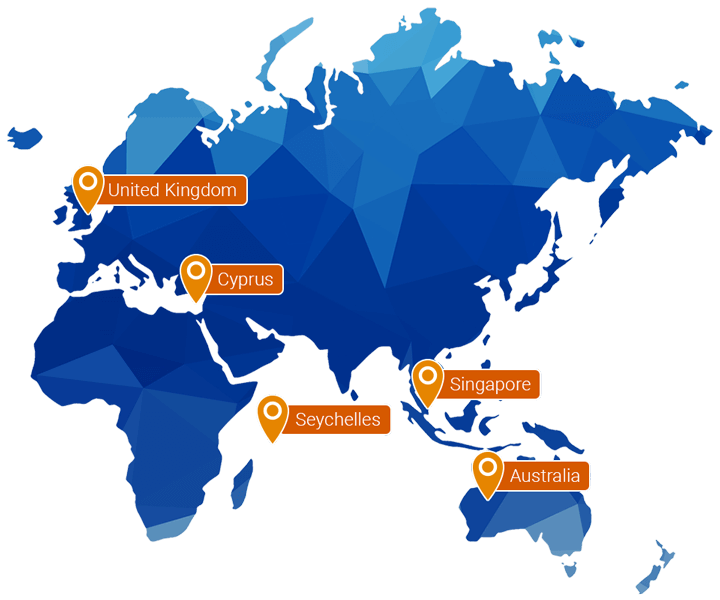 One of the benefits of trading with a regulated broker is that you know you are trading on a reputable platform operating under stringent rules designed to protect traders. Plus500 is authorised and regulated by some of the world's leading financial regulatory bodies, including:
In total, the Plus500 trading platform is available in more than 50 countries around the world via a number of authorised and regulated entities. As a regulated broker, Plus500 offers negative balance protection on all account types and holds client money in segregated bank accounts.
Awards
While Plus500 does not have any reputable industry awards to its name, this shouldn't in and of itself deter traders from the fact that Plus500 is a market-leading broker. In the most recent Investment Trends Leverage Reports for the U.K., Germany and Spain, Pluis500 was ranked the number one CFD provider by market share with an average 20% share versus the next largest provider with 14%. In the same report, Plus500 was also ranked No. 1 for satisfaction for Online Chat Customer Service and No. 1 for Best Value for Money in Germany.
People who read this also read
Plus500 FAQs
You can withdraw your funds from Plus500 through any of the following methods
Card Payments

Bank wire transfer

eWallets
The broker does not charge a fee for withdrawals but routes the payouts to the same payment gateway from where your deposits originated. So, if you have deposited funds from your card, the withdrawal would also be processed to your card.
Plus500 offers two account types – Standard and Professional. The minimum deposit for both the account types is €100/$100/£100. However, these would depend on your payment method too. For instance, the minimum deposit is €100/$100/£100 if you deposit funds via eWallets, Visa/MasterCard, Apple Pay, Trustly or Skrill. But, in the case of bank transfer, the minimum is €500/$500/£500.
The Plus500 leverage depends on the regulatory authority governing the broker. If you sign up with the CFD broker in Europe or the UK, the stringent regulations permit max leverage of 30:1 for retail clients. However, professional clients and those registering with the broker under the Seychelles Financial Services Authority receive max leverage of 300:1. Likewise, if you are residing in any other country like New Zealand or Singapore, the leverage could be different.
Plus500 offers more than 2000 financial instruments across FX, commodities, cryptocurrencies, shares, indices, ETFs and options. Besides, the broker is regulated in multiple jurisdictions, making them safe when it comes to depositing funds. However, there isn't much for beginners in terms of education, and the proprietary trading platform could be challenging. So, if you are a beginner, you could look for a regulated broker offering the globally-acclaimed MT4 platform along with excellent trading conditions.
CFDs are complex instruments and come with a high risk of losing money rapidly due to leverage. 75% of retail investor accounts lose money when trading CFDs with this provider. You should consider whether you understand how CFDs work, and whether you can afford to take the high risk of losing your money.