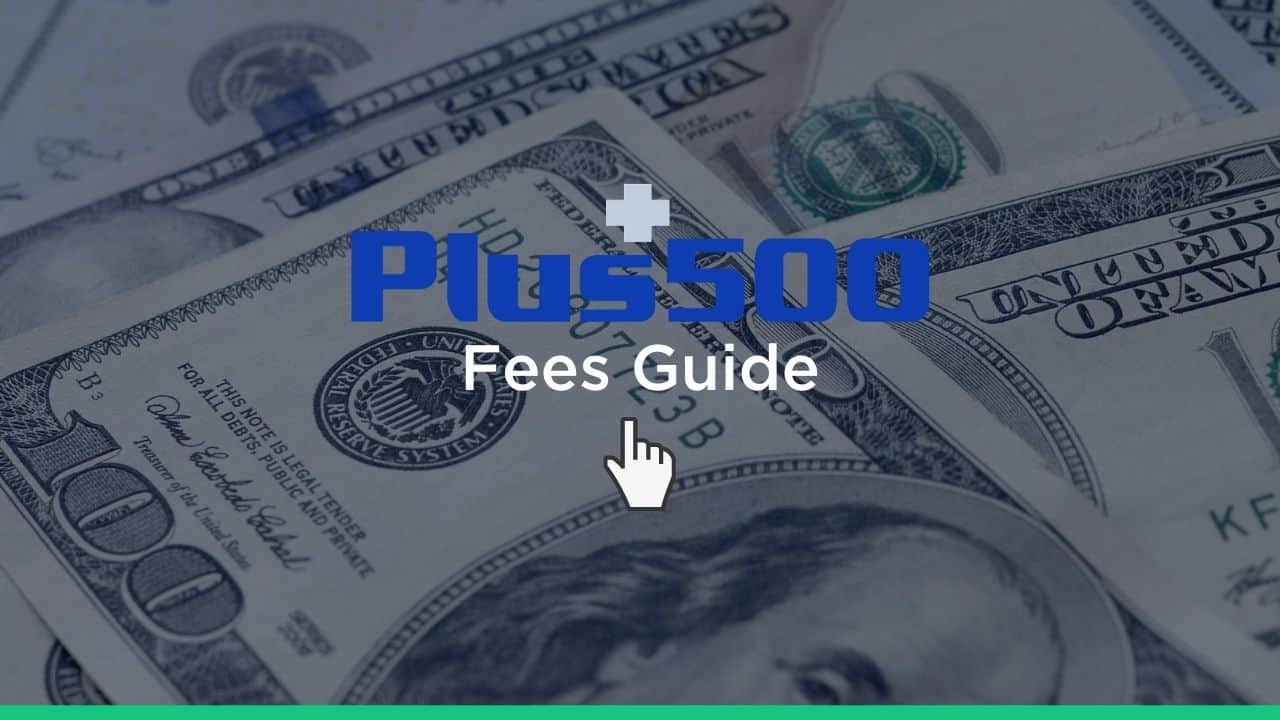 Plus500 is a leading online trading platform that allows traders to trade CFDs on over 2,000 financial instruments including Forex, Shares, Cryptocurrencies, Indices, ETFs, Commodities and Options.
In this guide, we'll be taking a look at some of the Plus500 fees you may (or may not) be aware of and how to avoid any unexpected charges.
If you're ready, let's get started otherwise head over to our expert Plus500 review for a comprehensive look at this broker.
---
TRADING FEES
First of all, let's take a look at some of the day-to-day fees involved with trading, including:
Deposit fees
Transaction & commission fees
Spread costs
Currency conversion fees
Overnight funding
DEPOSIT FEES
Plus500 does not charge a deposit fee and covers most payment processing fees However, minimum deposit levels vary depending on the payment method you select. The minimum deposit for Plus500 starts at $100 (credit/debit cards and electronic wallets) and goes up to $500 (bank transfers). 
You can deposit money into your Plus500 account via:
Credit/debit card

PayPal

Skrill

Bank transfer
Detailed information on minimum deposits for each payment methods can be found in the Deposit section of your account: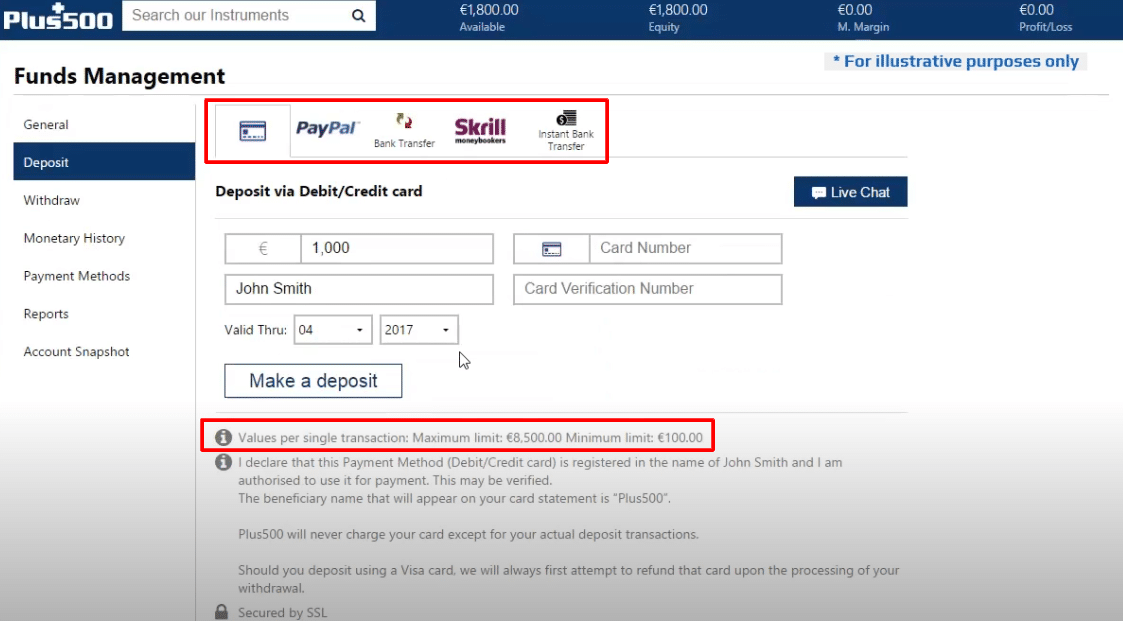 TRANSACTION & COMMISSION FEES
Unlike other brokers, Plus500 does not charge dealing commission fees on each trade. This means they will not charge you for executing your buy or sell orders. 
Instead, Plus500 primarily makes money through the market bid/ask spread, i.e. the price difference between where you buy or sell an asset. 
SPREAD COST
You can find the current spread cost (measured in pips) of an instrument by checking the 'Details' page. It's worth checking if the spread is 'dynamic' or 'fixed' as this can affect your profit levels and overall strategy. As the name suggests, fixed spreads are static and won't fluctuate. Dynamic (or variable )spreads on the other hand are volatile and will fluctuate within a range.
GUARANTEED STOP ORDER
If you want to guarantee your position closes at a specified price, your trade with Plus500 may be subject to a wider spread cost.
CURRENCY CONVERSION FEE
Plus500 will charge a currency conversion fee of up to 0.3% for all trades on instruments you hold in a currency that is different to the currency of your account. For example, if the currency of your account is in GBP and you want to buy shares using USD, the broker will need to convert your GBP to USD before buying the shares for you.
OVERNIGHT FUNDING
An overnight fee is charged by Plus500 to cover the cost of the leverage a trader uses overnight on open CFD positions. This will either be added to or subtracted from your account. You can easily check Overnight Funding details on your account:
Click on the 'details' button next to the instrument's name

A window will appear with the overnight funding time and the daily overnight funding percentage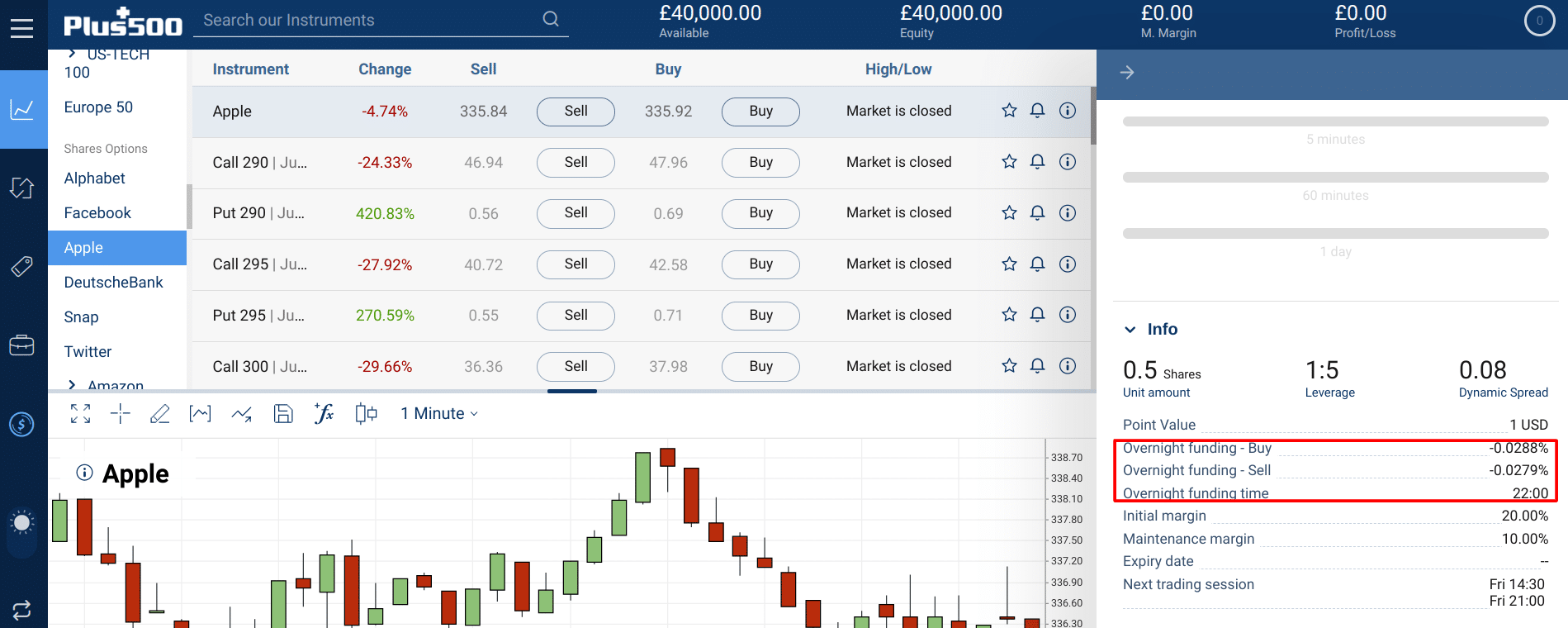 ---
NON-TRADING FEES
Now quick overview of the non-trading related fees to be aware of:
Withdrawal fees
Inactivity fees
WITHDRAWAL FEES
In general, there are no Plus500 withdrawal fees. However, withdrawals via bank transfer may incur a charge of $6 to cover bank processing fees.
You may be charged if you exceed the maximum number of monthly withdrawals (5). If you exceed five withdrawals, Plus500 reserves the right to charge you $10 (or equivalent) for each subsequent withdrawal.
The minimum withdrawal amount depends on the payment method you have chosen:
Withdrawal requests of less than the minimum amount for each payment method will incur a fee of $10, so it's important to ensure that you are always withdrawing at least this amount each time.
INACTIVITY FEE
If you don't log into your account for at least 3 months, Plus500 will charge you a fee of up to $10 a month for as long as you don't log in to your account. While this isn't great news if you're a 'buy and hold' trader, all you need to do is log in to your account from time to time to prevent the charge from being applied.
Plus500 Fees Summary
Plus500 does not charge deposit, withdrawal or commission fees. The main chargeable fees that traders need to be aware of are currency conversion, guaranteed stop order and overnight funding fees. Plus500 also charges an inactivity fee for dormant accounts that are inactive for three months.