The world was moving online even before Covid, but the changes brought about by the pandemic have fast-tracked the shift towards work and leisure activities being based around firms that host, manage, and analyse data.
With the total number of customers and each customers usage increasing rapidly, many have already made significant returns out of their decision to buy data stocks. Taking profits is never a bad idea, but faced with the question, data stocks, buy or sell? There are strong reasons to expect the trend to continue upwards.
The big data market was worth $208bn in 2020 and is expected to reach $450bn by 2026. Few other sectors offer this type of growth and using technical and fundamental analysis to pick the right stock, and the right broker for the strategy are the first steps to successfully investing in data stocks.
Best Data Stocks
Best Big Data Stock– Microsoft Corp (NASDAQ: MSFT)
Microsoft has an established business model, deep pockets to fund investment in new schemes, and a range of complimentary business lines which make it an obvious option for investors looking to buy big data stocks.
Microsoft's global wide-area network (WAN) connects hundreds of data centers in regions around the world and appears well equipped to build out extra capacity and develop market share.
Another reason why Microsoft is regarded as one of the best data center stocks to buy is the firm has future-proofed itself against two challenges which face the industry. The first is the risk that the energy used by big data becomes a politically sensitive issue. Microsoft Azure is up to 98% more carbon efficient than using a traditional enterprise data center. The second relates to technical innovation and the firm's Azure HDInsight cloud platform can run on several popular open-source frameworks including Apache Spark, Apache Hive, Apache Kafka, Apache Storm and Hadoop.
Microsoft Corp – Share Price Chart 2018 – 2022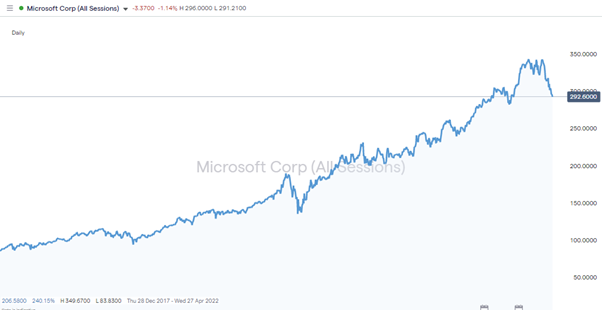 Source: IG
Best Data Management Stock – Datadog Inc (NASDAQ: DDOG)
Datadog's operations focus on helping clients get the best results from the extensive data they already own. The Datadog APM & Continuous Profiler product offers deep visibility into web services, queues, and databases and monitors requests, system errors, and latency.
Clients can get the most out of their data as Datadog helps them unify and automate network monitoring, application performance analysis, log management, and security management. With the amount of data each firm amasses forecast to balloon in size, being able to use it as effectively as possible appears to be a high priority, and Datadog can help with that.
Datadog Inc – Share Price Chart 2020 – 2022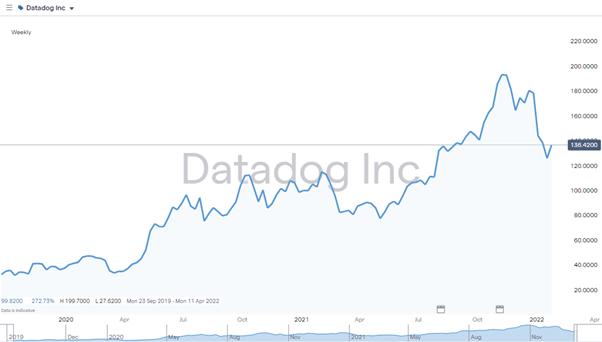 Source: IG
Best Data Analytics Stock – Alteryx, Inc. (NYSE: AYX)
Alteryx, Inc. delivers an end-to-end analytics solution to data analysts and scientists and has a global client base.
The firm is well-regarded in the sector and it's sweet-spot is being able to take cutting edge technology and convert it into user friendly tools which can be used by a larger percentage of a firm's workforce. The firm's Alteryx Designer product is a good example of this. It's a data segmentation, preparation, merging, and analytics tool which creates visual workflow processes. Alteryx offers its clients the opportunity to make data analysis easier to do, whilst at the same time not compromising on the capabilities of the underlying software.
Alteryx Inc – Share Price Chart 2017 – 2022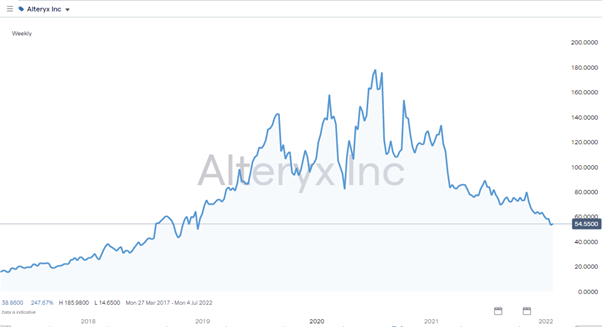 Source: IG
Best Quantum Computing Data Stock– Nvidia Corp (NASDAQ: NVDA)
The technology around quantum computing is still in development but is getting closer to becoming a major part of the big data sector. At the point when quantum computing becomes widely available on a commercial scale there is likely to be a realignment in terms of which firms look likely to be long-term winners and losers.
Nvidia has built relationships with the industry's big players, including Google Quantum AI and IBM who use Nvidia's cuQuantum software development kit to accelerate their own quantum computing work. So far the market likes Nvidia's approach and the stock even factoring in the sell off in Jan 2022 the stock has increased in value by +330% in under two years.
Nvidia Corp – Share Price Chart 2018 – 2022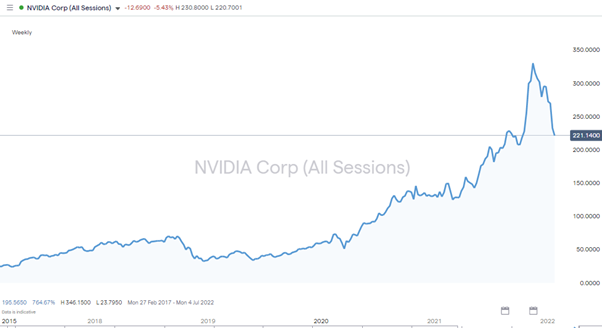 Source: IG
Why Invest in Data Stocks Now?
Global work and leisure patterns are always changing, but the Covid pandemic accelerated the process considerably. The rapid increase in value of some data stocks gave a hint of what might be possible. In the two years between July 2018 and July 2020 Alteryx stock shot up in price by 367%
There appears little reason to think the trend towards big data is going to slow down, let alone change course. Picking the right stock which manages to make the most of the situation isn't easy as there are a lot of contenders to consider. But building a balanced portfolio of strong candidates could mitigate single stock risk and open the door to long-term financial gains.
What to Know Before Investing in Data Food Stocks?
Choosing between small-cap and large-cap data stocks appears to be a key consideration. With a blend of the two likely to balance out returns. The market giants such as Microsoft which started out as small operations now have such firepower that incomers need to have a very special competitive advantage to break down the considerable barriers to entry.
Disruptor stocks which do thrive are likely to become take-over targets of the bigger firms but given a premium would have to be paid this should ultimately be good news for shareholders.
One more factor to consider is that buying data and data center stocks can be a long-term proposition. Funds tied up in buy-and-hold positions can't be used elsewhere so investors need to factor in the opportunity cost of investing in the sector.
How to Buy Data Stocks
Finding the right data, big data or data center stocks, is the first step towards investing in an exciting growth sector. As innovative as the firms may be, the onus is on investors to remember some old fashioned rules and guidelines in terms of selecting a trusted broker.
1. Choose a Broker
This broker shortlist includes firms which have a track-record of providing clients with what they need to make a success of trading and are regulated by Tier-1 financial authorities.
Tier-1 Regulators
2. Open and Fund an Account
Accounts with online brokers can be set up in a matter of minutes using handheld or desktop devices. The registration process involves supplying personal information which ensures you, and only you, have access to the account.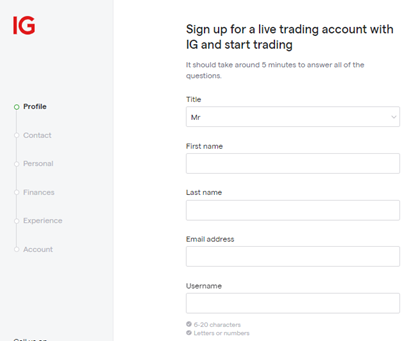 Source: IG
Credit cards, bank transfer and ePayment service providers can be used to fund your account. It is worth checking the T&Cs to ensure you avoid paying unnecessary administration fees as some brokers don't take commissions on deposits or withdrawals.
3. Open an Order Ticket and Set Your Position Size
After the cash is confirmed at your brokerage account the next step is to buy the data stocks you have targeted. The trading dashboard for each can be located using the 'search' function.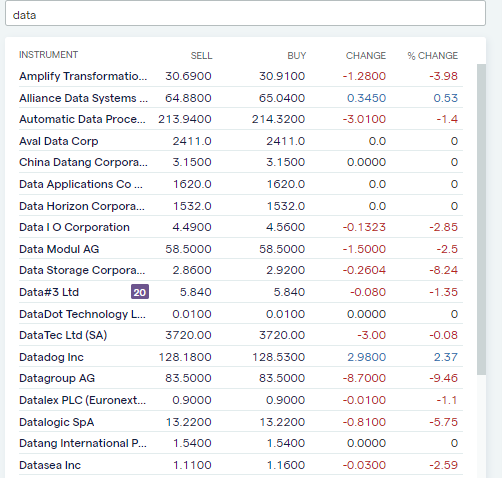 Source: IG
The trading dashboard for each stock also includes price charts, research reports and news updates. The process of buying a position, or executing a trade, is as simple as entering the quantity of shares you want to buy into the appropriate data field, and then clicking, or tapping, 'buy'.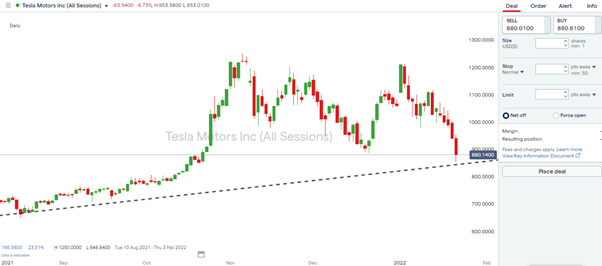 Source: IG
4. Set Your Stops & Limits
Two tools brokers offer clients are Stop Loss and Take Profit orders. These are instructions built into the system to instruct your broker to automatically close out some, or all, of a position if price reaches a certain level.
Stop losses help limit losses on losing trades and take profit orders crystalise gains.
Buy-and-hold investors operating a long-term and potentially speculative strategy often decide to not use stop loss and take profit orders. This is because short-term noise in the markets can result in positions being automatically closed out. This locks in losses and limits gains and so some use an alternative approach to risk management which involves trading in small size and building a diversified portfolio. This can take the emotion out of trading, smooth out returns and help investors stay in positions rather than bail out too early.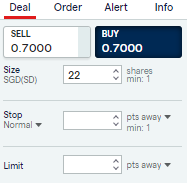 Source: IG
5. Make Your Purchase
When you click or tap 'buy' some of the cash in your account will be converted to a stock position. The value of this position can be monitored by heading to the Portfolio section of the broker's site where its value will be determined by live market prices.
Best Broker for Trading Stocks Online
Whether you're an experienced investor or a complete beginner, data stocks are hard to ignore. Firms in the sector are an exciting proposition but not all will be successful so developing a clear strategy can help tip the odds in your favour. One risk which can be easily managed is broker risk. By selecting a trusted broker, you can take comfort from the regulatory T&Cs they have to comply with, and also benefit from the additional services they offer. Good brokers offer free research, price alert messaging, and put you in the best position to get started and book your first trade.