Shares of 4d Pharma PLC (LON: DDDD) are down 26.3% since the biotech company completed its dual-listing on the US tech-focused NASDAQ index. What's next for the company?
The company also announced that it had raised just over $25 million via a private share placement during the dual-listing after Merck Sharp & Dohme Corp invested an additional $1 million during the placement.
4d Pharma's dual-listing combined with the concurrent fundraising activities left the biotech company with an extra $40 million in free capital that it can use to advance its various drug candidates through the remaining clinical stages.

The biotech company is a leader in the microbiome sector, where it uses live biotherapeutics to develop therapies that treat diseases ranging from asthma to malignant cancers. Some of its drug candidates have shown promise against advanced cancers.
Duncan Peyton, 4d Pharma's CEO, said: "We believe that 4D Pharma's single strain Live Biotherapeutic approach to the microbiome holds great promise to deliver novel, efficacious and safe therapeutics to patients suffering from a variety of conditions with few alternative therapeutic options,"
Adding:
"We continue to push the frontier for Live Biotherapeutics for the treatment of cancer, as well as additional therapeutic areas such as neurological conditions."
As for what's next for 4d Pharma, I expect the company to report significant progress with its drug candidates given the amount of cash available at its disposal after the dual-listing.
Long-term investors may find 4d Pharma's current price quite attractive given its superb prospects as a leader in the field of live biotherapeutics. Any significant announcements from the company, such as completing some of its clinical trials, are likely to trigger a rally in 4d Pharma's share price.
4D Pharma share price.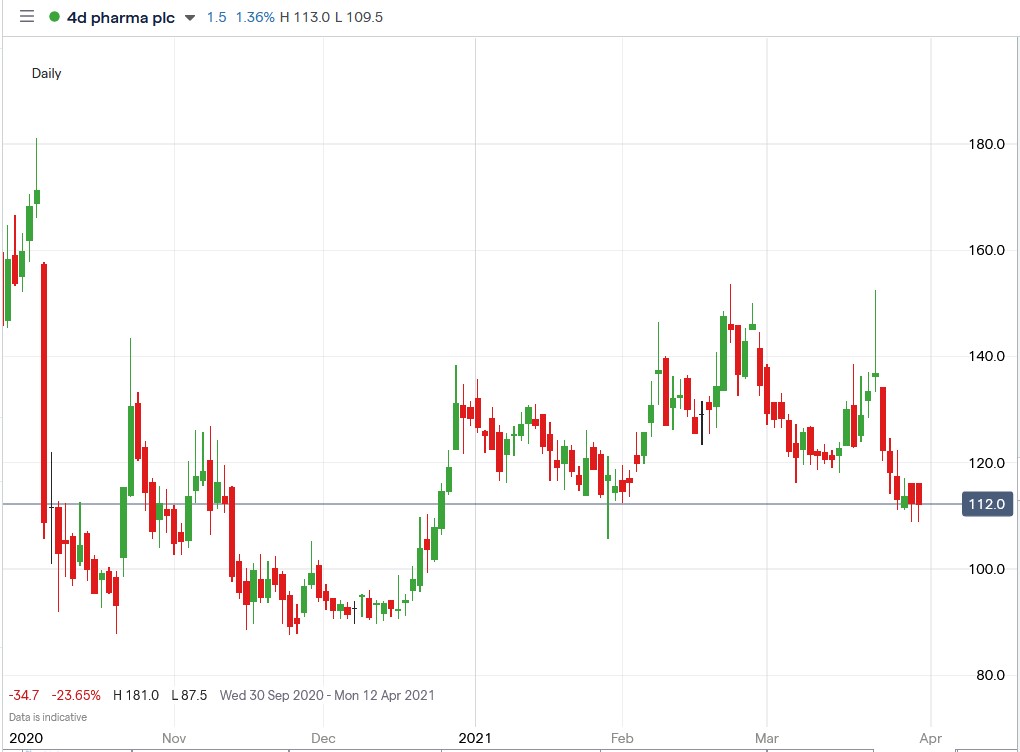 4d Pharma shares have fallen 26.31% from a high of 152p after its dual-listing to its current price of 112p.
Update:
4d Pharma just announced its 2020 final earnings results, where it recorded a £25.9 million loss compared to 2019's £23.7 million loss. The company had £8.8 million in cash at the end of 2020, before completing the merger with Longevity in March and raising a further £18.01 ($25.03) million.
Prof. Axel Glasmacher, Chairman of 4D pharma, commented: "2020 was a transformational year for 4D: We were able to publish first proof-of-concept data for MRx0518 in last-line cancers and to initiate our NASDAQ listing. This creates a solid foundation for the next steps towards bringing live biotherapeutics to patients suffering from severe diseases."
Duncan Peyton, Chief Executive Officer, commented: "4D has made significant progress leading the field in the development of Live Biotherapeutics, and made great strides from a corporate perspective. In addition to the data we have generated in the field of oncology, we completed our merger with Longevity. We obtained a NASDAQ listing which, together with a concurrent fundraise, provides 4D with approximately $40 million of additional capital and a solid financial footing moving forward."