Shares of B2B music streaming company 7Digital Group PLC (LON: 7DIG) surged 50.9% higher after announcing that it had signed a contract with the Chinese social media giant, Kuaishou, to provide its mobile apps with licensed music globally.
Kuaishou is a content community and social platform that saw its valuation nearly triple to $160 billion following its Hong Kong IPO on February 25, 2021. 7Digital has signed a very lucrative contract with Kuaishou, which includes a set-up fee, a recurring monthly access fee, and a usage fee.
The deal is a significant boost to 7Digital's future revenues, given that it is expected to last 24 months. Kuaishou will provide licensed music to its over 760 million active monthly users who can now embed licensed music into their video uploads and other content.
Kuaishou will now compete with TikTok, which has similar features that are extremely popular among its user base and could help the company grow its monthly active users.
7Digital did not release the financial details of the deal.
Paul Langworthy, 7digital's CEO, said: "We are pleased to sign with Kuaishou, one of the world's fastest-growing social media apps with hundreds of millions of users. This long-term contract expands 7digital's footprint in this high-growth sector, making us one of the largest providers of licensed music to global social media giants and tech-driven consumer brands."
Adding:
"Collectively, across all of 7digital's contracts in this space, we enable 1 billion average monthly active users to access one of the largest music catalogues in the world powered by us."
7Digital share price.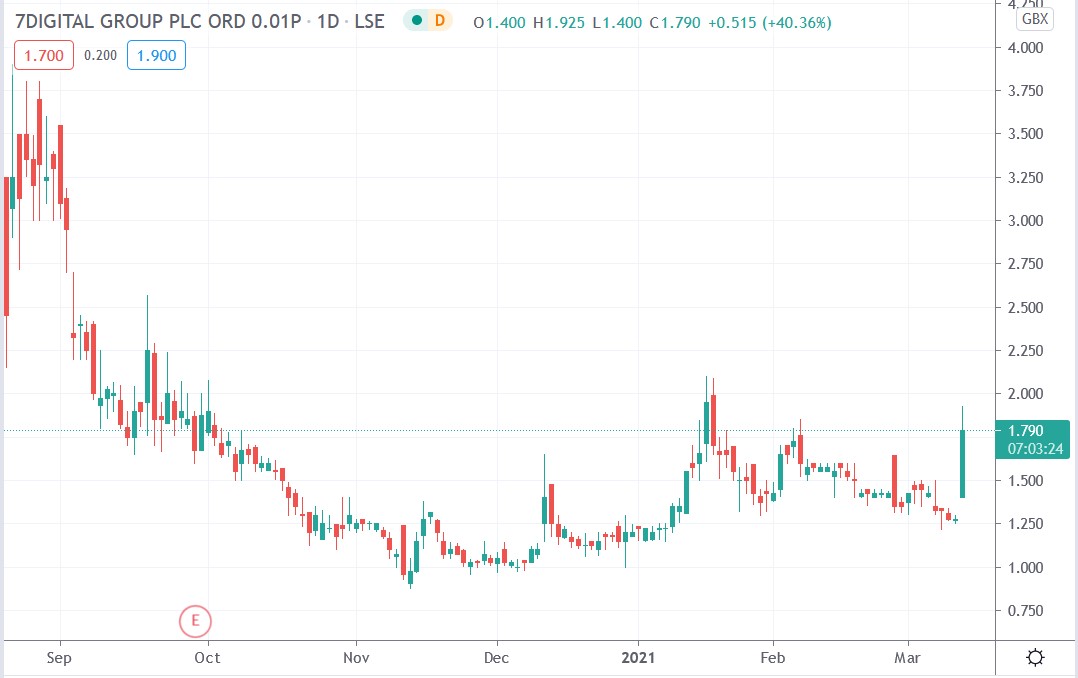 7Digital shares surged 50.98% to trade at 1.925p, rising from Wednesday's closing price of 1.275p.