Shares of Alien Metals (LON: UFO) are falling on Tuesday, along with the price of silver, despite the somewhat positive updates to its San Celso, Los Campos and Elizabeth Hill silver projects.

The mining company revealed that its San Celso and Los Campos silver projects in Zacatecas State, Mexico are to undergo detailed mapping and sampling at Nueva Andromeda by a newly appointed senior geologist in the coming days, while they are also reviewing new projects presented for earn in or acquisition for copper and silver in the same region. The company is also awaiting environmental drilling permit authorisation for San Celso and Los Campos.
The San Celso project will complete the final legal registration to acquire the Nueva Andromeda permit, which is strategically contiguous to the project.
Once the Southern Geoscience interpretation work is completed at the Nueva Andromeda site, the company said it will then plan specific next stage exploration on new and existing targets, including potentially surface close-spaced geophysical surveys, further trenching, mapping and even initial drilling if warranted.
At the Elizabeth Hill project located in Western Australia, an Airborne Magnetic Survey has been completed and data captured which is currently being analysed, while Alien is planning to re-enter the historic Elizabeth Hill underground mine which was in use between 1998 and 2000 with silver production totalling approximately 16,800 tonnes of ore grading 2,195 g/t Ag.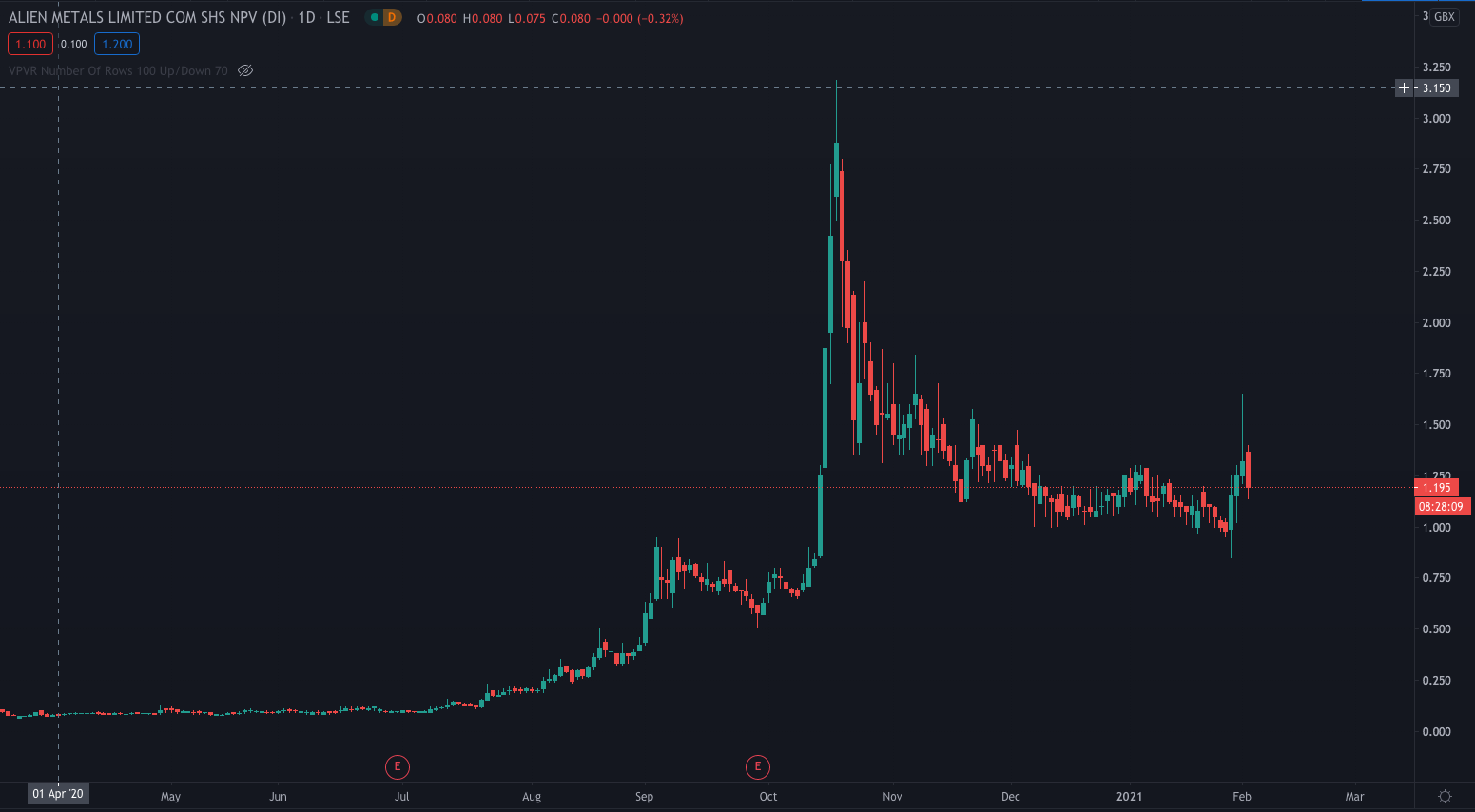 "We are pleased to provide an update on our exciting silver projects, particularly in light of the recent strengthening silver market which has seen the price hit an eight year high of $30/oz," said Bill Brodie Good, CEO and Technical Director of Alien Metals.
"Management anticipates this trend to continue in line with rising global demand for the metal, particularly given its modern applications in electronics and green energy, along with the fact that silver is seen as an important store of wealth," added Good.
Despite the somewhat positive update, Alien Metals' shares have fallen over 9% in Tuesday morning trading as silver prices fall.
Monday's surge saw silver reach $30 in a move attributed to the WallStreetBets subreddit; however, most posts on the forum warn against the silver short-squeeze, and we are now seeing the metal fall as the initial move fades.
Should you invest in Alien Metals shares? Alien Metals shares are traded on the AIM market of the London stock exchange (the alternative investment market) which is the sub market specifically for smaller companies. AIM stocks are attractive to investors as they have tax advantages and smaller companies have the potential to benefit from rapid growth. But are Alien Metals shares the best buy? Our stock market analysts regularly review the market and share their picks for high growth companies