Shares of Tiziana Life Sciences PLC (LON: TILS) fell 22.8% after the biotechnology company released positive initial data from the first human trial of its Foralumab COVID-19 drug that is administered nasally and orally.
Foralumab is the first CD3 monoclonal antibody delivered directly to the nasal passage and respiratory tract, which rapidly suppresses lung inflammation while improving the sense of smell and taste in coronavirus patients.
The trial clinical study was done in Brazil, where researchers administered Foralumad nasally to study participants against a control group that received a placebo.

Study participants were given a single dose of Foralumab for 10 consecutive days. The impact of Foralumab was measured via CT scans of their lungs at the end of the treatment compared to the start.
This study served as proof of concept for Foralumab's unique delivery method as well as its safety and efficacy as a potent systemic anti-inflammatory therapeutic.
Today's results also indicate that the drug could be effective against the new strains of the coronavirus identified in the UK, South Africa and Brazil.
Investors cheered today's announcement, which proves that Tiziana can develop its Foralumabd into a potent COVID-19 treatment given that the disease still does not have a cure.
Dr Kunwar Shailubhai, CEO and CSO of Tiziana Life Sciences, commented: "We are delighted with the promising clinical data showing evidence of the positive effect of nasally administered Foralumab in Covid-19 mediated pulmonary and systemic inflammation. This is a first-in-class and scientifically logical approach to modulate the host immune system to fight the inflammatory reaction to SARS-CoV2 (Covid-19 virus)."
Adding:
"Thus, this approach may be effective against patients infected with the newly identified Covid-19 variants in the UK, South Africa and Brazil, but there is no data on this yet. The clinical data demonstrates the safety of nasally administered Foralumab and provides evidence of anti-inflammatory effects."
Tiziana share price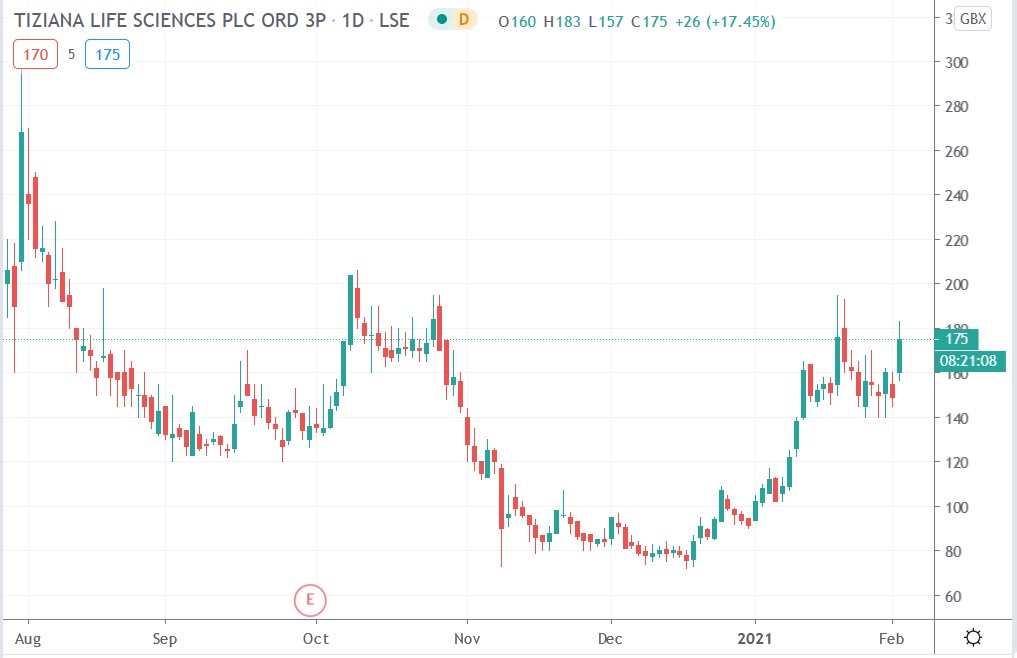 Tiziana shares surged 22.82% to trade at 183p having rallied from Monday's closing price of 149p.