Shares of UK guarantor lender Amigo Holdings PLC (LON: AMGO) have fallen drastically this month, erasing a considerable chunk of February's gains amid a slew of bad news. What's next for the company?
The UK's Financial Conduct Authority (FCA) yesterday announced the deepening of its investigation into the company after over 10,000 complaints about guarantor loans were lodged in Q4 2020, compared to 303 complaints in Q4 2019.
Amigo shares had rallied higher starting in mid-February after institutions led by J.P.Morgan acquired staked in the lender, probably anticipating the lifting of the FCA's ban on the company, leading to the formation of a parabolic rally as shown in the chart below.

A sell-off usually follows parabolic rallies. This time, it was no different, as the shares started falling on March 2, erasing over half of February's gains as of today. The lender's management team said that it would continue cooperating with the FCA's investigation.
Amigo's road to recovery appears much longer than many expected, but all is not lost. Demand for the company's guarantor loans has spiked higher, driven by the effects of the coronavirus restrictions that have cost many people their jobs.
We could see a massive rally in the company's shares if the FCA finalises its investigation, allowing Amigo to resume its lending operations. However, Amigo is likely to declare bankruptcy if the FCA prevets it from lending, leaving investors holding worthless shares.
Investors holding Amigo shares or want to establish new positions in the company should keep a close eye on the FCA's investigation to avoid being caught unawares by a bankruptcy or insolvency filing.
Amigo is still hoping that the FCA will approve its proposal to create a separate entity to deal with aggrieved clients' compensation, which would allow it to resume lending operations. Such a move could also trigger a significant rally in its share price.
Amigo Loans share price.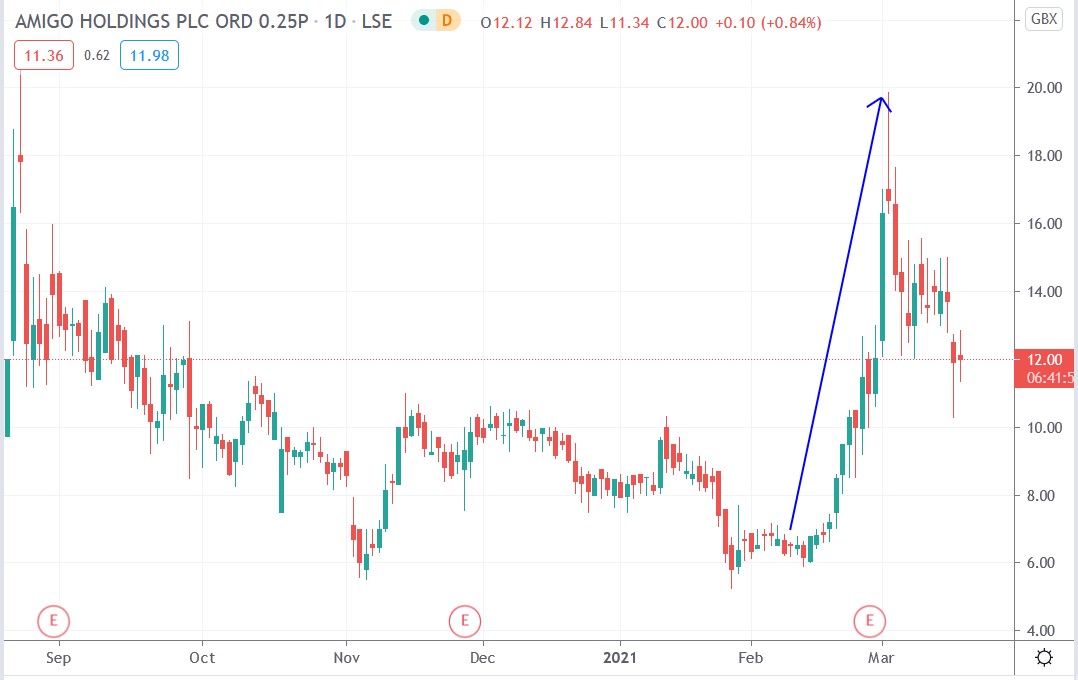 Amigo Loans shares have pulled back from their recent highs amid a slew of bad news. What's next for the guarantor lender?