Shares of foodservice company SSP Group PLC (LON: SSPG) fell 8.3% after the company announced a massive £475 million capital raise via a fully underwritten rights issue to boost its balance sheet.
The company said that it would issue 258.1 million new shares at 184p per share, representing a 47% discount to yesterday's closing price as sales in January and February fell 82% as travel restrictions brought its operations to a standstill.
From a technical standpoint, SSP shares recently hit a significant resistance level, as shown on the weekly chart below and have pulled back slightly from the level.

Nonetheless, the shares have formed a pre breakout structure signalling that they might break out of the pattern in the future.
A break above the level would allow SSP shares to rally towards their March 2020 highs with minimal resistance on their way, with the next resistance level being around 500p.
SSP Group operates food and beverage stores in travel locations. The drop in local and international travel occasioned by the coronavirus restrictions has hit the company hard since March 2020 despite taking strict measures to stay afloat.
The company expects like-for-like revenues to return to pre-pandemic levels in the 2024 financial year, indicating that the firm faces a tough stretch over the next few years as it rebuilds its business amid the resumption of global travel.
SSP Group is a major casualty of the ban on global and local travel that has hit many airlines and passenger transport companies as people's standard travel patterns were interrupted by the coronavirus restrictions.
Simon Smith, SSP Group's CEO, said: "Strengthening the balance sheet now will underpin the business if the recovery in the travel sector is slower than we anticipate, and it gives us the capacity to invest in growth opportunities as we emerge from the pandemic. Our current expectation is that the early recovery will be led by domestic and leisure travel from which we are well-placed to benefit."
SSP Group share price.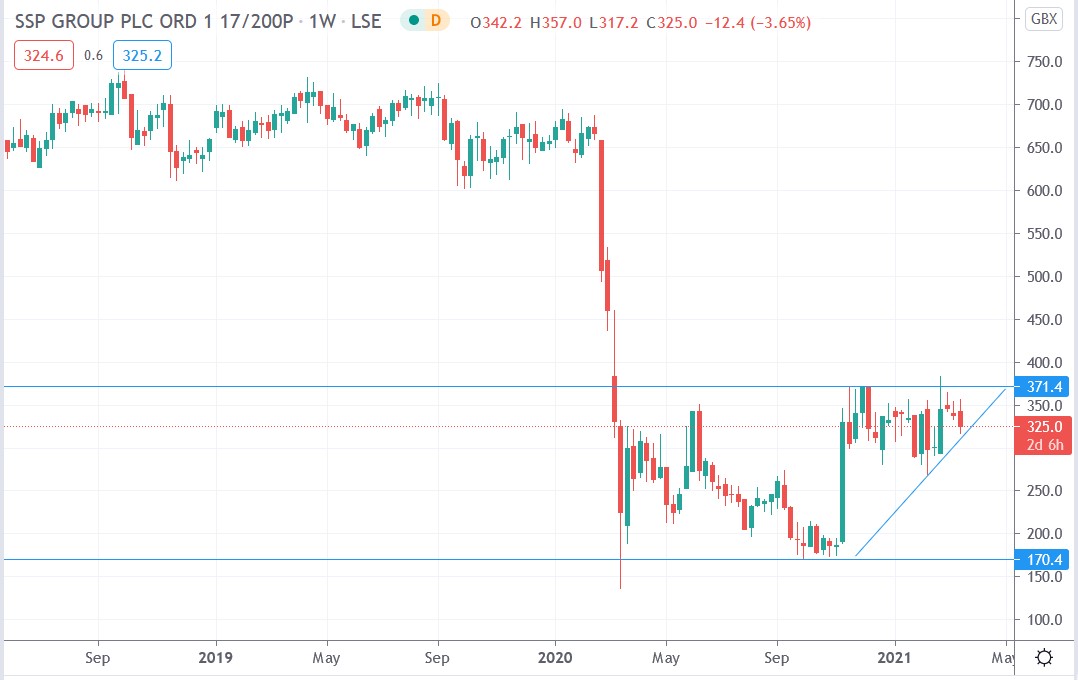 SSP Group shares fell 8.27% to trade at 317.2p, dropping from Tuesday's closing price of 345.8p.