Key points:
Amigo shares plunged spiked 14.92% higher before plunging 10.45%.
Investors had a mixed reaction to the AGM update issued by the lender.
AMGO shares are trading at a crucial level. Are they a buy?
The Amigo Holdings PLC (LON: AMGO) share price plunged 10.45% after the guarantor loans provider issued an update regarding the upcoming annual general meeting scheduled for 28 September 2022.

Investors initially cheered the announcement driving Amigo shares higher before an influx of sellers forced the shares to erase all gains and fall into negative territory. So, does today's decline mean investors are not optimistic about Amigo's prospects?
Also read: The Best Financial Stocks To Buy Right Now.
The short answer is that investors have mixed feelings about Amigo's plans, given that the initial reaction was a rally higher before the selling pressure mounted. While investors are excited about Amigo resuming lending activities, they are also worried about the upcoming capital raise that will significantly dilute their holdings.
Amigo Loans shareholders who do not have additional funds to invest in the company will see their current stakes diluted by over 90%. In contrast, those participating in the capital raise will have to buy more shares during the capital raise to maintain their current shareholding.
However, there is hope for investors as the sub-prime lender prepares to resume lending activities under the UK's Financial Conduct Authority (FCA) watchful eyes. The lender has been working very closely to ensure that it meets all the requirements the regulator sets before resuming lending activities.
Amigo plans to resume lending under its new brand, "Reward Rate", hoping to put its troubled past far behind it and soldier on as a new entity under a more efficient and accountable management team.
Investors should look forward to the AGM, focusing on whether Amigo's shareholders shall give the management team the go-ahead to implement its turnaround plan and resume lending much faster than the court-mandated deadline of 26 February 2023.
So, should you buy Amigo shares? The shares are trading above a crucial support level, making them attractive. However, I would wait to see if the level holds before buying.
*This is not investment advice.
Amigo share price.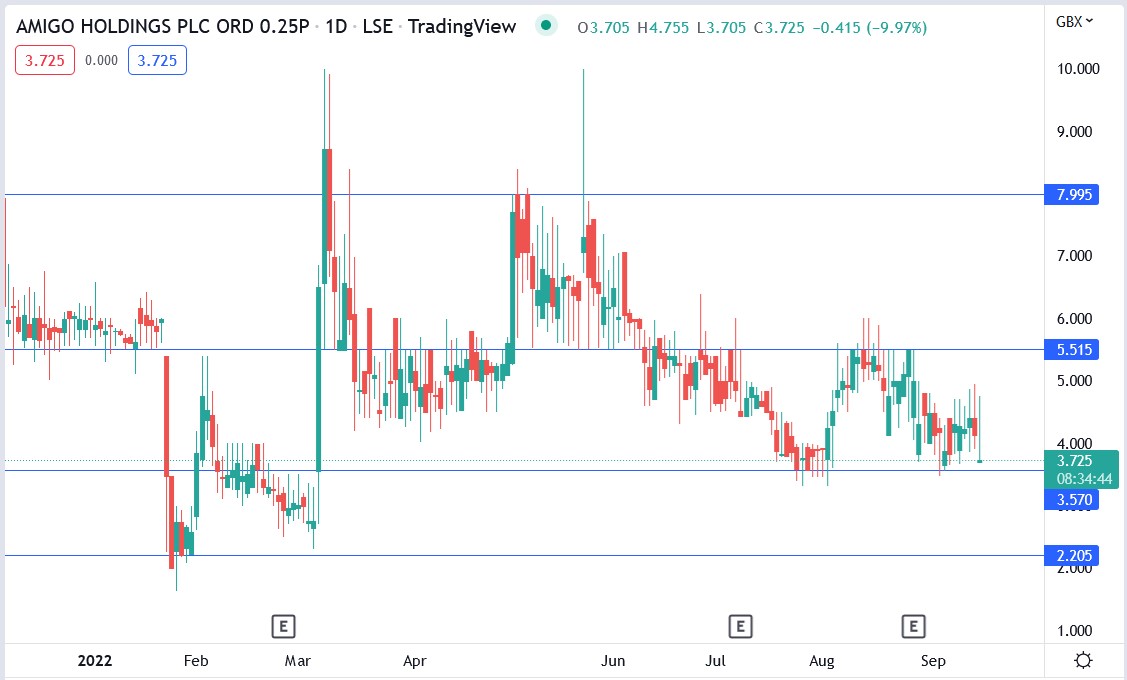 The Amigo share price spiked 14.92% higher on AGM meeting notice but later fell, erasing all gains to trade down 10.45%.