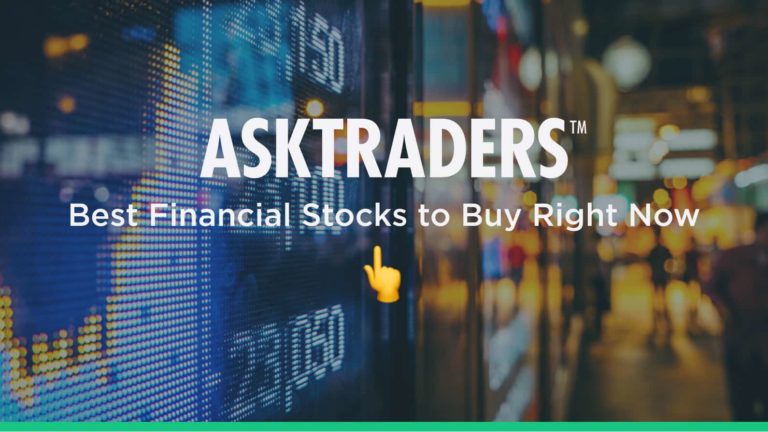 When you think of financial stocks, the first thing that comes to mind are banks, but during uncertain times, with interest rates mostly at, below or around zero, bank stocks are not expected to do well.
However, there are various other companies within the sector, such as accounting, asset management, insurance and brokerage companies. So, in this article, we are going to take you through some of the best financial stocks you can buy right now.

Best Financial Stocks to Buy Right Now
Best Value for Money Financial Stocks
1. Vanguard Financials ETF (NYSEARCA: VFH)
If you want to invest in banking and financial stocks, then there the Vanguard Financials ETF is a great place to start, especially if you are new to trading or investing.
It currently holds 415 stocks with the majority of its funds invested in larger companies. It also has a price-earnings ratio of 13.9X.
Its share price is currently trading at $61.60, down 19.24% for the year to date. It was trading at $76.51 before the coronavirus pandemic took ahold and we feel it represents a value for money stock.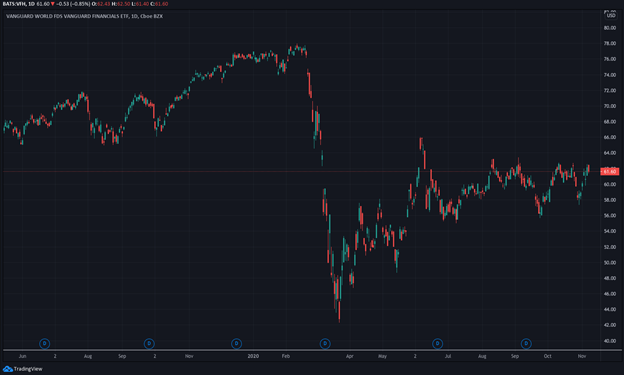 2. Green Dot (NASDAQ: GDOT)
Green Dot is an American financial technology and bank holding company that has the world's largest prepaid debit card by market capitalisation.
The company posted healthy third-quarter earnings, showing an increase in revenue from $240.4 million to $291.1 million. It also adjusted its earnings per share guidance for the full-year to between $1.95 to $2, above analyst estimates of $1.82.
However, where Green Dot could continue to grow is in its banking-as-a-service platform, which is already used by Uber, Apple, and Stash. The product allows companies to offer banking services using Green Dot's platform, meaning they don't have to become a bank as well.
As an increasing number of company's offer banking services to their customers, and with Green Dot shares currently trading at $55.53, it looks like a good value for money stock.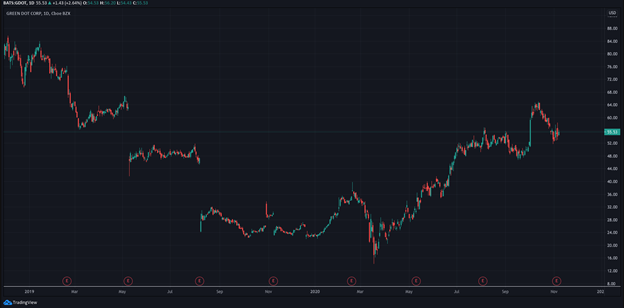 Fast-Growing Financial Stocks
1. Jefferies Financial Group (NYSE: JEF)
Jefferies Financial Group is a diversified financial services company that is involved in investment banking, capital markets and asset management.
Jefferies reported record quarterly net revenues of $1.38 billion for the third quarter, beating the highest analyst estimate and up 61% year over year. It also reported an EPS of $1.07.
Alongside its positive earnings, the company declared a quarterly cash dividend of $0.15 per share and investors hoping to buy shares in the company to capitalise on its dividend would need to purchase shares before the 12th of November.
For the year to date, its share price is down 1.87%, but in the last six months, it has gained 51.74% and is currently priced at $20.97.
Jefferies recorded record revenues in the first half of the year, and its share price is climbing, rapidly.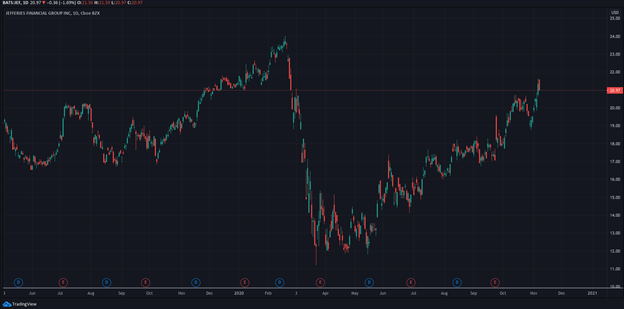 Financial Stocks with the Strongest Momentum
1. PayPal (NASDAQ: PYPL)
I'm sure you know who PayPal are, the online payment provider. The company's share price gained nearly 9% last week and is up 87.42% for the year to date. It is currently priced at $202.73 per share.
PayPal shares recently fell despite reporting positive earnings, beating analyst expectations after the company said that they expect Q4 non-GAAP EPS growth to slow.
Despite this, analysts at several large banks viewed the fall as a buying opportunity.
With PayPal recently announcing the launch of its new service that enables customers to buy, hold, and sell cryptocurrencies, and the reintroduction of new lockdown restrictions in Europe meaning more online payments are made, PayPal is a stock with a lot of momentum.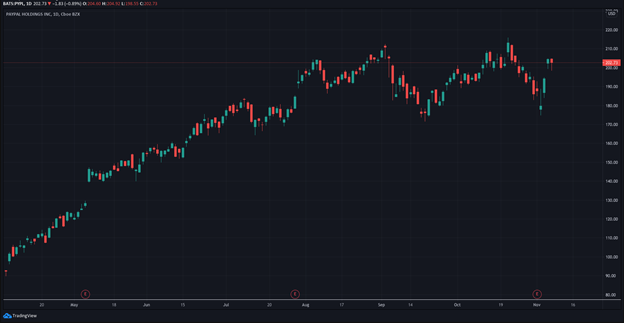 2. Square (NYSE: SQ)
Square is an American financial services company founded by Twitter creator and current CEO Jack Dorsey.
The company's share is currently trading at $198.08 after rallying 164.46% in the last six months and 216.62% for the year to date. Its most recent surge higher came after the company reported its third-quarter earnings, smashing analyst estimates, reporting a 140% increase in net revenue.
The main driver for its impressive third-quarter was the SquareCash app with the payments and banking app tripling its gross profits compared to the same period during 2019.
Several Wall Street analysts upgraded their price targets for the stock.
There are worries surrounding the company's exposure to small businesses during the current climate, and with President-elect Joe Biden promising a plan on how to tackle the coronavirus (which may mean lockdowns), it could face an increase in problems. However, when it comes to momentum, Square has it in abundance.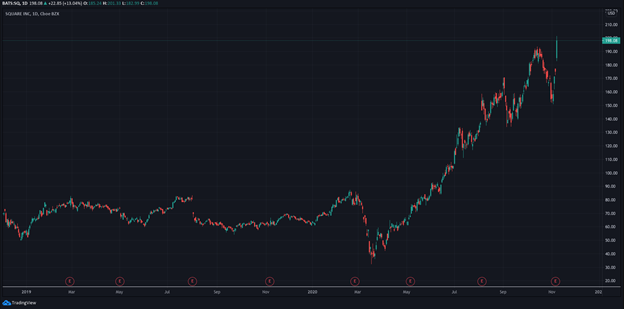 Why Invest in Financial Stocks Now
While now may not be the best time to invest in banking stocks, we are seeing a change in how people shop and make payments due to the technology change accelerated by the coronavirus pandemic.
This has made it a good time to invest in companies like Green Dot and others, who are expanding into new payment and banking technologies.
There has been a lot of talk about Central Bank Digital Currencies (CBDC) recently, and whether you are a fan or not, it looks as though there will be some form of CDBC soon.
But remember, with new technology, comes new opportunities.
What to Know Before Investing in Financial Stocks
Investing in financial stocks, or any type of for that matter comes with risk. The stock market can be volatile, and depending on the company you choose and the market it's in, the price can fluctuate enormously.
As mentioned at the beginning of this article, when most people think of financial stocks, they think of banks, and one thing to be aware of is that bank stocks are influenced by interest rate risk.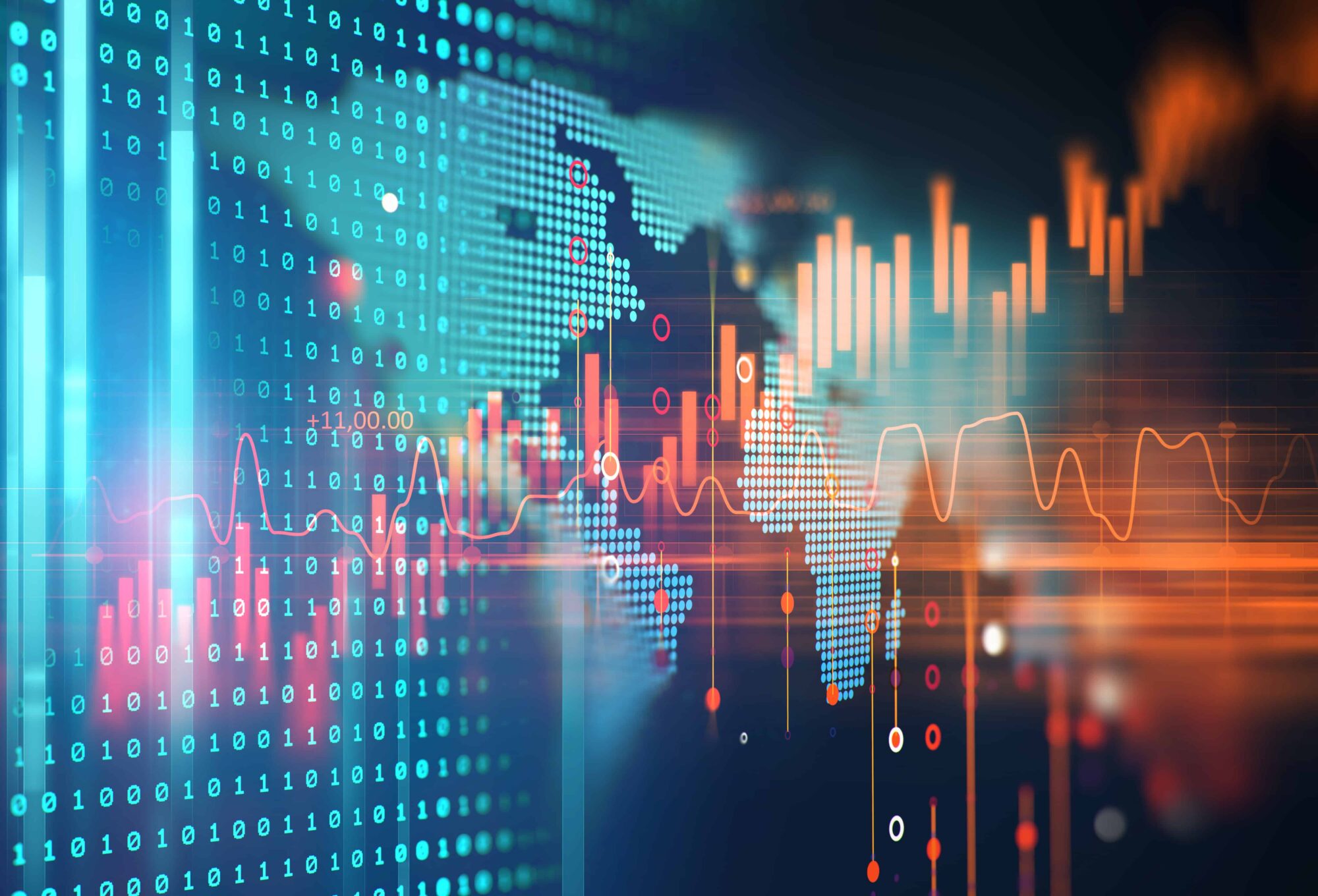 Banks will make profits from the interest paid on loans and mortgages, and so, another point to consider is who they are loaning money to when you are analysing a bank stock.
Finally, if you are investing in an investment company, then make sure to consider the risk to their investments when analysing the stock.
How to Start Financial Trading Stocks Online
Research Different Finance Companies
The first place to start is by researching the company you want to buy. What are the risks attached? Do you believe they are under or overvalued? And most importantly, do you think their share price will rise?
Find a Broker
The next step is to find a broker. There are hundreds, if not thousands of brokers available for you to choose from. But, don't worry, if you are unsure which broker to choose from, we have done the hard work for you, so check out our list of the top stockbrokers.
Open & Fund an Account
So, you have found a broker and know which stock you want to buy. The next step is to open and fund your account. The broker should have instructions to help you, but if not, you can check out how on our website.
Select & Buy Shares
Now, all you need to do is log into the broker's platform, if you are not already, and select and buy the company's shares.
Best Brokers to buy and sell shares:
eToro:
68% of retail CFD accounts lose money
Take a look
If you are ready to start investing in shares and building your portfolio you'll need a broker that is regulated, has low fees and a user-friendly platform. Finding one can be a daunting task, which is why we've selected some of our favourites that tick all of these boxes to help you get started.
Whether you're a new trader looking to get started or have a small amount of experience and are looking to switch to a new broker, these trading platforms are perfect. Not only are each of these brokers fully regulated – providing a safe and secure trading environment – they have exceptional platforms with all of the tools you need to succeed, whether that be indicators or regular market analysis. Each broker has a wide range of stocks to choose from and educational resources to help you get started and make your first trade.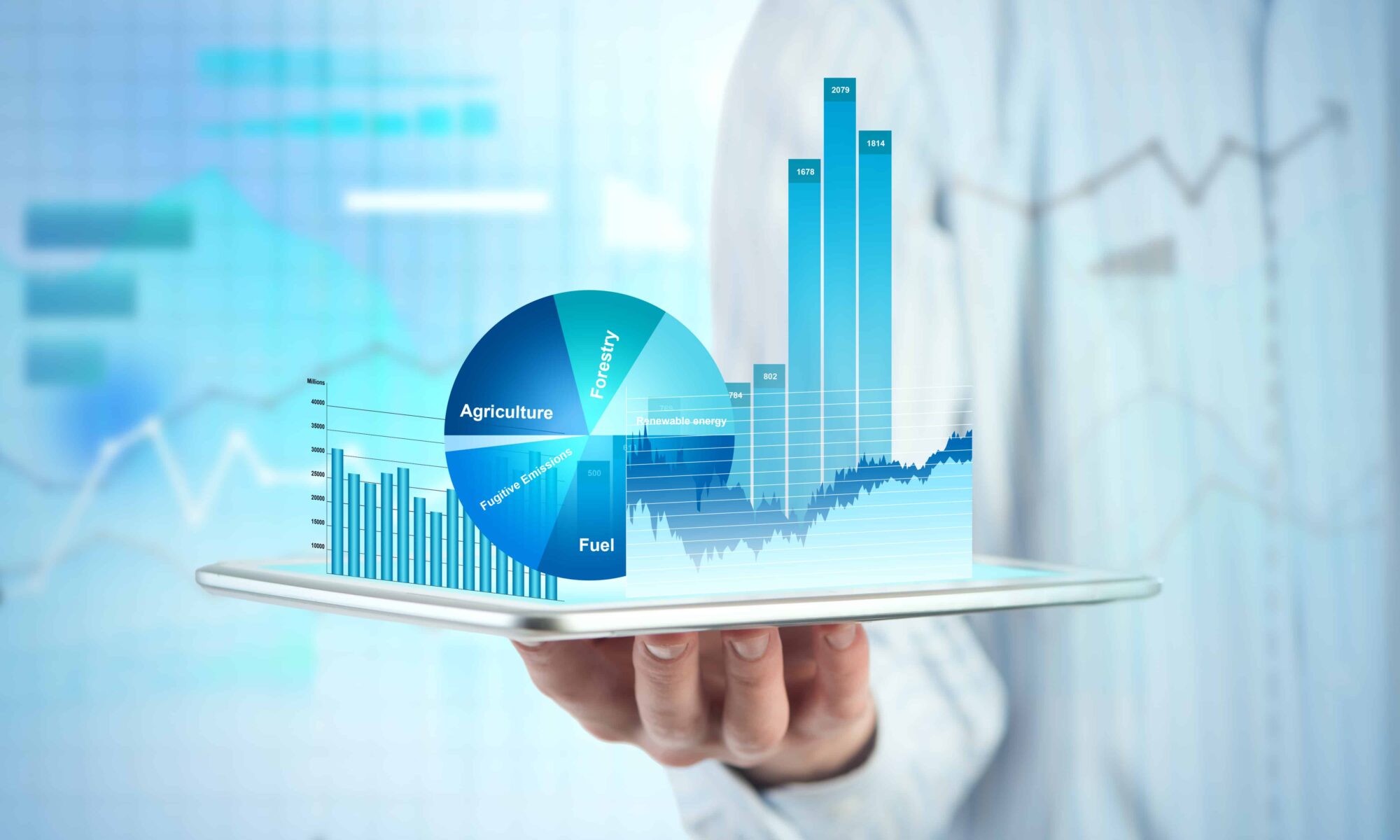 Summary
So those are, in our opinion, the best financial stocks you can buy right now.
Always remember that there are risks attached to investing in the stock market, and prices can fluctuate.
It is essential to consider the bigger picture when investing, don't just look to what's happening now, but instead look at what could happen in the future and the prospects for the company going forward. Investing for the long term is recommended.
We, of course, can't list all of the positive and negative aspects of an individual stock in one article. Still, we can assist in helping you to make profitable decisions when you decide to invest.
PEOPLE WHO READ THIS ALSO VIEWED: