Oil
Oil markets opened higher on Sunday evening after OPEC + struck a deal to cut around 10 million barrels per day.
However, the jump in prices was short-lived as we saw an immediate retracement and the gap up was filled within a matter of minutes. We did see the Sunday four-hour candle close higher at $23.95, but the price has been moving lower since.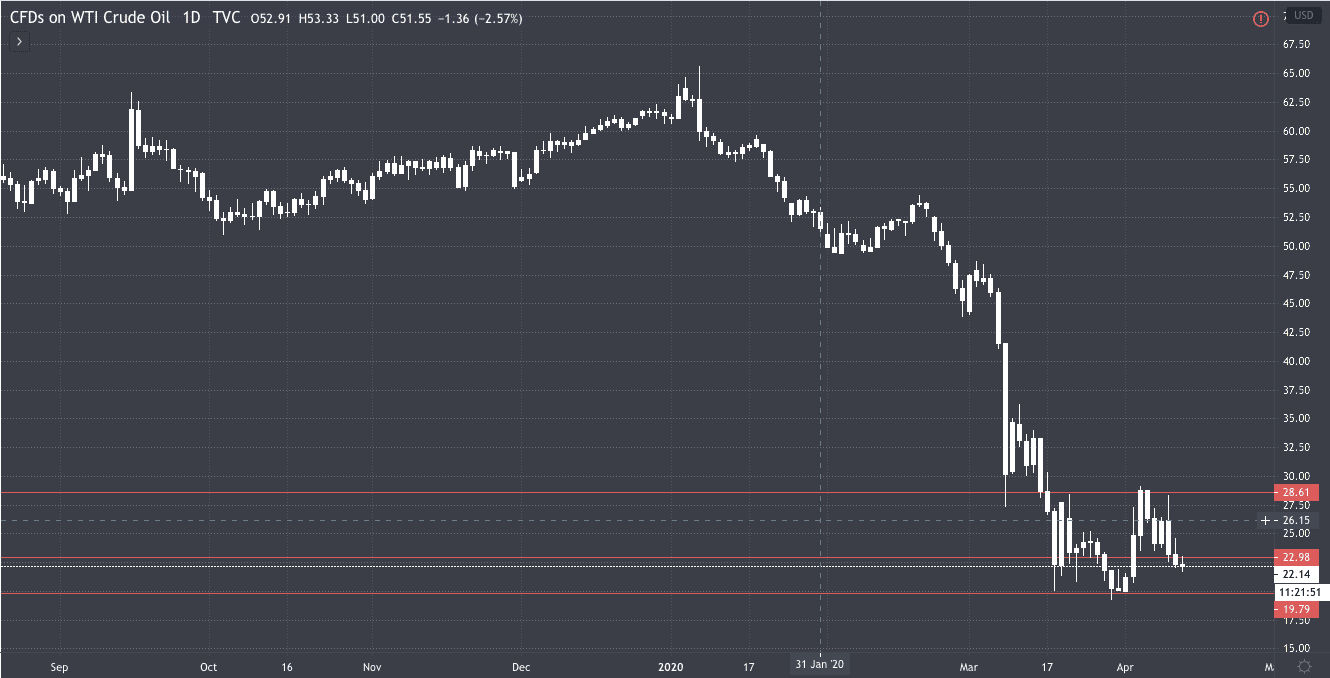 Yesterday we saw oil markets closing the day at $22.36, while this morning that downtrend has continued and we are currently trading at $21.90.
Our view has always been that OPEC and its allies would not cut production enough to see prices move higher and stay there, and it seems that it has come to fruition.
I am expecting we will hear positive comments from oil ministers and heads of state (namely President Trump) in the coming days to try and push oil prices higher.
Equity Markets
Yesterday President Trump claimed that he has total authority when it comes to lifting the coronavirus lockdown restrictions, saying that states "can't do anything without the approval of the President of the United States."
However, the US constitution hands the responsibility to state and local officials. President Trump wants to reopen the economy by the 1st of May, but state governors so far seem unwilling to do so, putting both sides on a collision course.
The importance here for equity markets is if there is a decision to ease restrictions, whether there will be a second wave of infections. Any sign of an increase in infections or deaths after the lockdown should see another sell-off as markets panic.
Elsewhere, overnight we saw shares in Asia hit one-month highs after better than expected trade data out of China.
European markets have moved higher this morning after yesterday's gains. The FTSE 100 closed out yesterday at +2.9%, gaining 6.6% the past five trading days.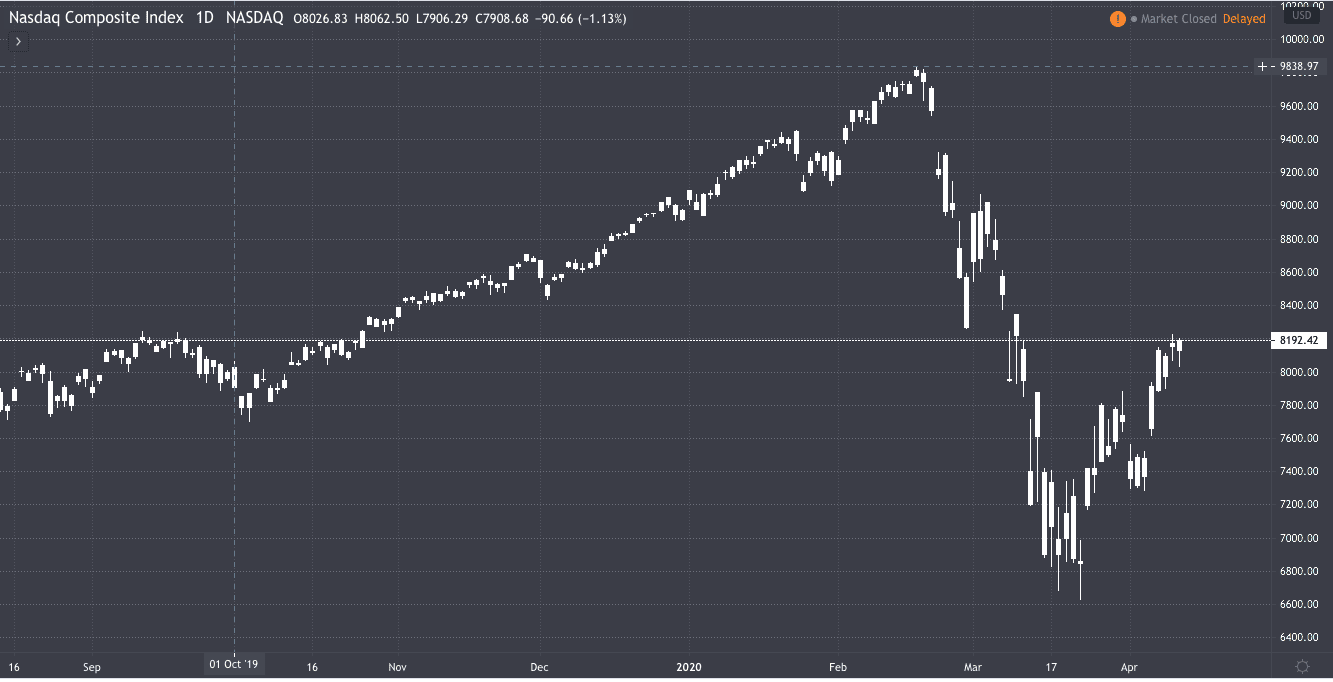 All three major US indices have posted double-digit returns in the past five trading days, with the Nasdaq Composite now down just 8.7% for the year-to-date.
However, yesterday saw two of the significant three post small losses with the S&P 500 down 1%, the Dow Jones Industrial Average down by 1.4%, with the Nasdaq gaining 0.5%.
Cryptos
Cryptocurrencies have fallen from recent highs, after recent substantial gains. However, Bitcoin moved higher on Sunday night, hitting a high of $7172 before falling back down to $6555. It has since moved higher once more, currently trading at $6880.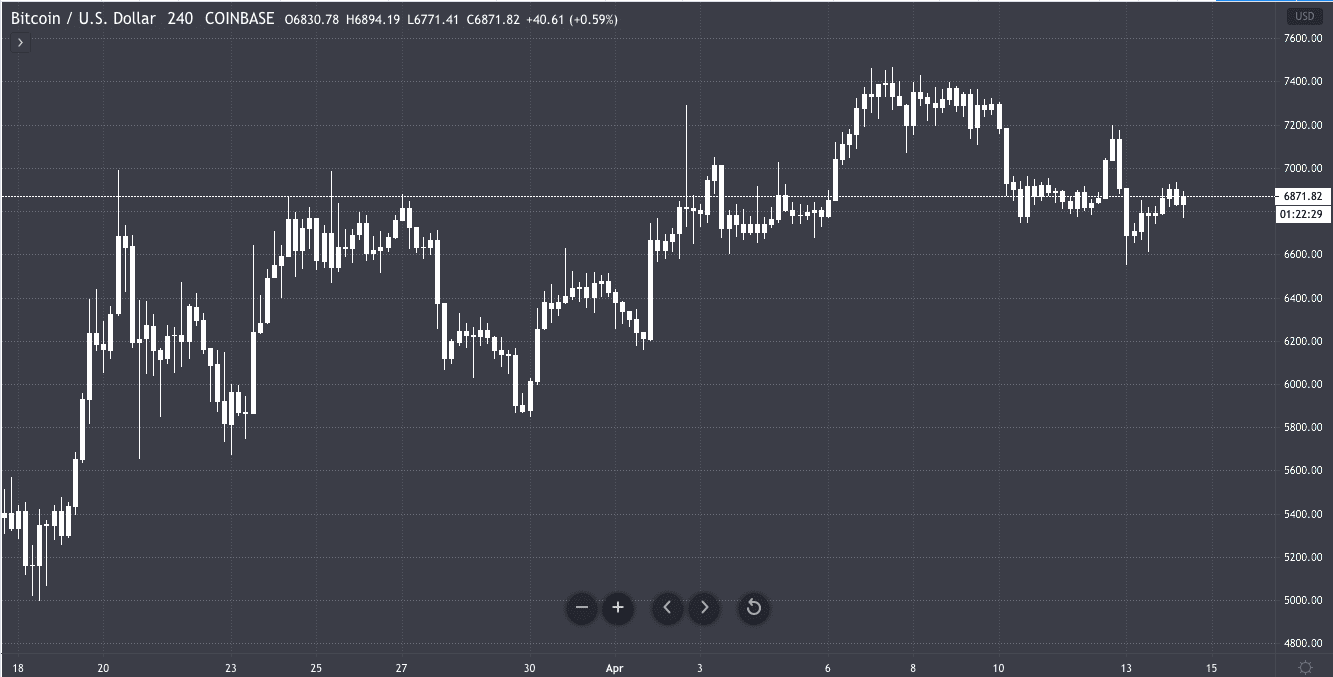 Predictably Ethereum followed a similar path, rallying on Sunday night to $165. It is now trading at around the $158 handle.
XRP is currently trading at $0.1877.
What To Look Out For
Johnson & Johnson – The company has performed very well this year having products in a range of sectors from infectious diseases to toothpaste and other general items. They are also one of the companies working towards a coronavirus vaccine. Analysts are expecting a further rise in the stock even though its expectations for Q1 have fallen.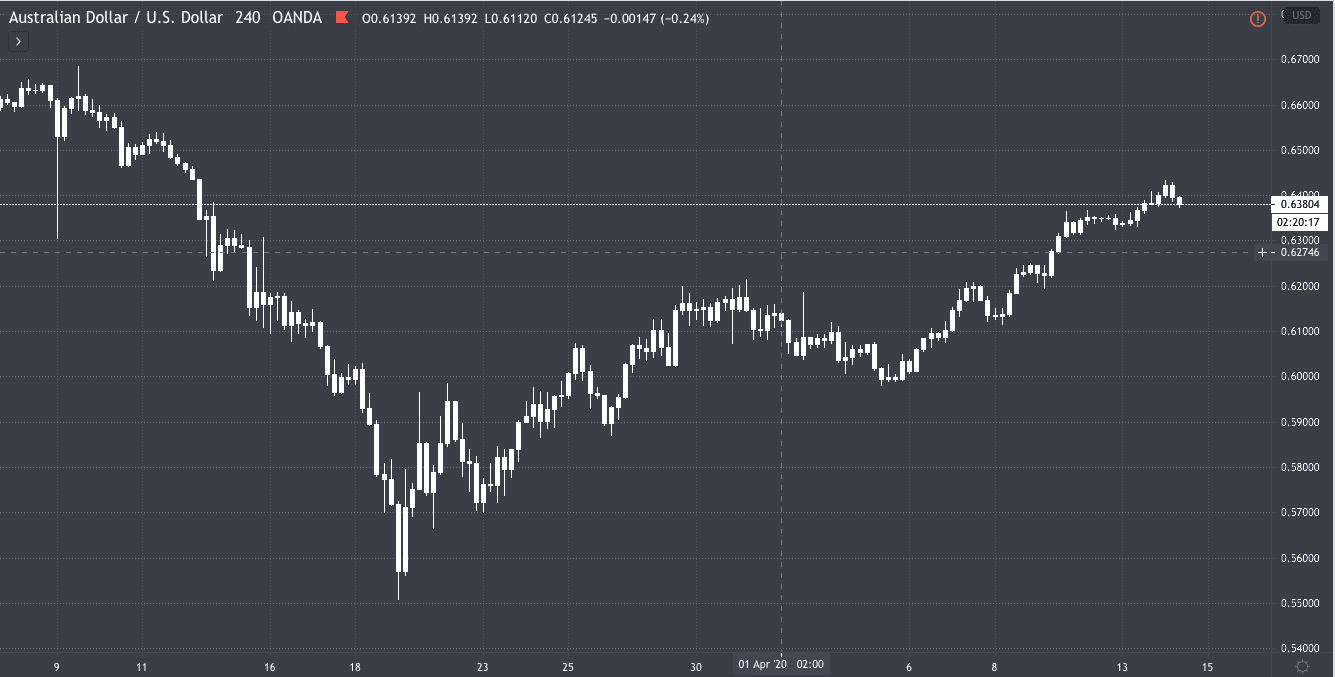 AUDUSD – The Aussie dollar has risen significantly in the last couple of weeks after the markets risk sentiment changed. However, after yesterday's latest run higher it looks like the move could be starting to run out of steam as investors get nervous heading into earnings season.
Earnings Season – US Q1 corporate earnings season kicks off today, with many of the large banks set to report their results. There are expected to be dismal numbers reported as companies deal with the impact of the coronavirus, but one thing to watch out for is companies' abilities to manage debt.