Key points:
The Aston Martin share price surged 26.4% despite huge capital raise.
The ultra-luxury car manufacturer announced plans to raise £653 million.
The response from investors shows confidence in AML's management.
The Aston Martin Lagonda Global Holdings PLC (LON: ML) share price surged 26.4% despite the ultra-luxury car manufacturer unveiling plan to raise £653 million by selling millions of new ordinary shares to investors.

The sharp rally was remarkable given that many companies tend to see their share price plunge after announcing plans to raise capital by issuing new ordinary shares at a discount. However, this was not the case with Aston Martin, which intends to sell the new shares at £3.35 apiece.
Also read: 12 Best Shares To Buy As A Beginner.
The rally in AML shares strongly indicates that shareholders are happy with the dilution, which will leave the car manufacturer with a healthy cash balance while allowing it to pay off a significant portion of its outstanding debts.
Aston Martin said it plans to use about half of the money raised to pay off some of its debts, thereby lowering its interest payments. AML will keep the remaining amount aside to boost its balance sheet and fund its operations to sustain future growth initiatives.
The ultra-luxury car manufacturer plans to raise £78.0 million by issuing 23.3 million new ordinary shares to the Public Investment Fund (PIF). Mercedes Benz AG and Yew Tree Consortium are other institutional investors willing to invest alongside PIF a total of £335 million in Aston Martin in exchange for a stake in the company.
The carmaker also plans to conduct a rights issue to raise a further £575 million, giving it enough financial leeway to pay off some of its debts and remain with substantial cash flow. However, investors expect this to be the last fundraising activity by Aston Martin since the luxury car manufacturer has the target of generating positive cash flow in 2024.
Once Aston Martin starts generating positive cash flow, it will no longer need external cash infusions and could start generating decent profits for its shareholders. The current management team led by Lawrence Stroll has proved that it can turn around the company.
Hence, the latest capital raise and its positive reception by investors is a sign of the trust that shareholders and partners have in the current team.
*This is not investment advice. Always do your due diligence before making investment decisions.
Aston Martin share price.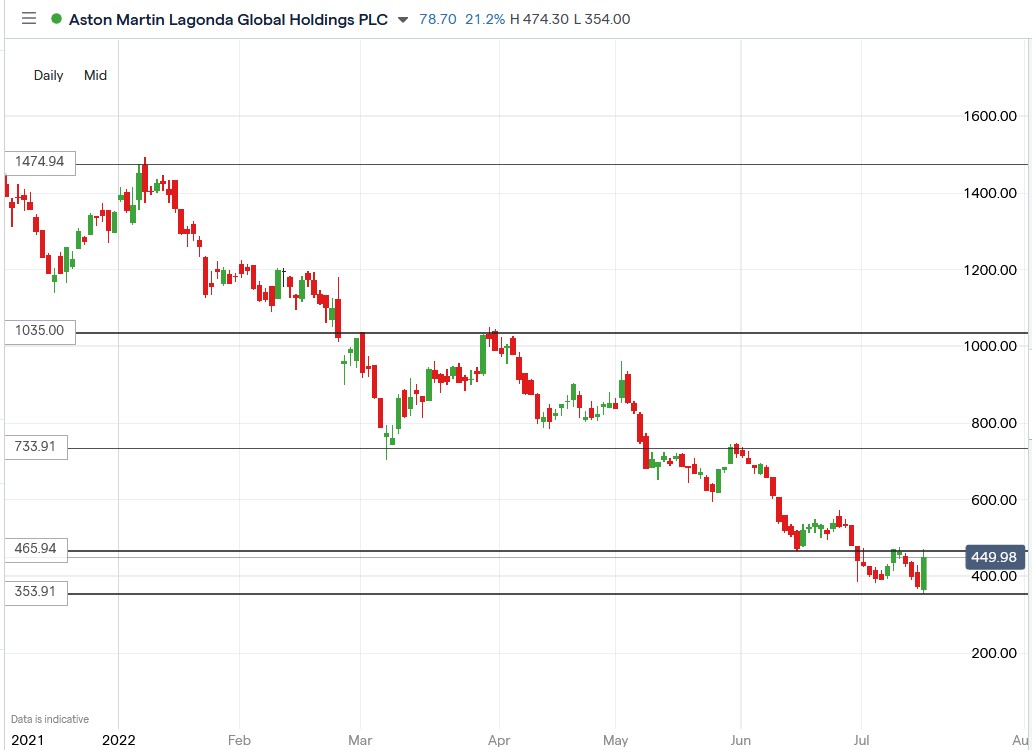 Aston Martin shares rallied 26.40% to trade at 471.68p, rising from Thursday's closing price of 373.15p.