Key points:
Aston Martin (AML) shares plunged 12.1% today. Here is why this is good.
The drop in AML shares did not represent the total discount offered to buyers.
Investors think that AML shares are worth more than the 103p price.
The Aston Martin Lagonda Global Holdings PLC (LON: AML) share price plunged 12.1% after revealing that its shareholders validly accepted 94.3% (527,268,329 shares) of the new shares issued by the company, as detailed in the rights issue announced on 5 September 2022.
Many wrongly assumed today's decline was terrible, but this could not be further from the truth. The lower acceptance rate was not the primary driver behind today's decline since banks could easily absorb the remaining 31,737,331 New Shares.
Also read: The Best Shares To Buy Now.
However, today's decline was good since the new shares were sold at 103p each, yet the decline in Aston Martin's share price saw the price fall to 131.31p, which is still 28p higher than the sale price of the new shares.
Therefore, the move indicates that investors still think Aston Martin shares are worth more than the value of the new shares. The monies raised via the rights issue are expected to repay Aston Martin's outstanding debts and fund its operations.
Up to half of the £575.8 million raised via the rights issue will be used for debt repayment and to shore up the British ultra-luxury car maker's finances. Furthermore, the remaining amount will be a financial cushion for the firm as it works towards its crucial targets.
Aston Martin aims to sell 10,000 cars at wholesale prices, generating approximately £2 billion in revenues and £500 million in adjusted pretax profits by 2024/25. The company remains on track to achieve this goal under Lawrence Stroll's leadership.
The British ultra-luxury car manufacturer has made a complete turnaround since the Yew Tree Investment consortium led by Lawrence Stroll acquired a majority stake in the company in 2020, despite suffering setbacks due to the COVID-19 pandemic.
So, should you buy Aston Martin shares? The short answer is yes, AML shares look attractive at current prices. However, I would wait for a few green days before buying.
*This is not investment advice.
Aston Martin share price.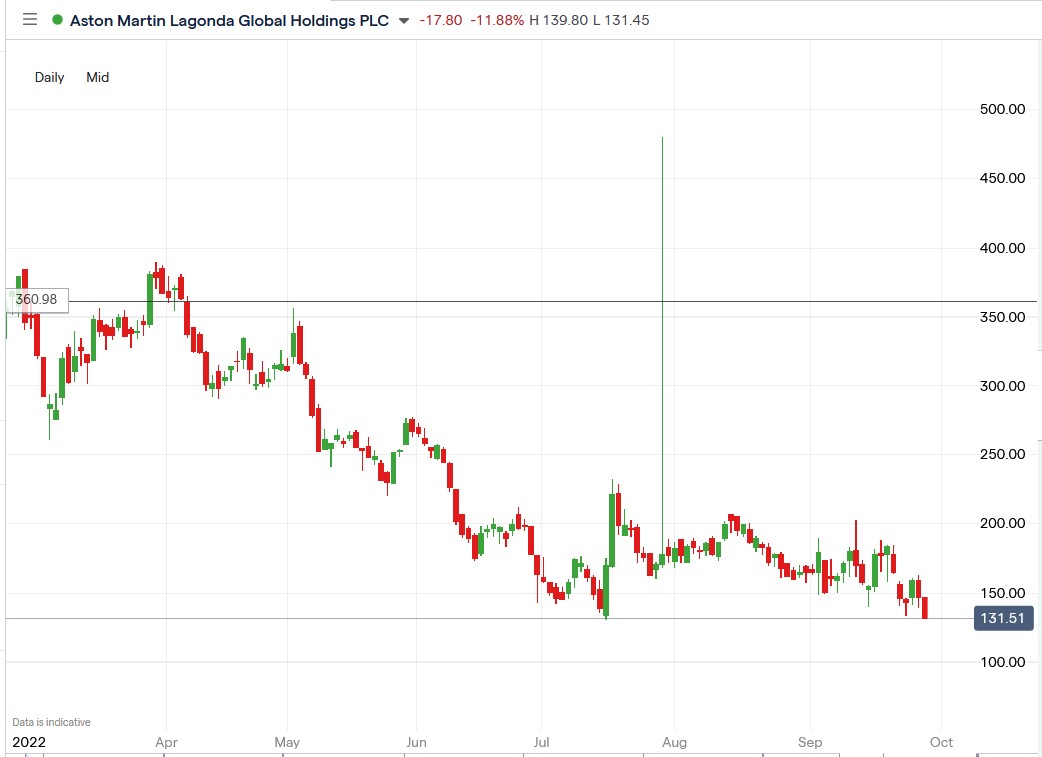 The Aston Martin share price plunged 12.14% to trade at 131.47p, falling from Tuesday's closing price of 149.65p.