Key points:
The BioNTech stock traded sideways after releasing its Q3 earnings report.
The company noted that weak demand for its COVID-19 was a critical factor.
Would I buy BioNTech shares? Read on to find out.
The BioNTech SE – ADR (NASDAQ: BNTX) stock price edged lower after releasing its Q3 2022 financial results, which showed a 50% drop in revenues to €3.46 billion from the €6.09 billion recorded in a similar period last year. The company's earnings per share (EPS) also fell significantly to €6.98, compared to the €12.35 figures posted last year.

The company attributed the decline in its revenues and profits to lower demand for the COVID-19 vaccine, which it produces in collaboration with US pharma giant Pfizer, given that a large percentage of the population in developed countries is now fully vaccinated.
Also read: Five Best Pharmaceutical Stocks To Watch In 2022.
However, the company raised its revenue guidance for its COVID-19 vaccine to the upper segment of its previous range of €13 – 17 billion. As a result, the firm's new range is much smaller at €16 – 17 billion as we enter the fourth and last quarter of the year.
BioNTech attributed its higher revenue guidance to the significant demand for its bivalent boost r vaccines, adapted to combat the new and emerging variants of COVID-19, such as the Omicron variant. The demand for the new vaccines is impressive, given that most people have now been vaccinated at least twice at this stage.
The company is also working on expanding its portfolio of oncology drugs and is well capitalized to fund its research activities since it had €13.4 billion cash and cash equivalents at the end of Q3, with €7.3 billion in outstanding trade receivables as of September 30, 2022.
Prof. Ugur Sahin, MD, BioNTech's Co-founder and CEO, said: "The next chapter of BioNTech's evolution is becoming tangible; we continue to expand our COVID-19 vaccine and infectious disease portfolio and advance our oncology pipeline. We reaffirm our commitment to improving people's health worldwide by developing immunotherapies that utilize the full potential of the immune system to fight cancer, infectious and other serious diseases."
So, would I buy BioNTech shares? Unfortunately, the short answer is no. Global demand for the COVID-9 vaccine is weakening by the day, which is its primary revenue source. Furthermore, BNTX shares are trading in the middle of a wide range and could fall at any time.
*This is not investment advice.
BioNTech stock price.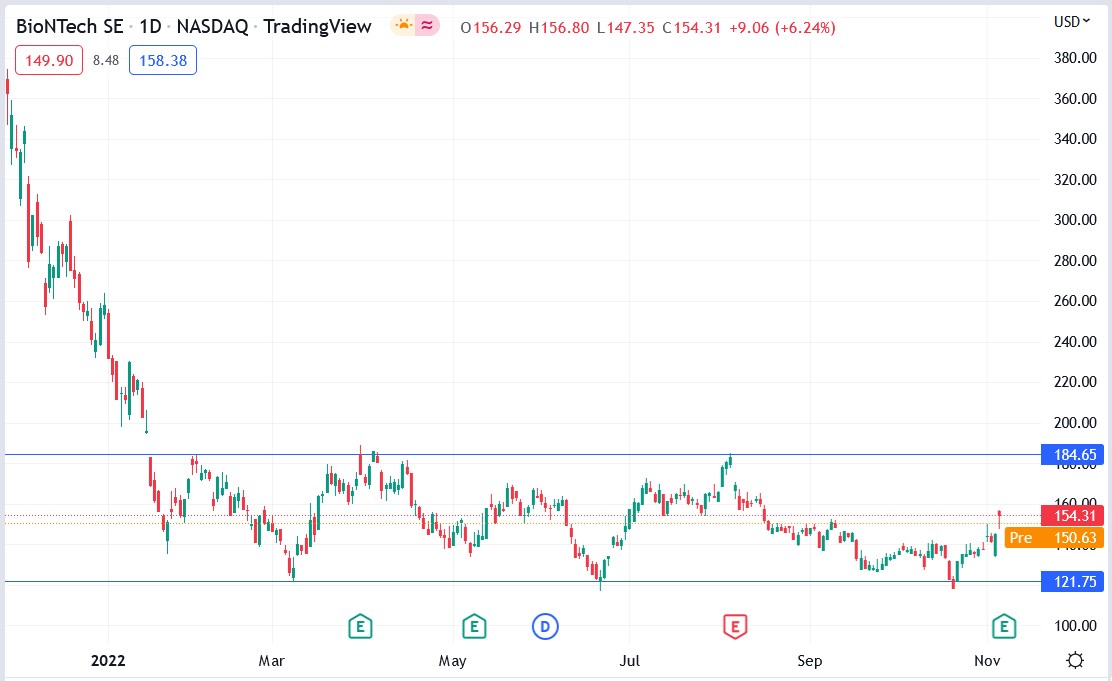 The BioNTech stock price edged 2.38% lower to trade at $150.63, falling from Friday's closing price of $154.31.