The trick is finding the best company to invest in, and the below list of the best pharmaceutical stocks to watch in 2022 forms a shortlist of companies to consider buying into. It uses fundamental analysis to identify targets for investment and technical analysis to establish the optimal time to do so.
Five Best Pharmaceutical Stocks To Watch In 2022
Best big-pharma stock to buy in 2022 – Johnson & Johnson (NYSE: JNJ)
Best high momentum pharma stock to watch in 2022 – AbbVie (NYSE: ABBV)
Best undervalued pharma stock to watch in 2022 – Amgen (NASDAQ: AMGN)
Best high dividend pharma stock to watch in 2022 – Gilead (NASDAQ: GILD)
Best breakout strategy pharma stock to watch in 2022 – Sanofi (EN Paris: SAN; NASDAQ: SNY)
1. Best big-pharma stock to buy in 2022 – Johnson & Johnson (NYSE: JNJ)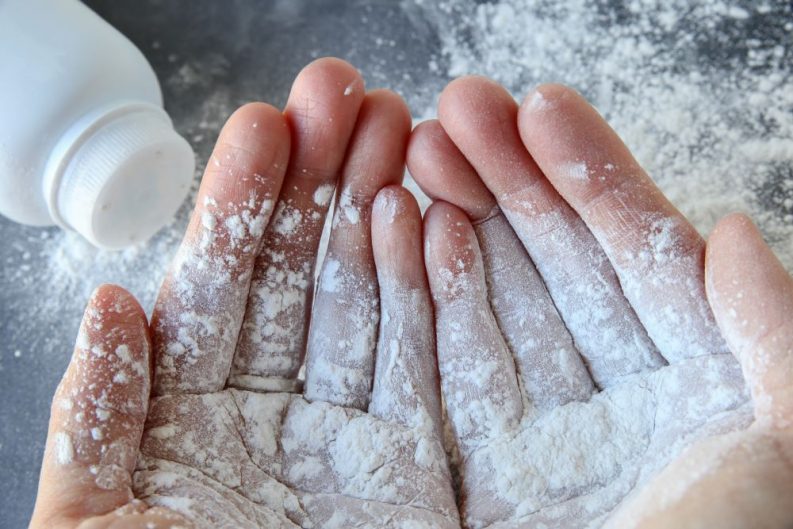 Source: 123RT
For pharmaceutical stocks, size matters. New drugs take a long time to develop and require considerable investment. That gives the big players in the sector a competitive advantage. With a market cap close to $437bn, not only does Johnson & Johnson have deep enough pockets to ride out the challenges posed by drugs that fail to come to market, but the firm also has an established global network that ensures its successful products optimise their commercial potential.
Existing drugs such as Stelara, Tremfya, Darzalex, and Erleada have established revenue streams, and there is potential for their value to be enhanced and improved upon via further R&D. The firm's Covid-19 vaccine programme provided a boost to its prospects during the pandemic, and there are 50 other late-stage clinical testing programs in which JNJ is currently engaged.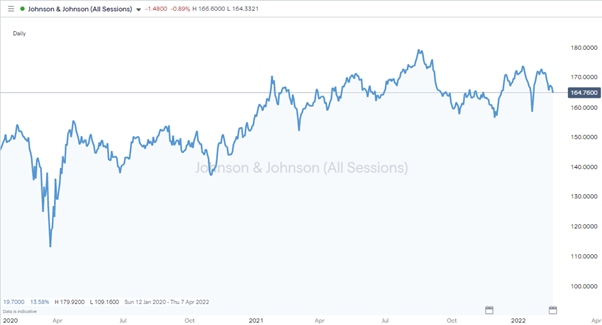 Source: IG
2. Best high momentum pharma stock to watch in 2022 – AbbVie (NYSE: ABBV)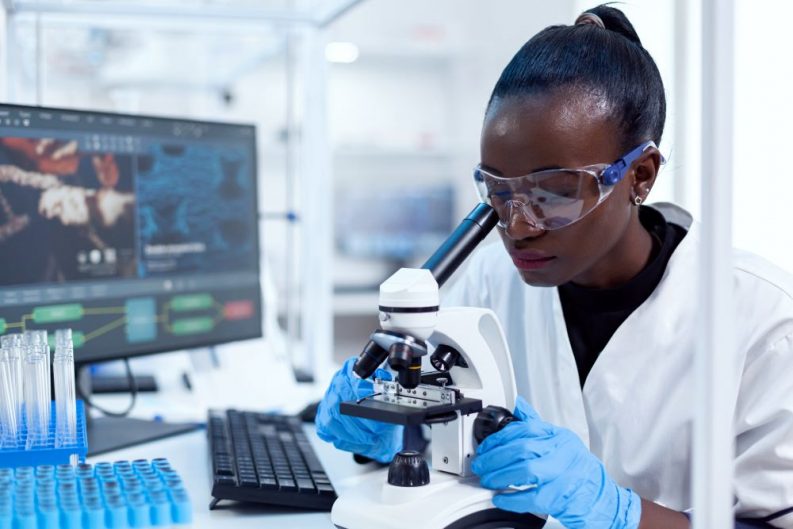 Source: 123RT
AbbVie isn't quite the same size as Johnson & Johnson; however, its market cap of $256bn means it has the critical mass required to make inroads into the sector. The ABBV share price has outperformed JNJ over the last 12 months, up 36.22% compared to -0.69% for JNJ. That momentum marks AbbVie out as one of the best pharma stocks to watch in 2022.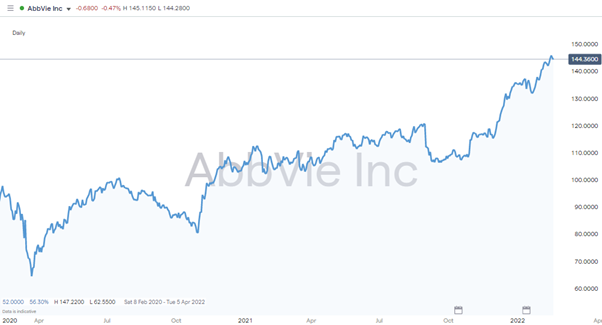 Source: IG
AbbVie has shown a willingness to engage in M&A activity to develop its product range, and its acquisition of Botox manufacturer Allergan has significantly enhanced its balance sheet. That offsets the potential issues associated with its flagship arthritis drug Humira which loses its patent in 2023. The Parkinson's drug the firm is developing continues to take steps towards full approval. That drug, which importantly targets the elderly population globally, is expected to generate annual revenues of $1bn at its peak.
The risk to future Humira revenues has been known for some time. The AbbVie management has done well to react to it by diversifying the firm's operations, putting the business in a stronger position than before.
3. Best undervalued pharma stock to watch in 2022 – Amgen (NASDAQ: AMGN)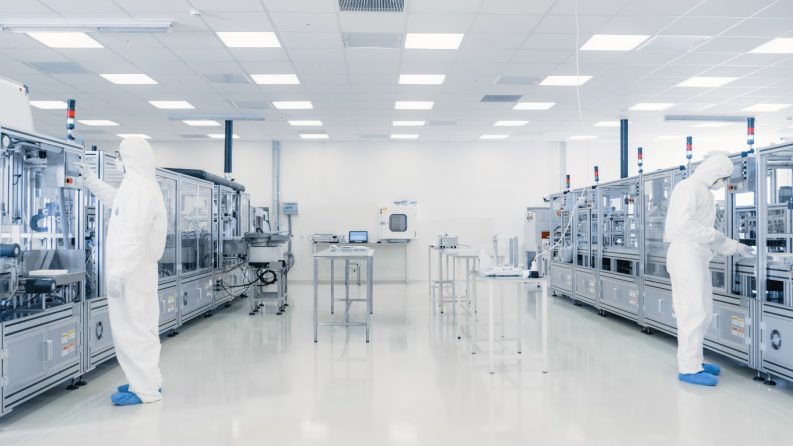 Source: 23RT
Amgen Inc has been trading for over 40 years, and its solid financials and high dividend yield have seen it fall slightly out of favour with investors looking for more juice in their pharma strategies. The current dividend yield of 3.50% beats any returns on bank savings accounts, and an aggressive stock buyback program also supports the stock price.
The P/E ratio of 21.55 looks low when the 22.68% profit margins are considered. Investors looking for a stock approaching 2022 from a sound footing will note that three of the four earnings updates in 2021 beat analyst expectations.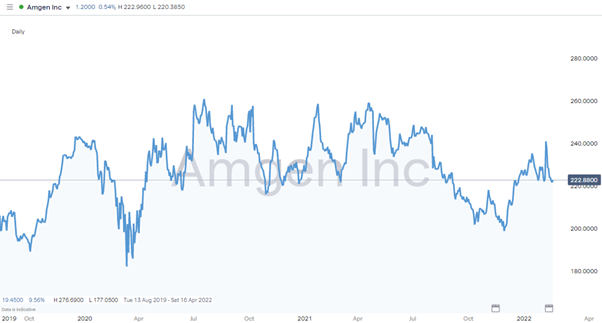 Source: IG
Its impressive pipeline of new drugs is further evidence that Amgen's stock price is ready to step out of the shadows of some of its bigger rivals. The firm is conducting 23 Phase 1 clinical trial, 12 Phase 2 trials, and 20 Phase 3 trials in drugs designed for patients with conditions ranging from obesity to cancer.
4. Best high dividend pharma stock to watch in 2022 – Gilead (NASDAQ: GILD)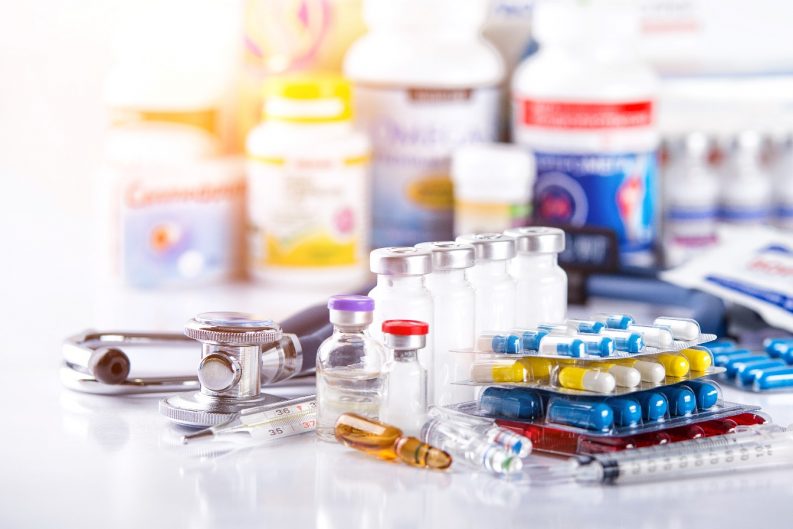 Source: 123RT
Virus specialist Gilead is the company behind Harvoni and Sovaldi, two silver-bullet treatments that have a proven ability to cure most Hepatitis C infections. Quite an achievement considering that condition was incurable just a decade ago. It also markets products approved to treat HIV and AIDS and COVID-19 and, away from the virology sector, produces liver disease, cancer, and heart failure drugs.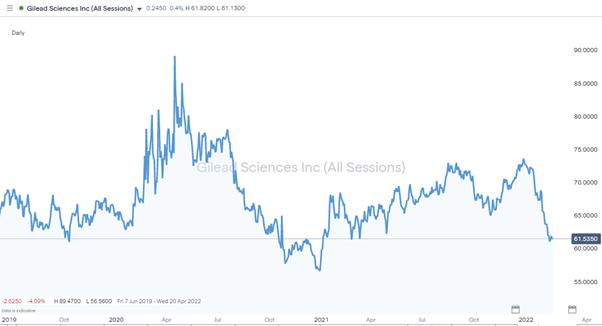 Source: IG
Gilead's solid and diverse portfolio of up and running drugs generates revenues that it is willing to pass on to investors. The dividend yield is currently 4.76%, and with the share price 30% off its highs of April 2020, there is plenty of room for capital appreciation.
5. Best breakout strategy pharma stock to watch in 2022 – Sanofi's (EN Paris: SAN; NASDAQ: SNY)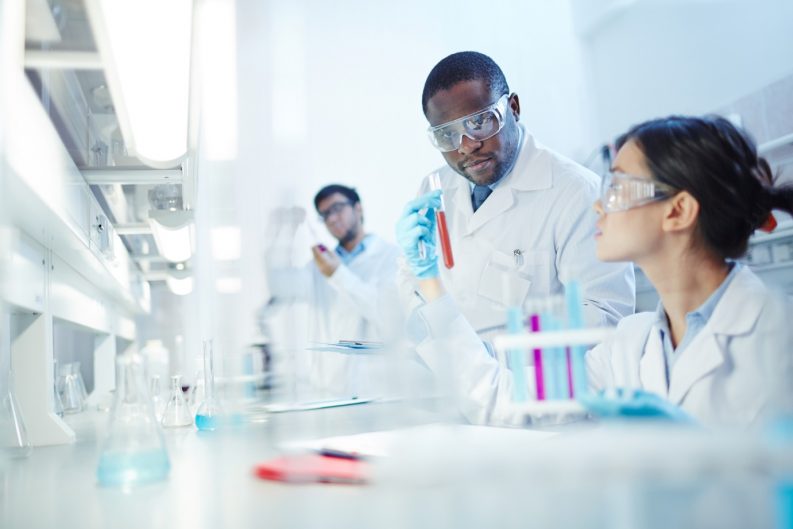 Source: 123RT
Sanofi's diverse portfolio of drugs treat conditions ranging from eczema and asthma to neurology and diabetes. The all-rounder aspect of this investment option has caught the market's attention and taken price up to a point where it is testing long-standing resistance levels. If it can break through the psychologically important EUR95 price level, there is scope for it to move on and print even more all-time highs.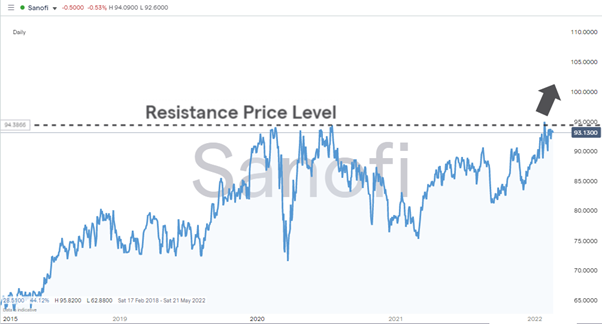 Source: IG
Another reason why 2022 could be a good year for Sanofi investors is the impressive pipeline of drugs the firm is developing.  It is conducting 24 Phase 3 clinical programmes, 30 Phase 2 clinical programmes, and 18 Phase 1 clinical programme. More good news about test results could move Sanofi onto the next level and do so sooner rather than later.
Why Invest in Pharmaceutical Stocks Now
The Covid 19 pandemic brought pharmaceutical stocks to increased prominence. Firms such as Johnson & Johnson that announced successful testing of Covid vaccines saw their share price skyrocket overnight.
Some of the speculations in health stocks meant some pharma stocks overheated. That first phase of the investor response to Covid has passed. Going into 2022, it's possible to find pharmaceutical stocks which have pulled back to lower prices but still have solid fundamentals and potential for further growth.
With inflation and interest rates on the rise, pharma stocks offer a degree of protection from falling future revenues. One of the last transactions any consumer would scale back on would be one related to much-needed drugs, so a move by investors from consumer discretionary sectors and into defensives could be one of the investment trends of 2022.
Things to Know Before Investing In Pharmaceutical Stocks?
Pharmaceutical stocks do have some distinct features which investors need to understand. They're not as high risk a proposition as biotech penny stocks, for example, but like all investments, it's essential to consider all the information available.
The pipeline of new drugs – The time and cost of developing new drugs play a significant role in the sector. The average time to create a new drug is more than ten years, and the average price tag is estimated to be $2.6bn. Both of those numbers could increase as governments and regulators take a more risk-averse approach. Good and bad news on test results can significantly impact pharma stock share prices, but the diversity of a firm's portfolio of new drugs also needs to be considered.
Market forces – After investing years in R&D, there is still no guarantee that health providers will consider the drug feasible or appropriate for patients. There is a risk that pharma companies are beaten down on price as while they know the health provider 'needs' the new drugs, the health provider knows the pharma company's products can't be used for any other purpose than treating patients.
Legal liability – Companies can be forced to withdraw their products from the market, and lawsuits are unfortunately an occupational hazard for pharma companies.
Strong dividends – Given the different risks inherent to the sector, pharma stocks' reputation for paying dividends to investors is slightly inconsistent. Cash payments are similar to those made by companies in much lower risk sectors such as banking and retail, meaning the stocks in the pharma sector have the characteristics of both tech stocks and blue-chips.
How to Start Trading Stocks Online
1. Research Pharmaceutical Stocks
Good online brokers offer a lot of high-quality and free to access research on companies in the sector. Investing time in this part of the process can pay off. Long-term investors, in particular, need to study company earnings and the pipeline of new drugs.
2. Find a Broker
Choosing the right broker can be as important as the company in which to invest. Using a regulated broker points to the broker being trustworthy. Still, buy-and-hold style investors will also want to ensure the broker offers a share dealing style service as holding positions in CFD format can generate daily financing fees, which can stack up over the long term.
3. Open & Fund an Account
Setting up an account at an online broker takes minutes and can be done whilst on the move using a mobile phone. The service that online brokers offer is all about convenience, so funding your new account is also a straightforward process. Most brokers accept payments using credit and debit cards, bank transfers and ePayment service providers.
4. Set Order Types
The simplest way to buy pharma shares is to enter the quantity you want to purchase and click 'place order'. Applying a little patience and using limit orders can help traders get into positions at an optimal price, with stop losses and take profit instructions used to manage risk.
5. Select & Buy Pharmaceutical Shares
When you click on 'place order,' your trade will be executed. Cash in your account will be converted into a pharma stock position valued in line with market prices.
Best Brokers to Buy Pharmaceutical Stocks
All companies on this list of trusted brokers are 'good', but finding the right fit for you is essential. Intense competition between the firms ensures that trading is cost-effective, but some specialise in providing research and news, whilst others have mobile apps that use cutting-edge technology.
Trying different brokers out using a Demo account is a good idea. These are free to use, take moments to set up and offer a risk-free way of simulating the trading experience and establishing if the broker and the strategy you intend to use is right for you. It's also possible to check if a broker offers markets in the stocks you want to buy and to check the small print in terms of their regulatory licenses.
Summary
The pharmaceutical sector is hard to ignore; firms operating in the industry provide a service that will not go out of fashion. The Covid pandemic has smashed any complacency about the importance of the services they offer. This could be the year to take a position in pharma stocks, thanks to the first wave of interest in the sector subsiding. There couldn't be a better time to include pharmaceutical stocks as part of a diversified portfolio with prices at their current levels.