The anxiety levels of the Bitcoin faithful keep on increasing, as the digital asset keeps defining new depths of support to test. Outlooks are exceptionally gloomy for the near term, but then there are always a few positive folks, who are quick to state that the long-term fundamentals have not changed. Despite Bitcoin's momentous collapse of late, they still claim that the outlook beyond this year is "insanely bullish". Patience is the watchword for the moment. Obviously, there must be a "purge", before the "surge".
Whatever the metaphor of choice, Bitcoin is presently a falling knife that no one seems willing to catch or even attempt to do so. There are the normal causes, i.e., "whales" are thrashing about, or the "China Connection" is no longer valid, or, as "Dr. Doom", all round BTC skeptic and economist Nouriel Roubini, put it – "It's down because you don't need it". The latter excuse is not what advocates want to hear at the moment, but it is difficult to argue otherwise when the chart is so definitive: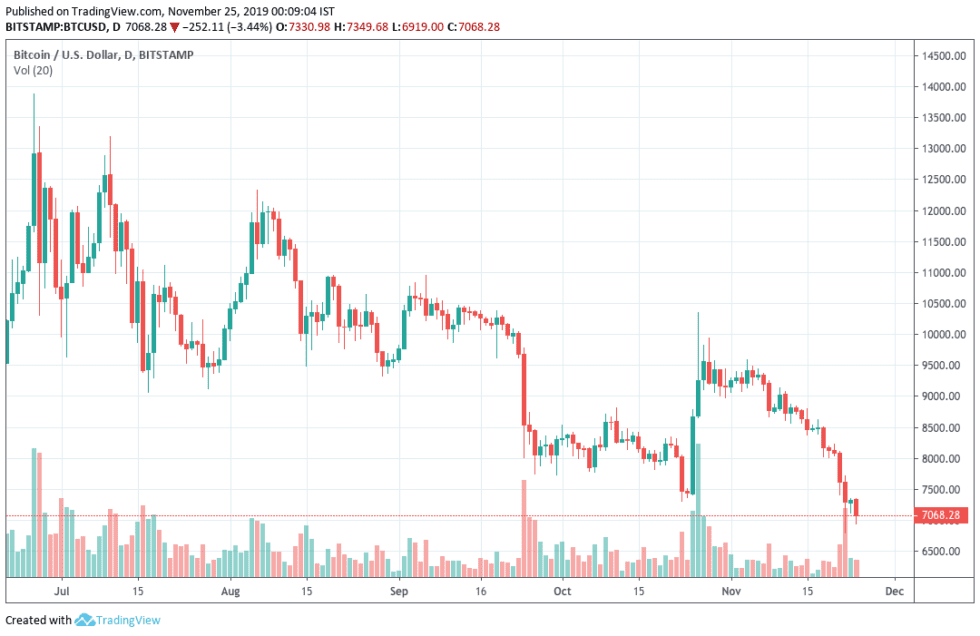 The folks at the Bitcoinist provided the above chart, which portrays the downward stepwise march towards who knows where that commenced back in early July. The downward channel is unmistakable. In fact, if you draw in the lower line boundary, it coincides with $6,500 in early December. Earlier today, BTC did dip below $7,000, but it bounced back quickly. At this very moment, however, it is testing this support level again. Bitcoin is now trading on average at $6,961 and shows no signs of improving.
What do the staff at the Bitcoinist believe? They are in the "Where is China" camp: "China has made it's pro-blockchain and anti-crypto stance pretty clear. The People's Bank of China issued warnings pertaining to cryptocurrencies disrupting the nation's economic and financial order. Governments of top tier cities, including Beijing, Shanghai, and Shenzhen, put up risk alerts to the public warning of "illegal fundraising", financial frauds or pyramid selling.'
Yes, Chinese officials have said and done a lot lately to confuse their true position on all things crypto. One day they are praising Bitcoin and its contributions, then the next day threatening to shut anything that smells like crypto. The truth is they want to own and control whatever is developed for use in China, and they seem to think that blockchain is all they have to focus upon to achieve their ends. Ongoing trade talks also muddy the waters, and analysts still point to strong correlations between BTC buying and the Yuan.
For long-term perspectives, the weekly timeframe is a good place to start. Coindesk published this chart, as the weekend commenced: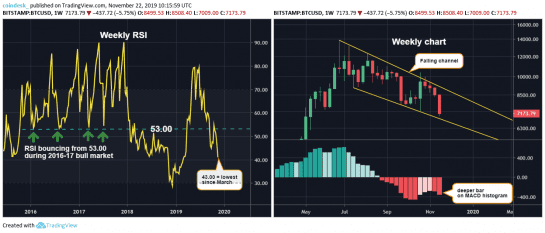 We will dispense with the "insanely bearish" conditions, in order to look longer term. The weekly downward channel is evident, but the optimists among us prefer to see the "Pole and Pennant" formation that suggests a continuation to higher ground. If you take the even "Bigger Picture", you may go back to 2016 forward. The pattern is also quite evident from that vantage point, as well, and has been used to support 5-figure forecasts and up.
There are several analysts that stepped forward this weekend to explain that every bit of price behavior we are seeing is "normal" in the scheme of things. Here are just a few of their cogent explanations for your review:
"Crypto Michael", an Amsterdam-based trader and technical analyst: "$BTC #BITCOIN All in all, the long-term trend is still fine, aside from a parabolic explosion earlier this year (which is an outburst to the upside). Keeping the trend intact -> market is fine. Onwards to $20,000-25,000 in 2020."
"PlanB", a proponent of Stock-to-Flow (S2F) models: "Some people panicking about this -17% week. It's just normal #bitcoin behavior. Note we are still up 2x YTD. And yes, S2F model is just fine, nothing out of the ordinary."
Samson Mow, Blockstream CSO, notes the true impact of halving and how daily liquidity will be squeezed: "Bitcoin is down because we're still in the phase where we mint 1,800 $BTC a day. At $9,000 price levels, $16.2 million a day is required to maintain a stable price. The upcoming halving will fix this. Weak hands can GTFO."
SkewAnalytics, a crypto market analysis firm: "Bitcoin price is in for a 'bearish short-term' action until November ends. BTC is supposed to trade on a neutral note in the medium-term up until December. The benchmark crypto asset will assert a proper long-term bullish outlook from March next year."
Do these fellows ease your anxiety somewhat? Yes, Bitcoin may have further lower levels to test before the bulls return to take hold, but, as many analysts and investors have said, do not lose sight of the long-term picture. Weak "longs" are in selling mode. Various reports from the futures arena suggest that shorts are drying up, but if you believe Bitcoin will be worth something much greater years from now, then today's news is merely "noise" in the overall scheme of the crypto-verse. "Hodl on", as they say.