Shares of Scottish Mortgage Investment Trust PLC (LON: SMT) have been trading below a critical resistance zone since the start of July. Can they break above the zone?
Yes, they can, but it will take a significant commitment by bullish investors to push SMT shares above the current resistance level as all previous attempts have failed.
SMT shares have been on an impressive rally since mid-May mirroring the action in the tech-heavy NASDAQ index, which tracks many of the growth stocks held by the investment trust. SMT shares are up 7.87% so far this year.

Therefore, the current action in SMT shares is very similar to Nasdaq's price movements. Hence, a break in SMT's share price will likely mirror a similar move in the Nasdaq.
Meanwhile, the investment trust remains on track to come under new leadership in April 2022 when the long-serving fund manager James Anderson steps down, allowing Tom Slater, his co-manager, to take over.
While many bearish investors have been waiting for a significant pullback in the US stock markets, it appears the markets will continue to defy the odds, given that a rally has followed each significant pullback.
As short-term traders, it is never a good idea to try and time the top or bottom of a market or a stock. Instead, what we should do is trade the price patterns we see on the chart.
Scottish Mortgage shares have struggled to break above the current resistance level. Hence, they do not present a compelling buy setup until they break above the level. Therefore, I will be standing by for now until we get the break higher.
*This is not investment advice.
SMT share price.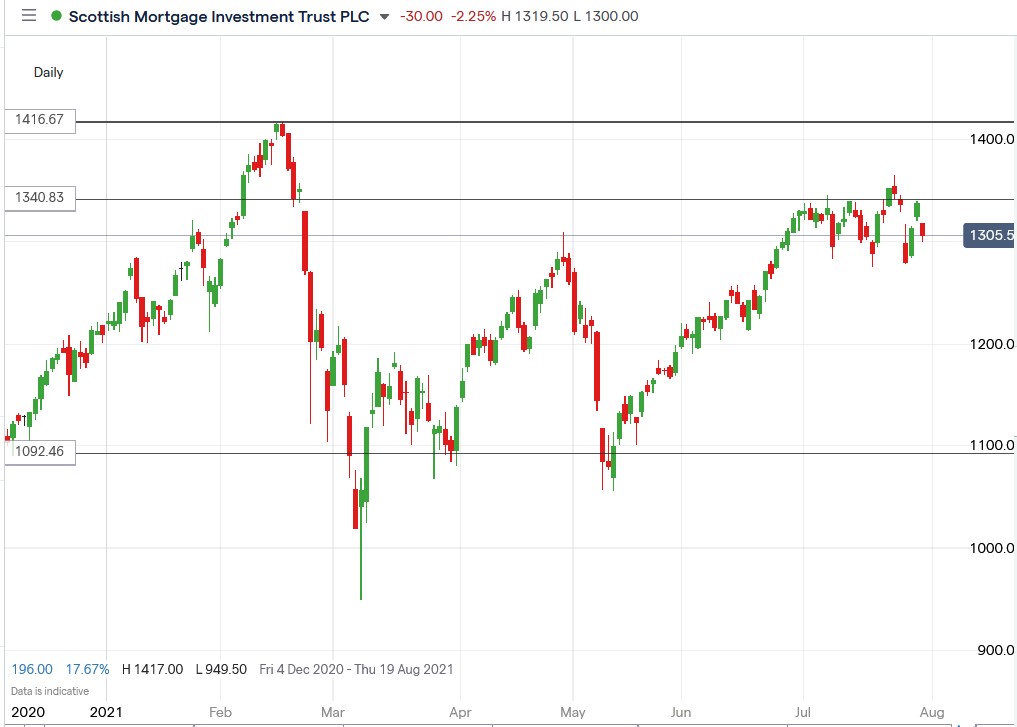 SMT shares have been trading under a critical resistance zone for the past month. Can they break out?