Key points:
The Canadian dollar rallied higher despite significant job losses.
Investors ignored the weak jobs data as they focused on the US dollar.
Next week's Fed rate hike could also significantly impact the loonie.
The Canadian dollar today rallied against its US peer despite the country reporting harmful jobs data for the third month in a row. The Canadian economy lost 39,700 jobs in August, extending a trend that has seen the country lose 74,000 jobs in the last two months.
Investors brushed aside the job losses as the loonie strengthened against the US dollar (greenback), as evidenced by the decline in the USDCAD currency pair. Canada also registered a surge in unemployment levels to 5.4% as analysts fear the country may plunge into a recession.
Also read: The Key To Assessing And Choosing Forex Auto Traders.
Today's rally by the Canadian dollar coincided with a rally in crude oil prices as tracked by the West Texas Intermediate (WTI), which was up 3.7% at writing. The loonie's rise was also partly attributed to the falling US dollar as the Fed blackout period begins ahead of next week's interest rate decision announcement.
The US Dollar Index has been falling for the past three days as buyers took profits on their long positions, given that the index has been on an uptrend since August 11, 2022. In addition, many investors expect the Federal Reserve to hike interest rates by 0.75%. Hence, we could see the dollar index fall further if the Fed raises rates by 0.50%.
Despite today's rally, the Canadian dollar faces significant headwinds, chief among them being job losses. These are signs of economic contraction as businesses eliminate certain positions and freeze hiring to cope with the challenging economic environment.
The Bank of Canada may have to consider reversing its tighter monetary policies as the Canadian economy groans under the weight of record-high inflation, high-interest rates, and reduced consumer disposable incomes.
For now, the biggest threat to the loonie is the greenback and the upcoming Fed rate hike. However, once the rate hike is announced, investor attention will shift to the Canadian economy as the primary driver of the loonie's performance.
*This is not investment advice.
USDCAD price chart.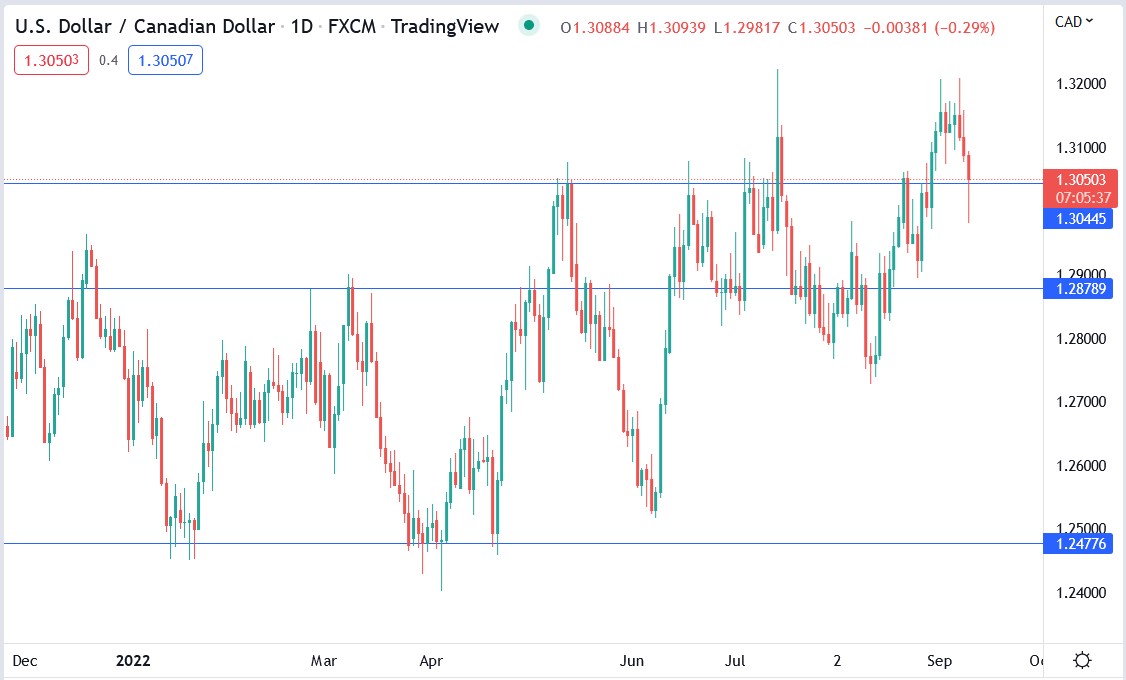 The USDCAD currency pair was trading down 39.5 pips (0.30%) at writing despite releasing weak jobs data.