Shares of Centamin PLC (LON: CEY) fell 5.3% after the gold miner released its earnings results for the six months ended June 30, 2021.
The mining company generated revenues worth $367.4 million after selling 203,802 ounces of gold at an average of $1,779/oz.
The company's operations were not materially affected by the coronavirus pandemic as its costs related to the pandemic were a meagre $6.5 million.

Centamin's EBITDA was $190.4 million, with the company booking a 52% EBITDA with its profits before tax coming in at $116.8 million.
Investors reacted negatively to the results despite the gold miner clarifying that it was still on track to hit its annual target and declaring an interim dividend of 4.0 US cents per share, totalling US$46.3 million.
Today's drop in Centamin's share price is a classic case of "buy the rumour, sell the news" given the upbeat nature of the company's earnings results. The company paid out 56.7 million in profit share to the Arab Republic of Egypt, which could have triggered the decline.
Centamin's shares fell to the 100p support level in the first 30 minutes of trading, and a lot could happen during the rest of the trading day. However, I think that the level might hold as buyers step in to push the company's prices higher.
The mining company expects to complete its pre-feasibility study on its Doropo mine project in Côte d'Ivoire in H2 2022. The firm has also secured exploration licenses in Egypt's Arabian Nubian Shield and expects to finalise the legal formalities in Q3.
Centamin shares had pulled back from the 100p level, which acted as support at writing.
Centamin share price.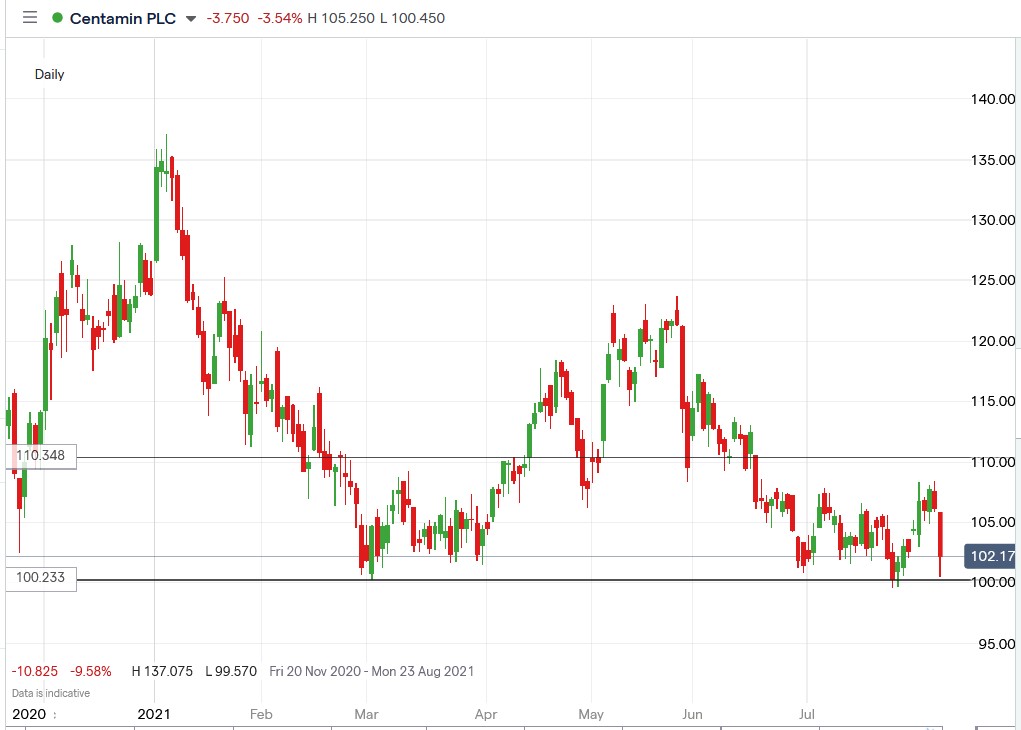 Centamin shares plunged 3.69% to trade at 102.25p, falling from Wednesday's closing price of 106.175p.
Should You Invest in Centamin Shares?
One of the most frequently asked questions we receive is, "what stocks are best to buy right now?" It's a wide-ranging question, but one that we have answered… Our AskTraders stock analysts regularly review the market and compile a list of which companies you should be adding to your portfolio, including short and longer-term positions. Here are the best stocks to buy right now