Key points:
Chill Brands shares fell 7.85% after unveiling the relaunched Chill.com website.
Investors were not excited by the new site but were not the target audience.
Will the site appeal to its target customers? Read on to find out.
The Chill Brands Group PLC (LON: CHLL) share price fell 7.85% after unveiling the redesigned version of its consumer website chill.com. However, investors were not as thrilled about the relaunched website as the company had hoped.

Having looked at the new website, I couldn't help but notice that the company did not emphasise that its relaxation products were CDB products. As an investor, I was left wondering what the relaxation products were made from until I noticed that the product titles had CBD.
Also read: 12 Best Shares To Buy As A Beginner.
They could have done a better job highlighting that their products are made from CBD. The market's adverse reaction to the announcements indicates that many were not pleased with the new website.
However, the company could easily tweak the new website to address some of the concerns raised in future. Meanwhile, the rebranding of the chill.com website achieved the goal of repositioning the company as a wellness and relaxation company.
Chill Brands noted that it had developed new marketing assets that could appeal to its target consumers. As a result, initial tests showed that customers engaged more with the brand, leading to higher retention rates.
Investors will be watching keenly to see if the new website will deliver higher conversion rates and make customer acquisition more straightforward, as the management team expects. In addition, the company hopes to offer a more streamlined customer journey with the relaunched site and significantly grow its direct-to-consumer business.
Overall, the idea behind the new website is good, but we'll have to wait and see whether investors were wrong in thinking that the new website might not achieve all the company expects.
Meanwhile, we should allow the company to continue working on the business and developing its omnichannel sales approach, which could pay off immensely in the future.
So, would I buy Chill Brands shares at current prices? The short answer is yes, but with a caveat. Before buying, I would wait for the shares to break above the current trading range.
*This is not investment advice.
Chill Brands share price.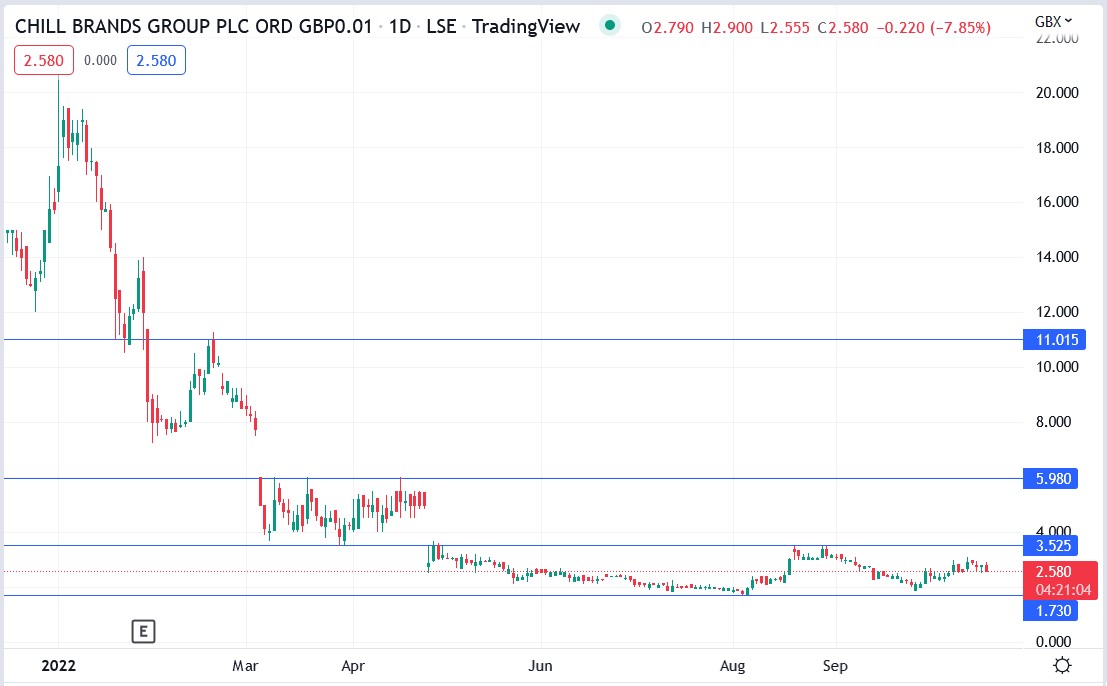 The Chill Brands share price fell 7.85% to trade at 2.58p, from Monday's closing price of 2.80p.