The Cineworld Group plc (LON: CINE) share price rallied 7.32% as the movie theatre operator prepares to exit bankruptcy proceedings. The company received approval from the U.S. Bankruptcy Court in Houston, Texas, to raise $2.6 billion to fund its operations after the exit. 

---
YOUR CAPITAL IS AT RISK. 81% OF RETAIL CFD ACCOUNTS LOSE MONEY.
---
The company's exit from bankruptcy will also include eradicating debt worth $4.53 billion as its creditors agree to forego their claims against the company. Cineworld will also wipe out its existing shareholders and transfer ownership of the firm to its creditors. 
Top Broker Recommendation
YOUR CAPITAL IS AT RISK. 68% OF RETAIL CFD ACCOUNTS LOSE MONEY
The bankruptcy judge approved the settlement allowing Cineworld to raise $1.46 billion via a new loan and a further $800 million by selling new equity shares. The final court sanctioning hearing is scheduled for June 12, 2023, at which point Cineworld will exit the Chapter 11 bankruptcy protection it entered in September 2022.
Despite the potential wipeout of current shareholders, Cineworld shares rallied higher today, driven by optimism regarding its looming exit from bankruptcy. The company reached a deal with its junior creditors, who threatened to block its deal with its senior creditors.
The initial deal between Cineworld and its leading creditors had been rejected by its junior creditors, including Greywolf Capital, Glendon Capital Management and Jefferies Leveraged Credit.
The deal would have given Cineworld's senior lenders 27% of the company's new equity shares simply for agreeing to support the exit financing package that they engineered.
After the junior lenders opposed the deal, Cineworld proposed another deal to issue 11% of its new equity premium to its senior lenders to backstop the deal. The new proposal gave the junior lenders about $38.5 million in additional value,
Therefore, Cineworld's senior lenders, including Carlyle Investment Management, Blackstone Alternative Credit Advisors, and Sixth Street Partners, will be well compensated for backstopping the deal and for giving up a significant portion of their initial debt.
The deal that will see Cineworld emerge from bankruptcy was approved by Bankruptcy court judge Marvin Isgur who was in charge of the case from the beginning and had intimate knowledge of Cineworld's affairs.
*This is not investment advice.
Cineworld share price.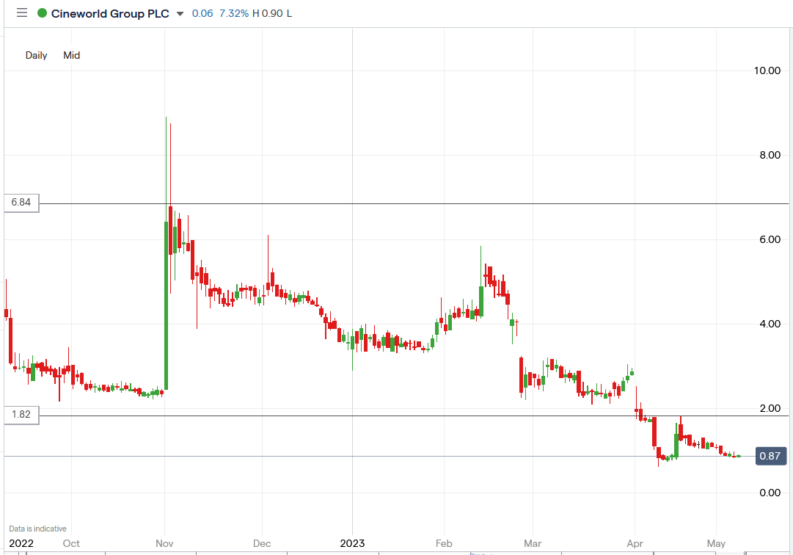 The Cineworld share price today rallied 7.32% to trade at 0.88p, from Tuesday's closing price of 0.82p.
---
YOUR CAPITAL IS AT RISK. 81% OF RETAIL CFD ACCOUNTS LOSE MONEY.
---