Key points:
Cineworld shares plunged 80.7% as it plans to file for bankruptcy protection.
The movie theatre chain is expected to file for chapter 11 bankruptcy protection.
Debt-funded acquisitions triggered the firm's dire financial situation.
The Cineworld Group plc (LON: CINE) share price plunged by 80.7% after news emerged that it was preparing to file for bankruptcy protection. The company has struggled to fill its theatres after the pandemic gutted its business model due to the government lockdowns.

The move comes a few days after Cineworld revealed that it was struggling to get people into its theatres since the number of blockbuster movies slated for release is not huge. The movie theatre operator had warned that the next blockbuster movies were expected to be released in November.
Also read: What Happens To Your Shares After A Takeover?
Cineworld also operates the Regal Cinemas theatre chain in the United States and is expected to file for Chapter 11 bankruptcy in the country as opposed to the United Kingdom, which is its home market.
Cineworld's looming bankruptcy is a cautionary tale to other corporations focused on using debt to fund their growth. The main driver behind Cineworld's insolvency was the massive debt it had taken on before the pandemic hit to acquire Regal Cinemas and other movie theatres.
If the company had a more organic growth strategy, it would not be in the current dire financial situation since it would not have over $8 billion in debt it has to service. However, the company could sink into a giant financial hole if the Canadian Appeals court upheld the C$1 billion damages award to Cineplex.
Cineworld was in the process of acquiring Cineplex when the pandemic hit, and its management team realised that it was the wrong time to be buying another movie chain when movie theatres would likely be closed for many months.
The Regal Cinemas owner had to take on more debt to pay its workers and keep its movie theatres operational throughout the pandemic lockdown period, which led to its current predicament.
There is little that the company can do now to avoid insolvency. Still, hopefully, it will emerge from bankruptcy protection free from most of its debt obligations so that it can resume operations. However, we could also see a fire sale of its assets if the company goes into administration and is liquidated.
*This is not investment advice. Always do your due diligence before making investment decisions.
Cineworld share price.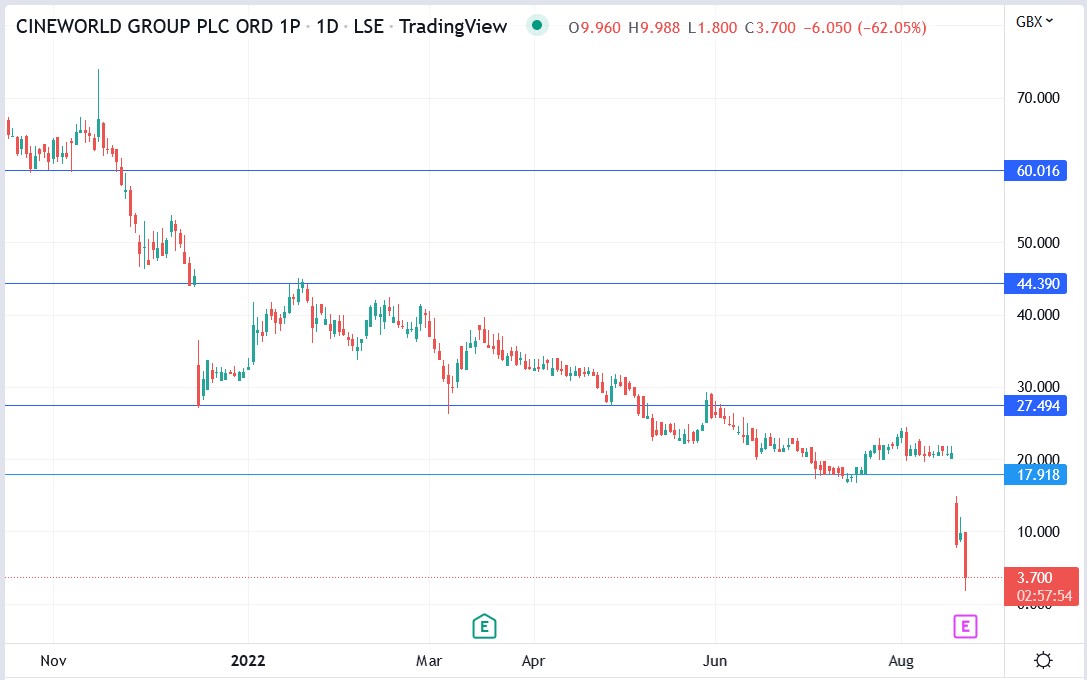 The Cineworld share price has plunged 80.67% to trade at 1.904p, falling from Thursday's closing price of 9.852p.