Shares of Dev Clever Holdings PLC (LON: DEV) are up 82.5% since January, driven by a surge in investor interest that has led several companies to acquire stakes in the educational software company that helps teachers connect with their students.
The software company's shares have risen this year, boosted by massive investments by institutions such as Singapore's One Nine Two Pte Ltd, which agreed to invest up to £10 million in the company so long as it achieves certain milestones.
A  £2 million investment by Asimilar Group, which bought 20 million shares at 10p each in late January, kicked off Dev Clever's year in high gear before One Nine Two came on board and was willing to buy shares at a higher valuation.
One Nine Two agreed to invest an initial £4 million by buying 20 million Dev Clever shares at 20p, after which it would automatically buy another 20 million shares at 30p a share if Dev Clever's shares trade above 34p for five consecutive days over the next nine months.
The company's shares recently hit 30p and are on track to reach 34p, at which point the next tranche of shares worth £6 million would be assigned to One Nine Two if the above conditions are met.
One Nine Two also has warrants allowing it to buy 40 million Dev Clever shares at 50p over the next two years, which implies that it expects Dev Clever shares to trade above 50p during that period and is willing to back its prediction with actual funds.
However, some would argue that Dev Clever has raised a lot of money this year. Yet, it reported booking revenues of £2.4 million and accounting revenues of £1.2 million in the financial year ended October 31, 2020.
Dev Clever is trading at a valuation of £127.9 million, and with revenues of £3.6 million, it is trading at 35.5 times its current earnings, which is relatively overvalued. Still, the stock has excellent upside potential given the milestones explained above.
Dev Clever share price.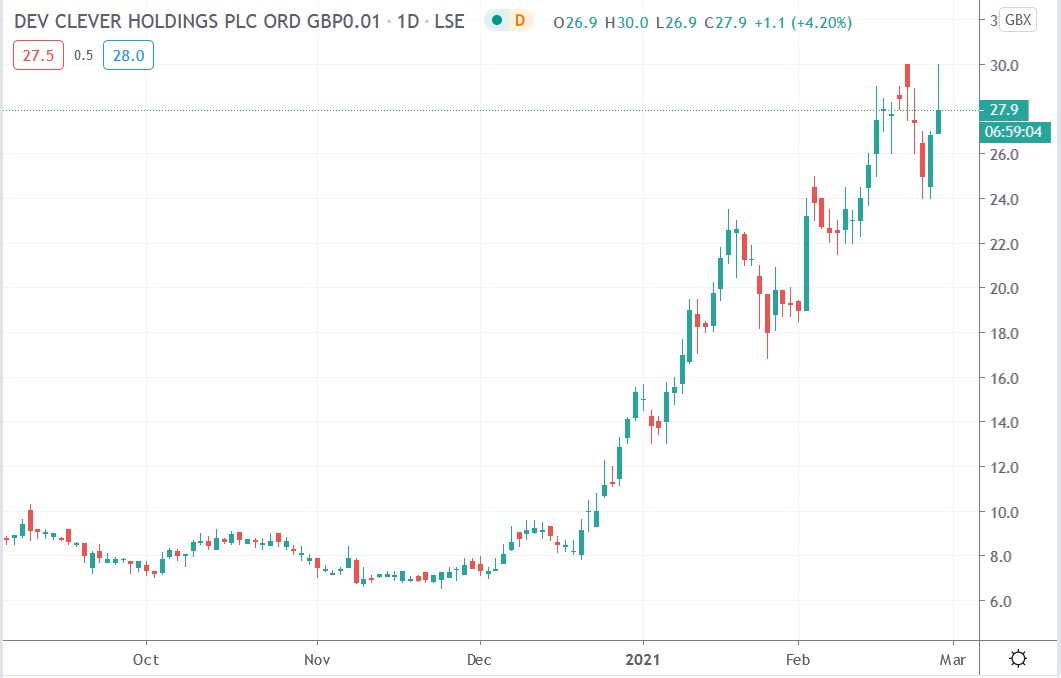 Dev Clever shares are up 82.5% this year. Can they keep rising?