Key points:
Dorodash shares were up 6.3% premarket despite wider Q1 losses.
The meal delivery company's shares rallied higher on upbeat revenues.
However, Doordash's prospects are not promising due to multiple factors.
Food delivery company DoorDash Inc's (NYSE: DASH) stock price rallied 6% during premarket trading despite the firm reporting a wider than expected Q1 loss. Investors reacted positively to the company's $167 million loss compared to last year's $110 million loss.

Furthermore, the losses were driven by higher stock-based compensation for top executives combined with higher marketing costs. As a result, the company's loss per share was $0.48, compared to analysts' expectations of a $0.21 loss per share.
The rally in DASH shares was directly attributed to the 35% surge in its revenues to $1.46 billion, beating analysts' consensus estimates of $1.38 billion.
Doordash shares have fallen 71.6% from their November 2021 peak of $257, and many are hoping that the stock is ready to reverse course and rally higher. However, the daily chart below shows that DASH stock bounced off its all-time low of $74.72 on March 15, 2022.
DASH shares staged a brief rally that lasted until April 1, 2022, before the bears stepped in and pushed prices lower. Unfortunately, DASH shares were trading below the March lows before releasing its Q1 results yesterday after hours.
While many expect a rally to form following Doordash's latest earning report, I am less optimistic that DASH shares had breached the all-time lows and were headed lower. Therefore, I would observe the DASH stock price for a few days to see if a sustained rally will materialise from the Q1 results before buying the shares.
Companies operating in the online meal orders and deliveries industry have come under significant pressure as the competition heats up and investors start questioning whether the firms can become profitable in the future if they fail to become profitable during the COVID-19 induced boom of 2020 and early 2021.
Meanwhile, I would steer clear of DASH shares for the reasons cited above.
*This is not investment advice. Always do your due diligence before making investment decisions.
Doordash share price.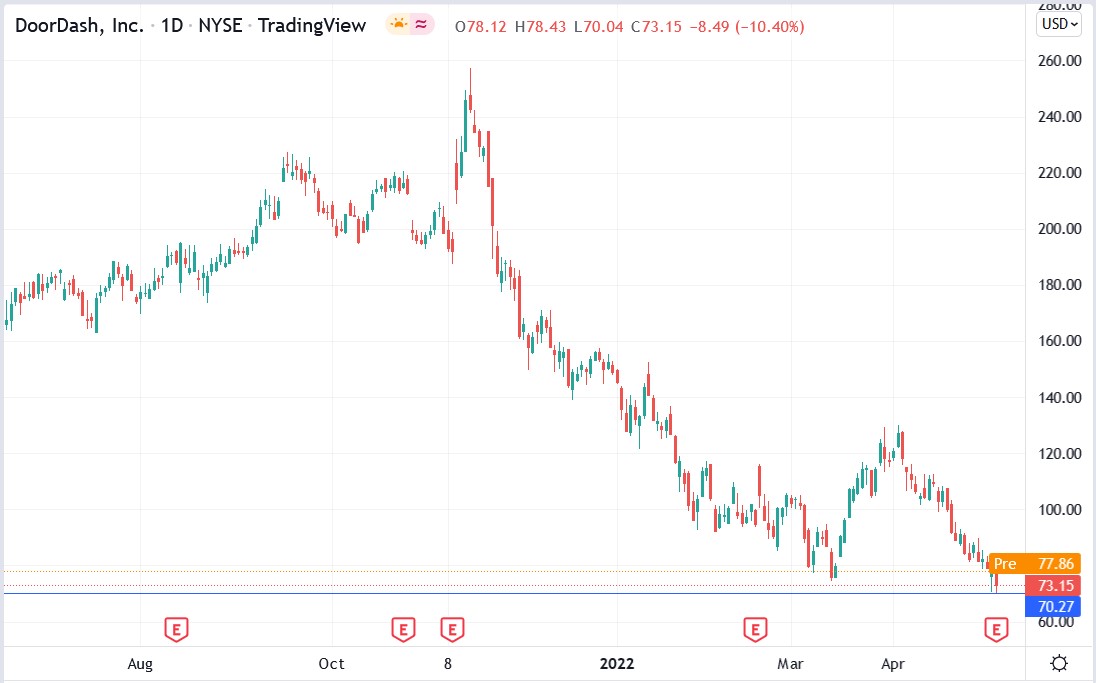 Doordash shares have fallen 50.87% in 2022, bringing its cumulative losses from its November 2021 peak of $257 to its current price of $73 to 71.6%.